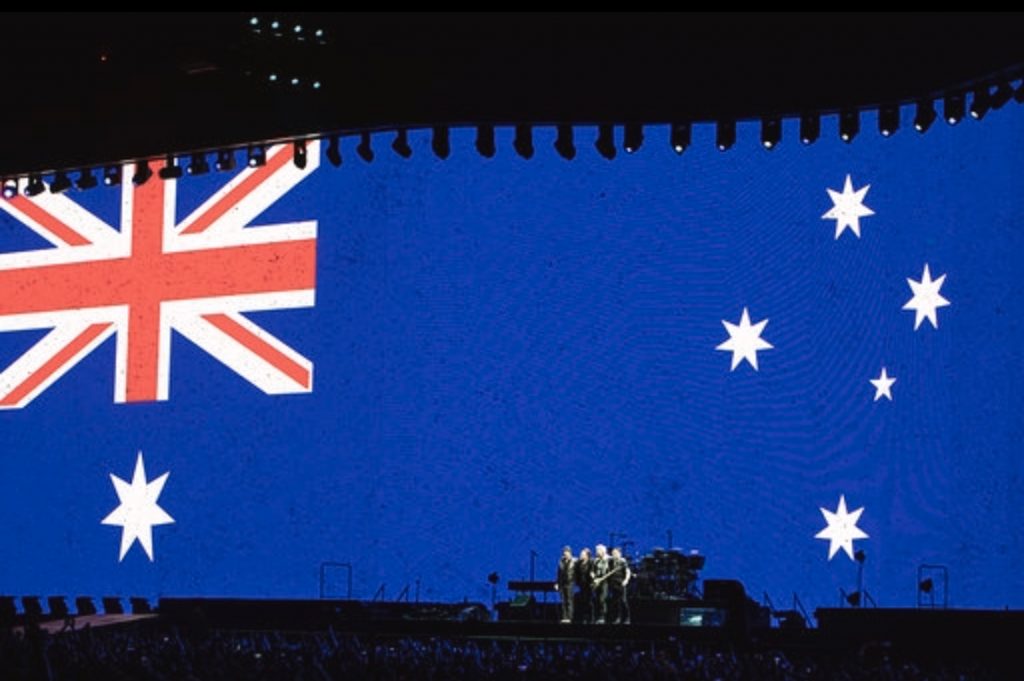 It's been almost a decade since U2 have been in Australia and tonight hopefully not in the rain, they're back and here celebrating thirty years of The Joshua Tree. They're two years into this celebration tour and I know I and the thousands of others here tonight are looking forward to seeing it and hearing the album in full.
Running a little late due to the rain Noel Gallagher and his High Flying Birds finally take to the stage and start with 'Holy Mountain' and man what a catchy tune! This big band with horns and all and they sound great. 'It's a Beautiful World' keeps things going and again this is impressive. "You don't know this song but it's fucking amazing" Noel says with conviction. You know what though? He's not really wrong. 'This is The Place' is the song and it's a really different groove and it is fucking amazing. After taking a dig at Aussie's for being pussies for wearing ponchos another one he tells us we don't know 'Rattling Rose' has more horns doing their thing and some great backing vocal work. A show of hands of how many Oasis fans are here was concluded by Noel as "not many" but in saying that, this one is for those fans. 'Black Star Dancing' and damn this might be my favourite so far then things slow down a bit and this very Brit pop tune 'Wandering Star'.
Time for some Oasis. As you'd expect, we'll actually not really but I'm glad he's doing it. 'Little by Little' makes you realize how good this tune is and it's already making me want to go back and revisit the catalogue. 'Stop Crying Your Heart Out' slows things down again but up next is the one that everyone wanted to hear and didn't they go nuts for it, I'm of course talking about 'Wonderwall' and this ever so slightly different version is still such a damn good song. It really is. Hearing the crowd sing along cements this as a classic not only from the Oasis catalogue but music in general, then 'Don't Look Back in Anger' gets an equally huge cheer and as the floor truly starts to fill up the singing can be heard even louder. Closing his set with 'All You Need is Love' by that other English band Noel delivered an awesome set of hits, songs that deserve to be hits, and not one pair or scissors in sight.
'Whole Of The Moon' plays and the lights of the SCG turn to black as Larry Mullen Jr  walks to the catwalk stage and starts those familiar drums followed by the guitar and bass as they ring in the opening to 'Sunday Bloody Sunday' Bono appears and the band make their way to the stage and what a way to open the show. The sound is amazing in here. They stay on the middle stage and 'I Will Follow' funnily enough follows. Instantly you remember how good a song this is and just seeing the four guys up on stage belting it out is something to see. They have the crowd in the palm of their hand from the opening and watching the floor clap along in time is awesome. 'New Years Day' is up next and just another staple in this vast U2 catalogue. Thanking us for letting them come back is nice but we should thank you for coming back. 'Bad' is perfect for the stage and the guitar tone from The Edge is just perfect. What a song. Giving a shout out and paying tribute to Michael Hutchence as the place lights up with phones and they sing some of 'Never Tear Us Apart' with the same melody of 'Bad' is a nice touch. The hits keep coming with 'Pride' and this is being one of my favourites of their catalogue it's so good to hear it live again. The balance of instruments in this song is just where it's at. So well arranged. The crowd gives us their best "whoa oh oh ohs" and belt them out loud and proud.
The absolutely massive 200 x 45 foot stage screen turns red as the keys play and Bono talks while the band return to the main stage to start The Joshua Tree album I'm its entirety. Holy shit that guitar ringing in the album opener 'Where The Streets Have No Name' gives you goosebumps then as the band kick in you're thrust back to 1987 and a much better time when music meant something and listening to the reaction means others feel the same way I do. Knowing what's coming with the first three tracks of the album is insane in terms of this band's hits and I'm ready. A little acapella 'Raindrops Keep Falling On My Head' and a dig at the weather for good measure takes us into 'I Still Haven't Found What I'm Looking For' and you get why this album was so big for the band. That's two massive hits that start it, but the next one for me is where it's at. 'With Or Without You' is one of the best songs ever written in my opinion. As Adam Clayton hits that bass riff again there's goosebumps. It's still belted out with so much heart, and as the crowd takes those oh so important but different to Pride's "whoa oh oh ohs" and this place is electric. Bono didn't hit those big notes tonight but damn who cares. This is beautiful. I could've packed up and left after this song as my night was made hearing this one.
Of course I stuck around as 'Bullet the Blue Sky' is loud and the video screen is working in overdrive. This band is so tight and just work so well together, I guess that's a gimme being together with the same four guys for so long and you can see that they all just enjoy being up there, they're smiling, happy, and it's somewhat warming to see. Things slow down as The Edge jumps behind the keys and starts 'Running To Stand Still'  leaving only him and Bono on stage. Adam joins as does Larry to add the rhythm section in and build this one up. Special mention to Bono's harmonica for this one. 'Red Hill Mining Town' keeps that mid pace tempo going
"Welcome to side two of 'The Joshua Tree'" and 'In Gods Country' keeps things rolling and Bono starts talking and actually lets Edge and Larry talk about their time early on and Adam gets left out again. Yeah we've all seen The Simpsons episode. Poor Adam. Hope you found some nice spoons in Sydney. 'Trip Through Your Wires' gets the harmonica back out and an almost country twang to it. Paying tribute to Greg Carroll who worked with the band long ago they dedicate 'One Tree Hill' to him. Then followed by 'Exit' which rocks things up in a psychedelic kind of way. Bono heads to the middle stage as the song gets a bit crazy. 'Mothers of The Disappeared' closes the album and this part of the set tonight. As the song rings out the band all head back to the middle stage. They pull out 'Angel of Harlem' and get the crowd back into things. As one by one they walk back to the main stage and with an arm raised Bono leaves the stage followed by Edge and Adam and finally Larry after he shakes a few hands.
It's not long before the screen gets all trippy on us and with a 'Woo hoo' it's time to get elevated with of course 'Elevation' and this buzz track is a crowd pleaser that's for sure. Even a pitch intruder got up to dance along and security shooed away by Bono. With a count in it's time for 'Vertigo' and this classic U2 groove is a winner. "This is a rock and roll band" and as he introduces us to the greatest rock and roll band on the north side of Ireland Bono introduces the guys and that leads into 'Even Better Than The Real Thing' and that was a highlight complete with giant disco ball at the top of the rig. They slow things right down with 'Every Breaking Wave' and as a sucker for a ballad this one is a winner in my books. It's just Bono and The Edge up there and it sounds amazing as they once again build it up as Adam and Larry bring it in slowly. But the slow doesn't last long as 'Beautiful Day' gets them all up and excited. How can they not be knowing this set is slowly coming to a close and when these big ones are taking their place. Bono says "When women of the world rewrite history to become herstory" and they play 'Ultraviolet (light my way)' with images of influential women on the screen which is bloody awesome and every time an Australian was up there the crowd cheered. Another one for Michael Hutchence which Bono actually penned about him is 'Stuck In a Moment You Can't Get Out Of' and was a nice surprise in the set and as images of Hutch engulf the screen it's sad to think it's been twenty two years today since he passed away. One of the greats.
With one more to go. Yes that's right 'One' that's what I said. The crowd sings the first chorus as the band all kick in and we do this one in the dark, and is a great way to close out this set, it's become such an important song for not only U2 but around the world and was a perfect closer. An Australian flag fills the screen and with a "thanks for giving us a great night" the band leave the stage after a two and a half hour set. So Bono, thank YOU for giving us a great night.
Besides the hits which go without saying, for 'The Joshua Tree', an album now thirty two years old that was so great to hear it played in its entirety. This band is something special and tonight they showed exactly why they can keep playing stadiums, and will until they're done. A magic night.
Essential Information
Venue: SCG
Date: November 22, 2019
Presented by: Live Nation Australia
Special Guests: Noel Gallagher's High Flying Birds
Website: http://www.u2.com
U2 set list:
Sunday Bloody Sunday
I Will Follow
New Year's Day
Bad
Pride (In the Name of Love)
Where the Streets Have No Name
I Still Haven't Found What I'm Looking For
With or Without You
Bullet the Blue Sky
Running to Stand Still
Red Hill Mining Town
In God's Country
Trip Through Your Wires
One Tree Hill
Exit
Mothers of the Disappeared
Angel of Harlem
Elevation
Vertigo
Even Better Than the Real Thing
Every Breaking Wave
Beautiful Day
Ultraviolet (Light My Way)
Stuck In a Moment You Can't Get Out Of
One
Noel Gallagher's High Flying Birds set list:
Holy Mountain
It's a Beautiful World
This Is the Place
Rattling Rose
Black Star Dancing
Wandering Star
Little by Little
Stop Crying Your Heart Out
Wonderwall
Don't Look Back in Anger
All You Need Is Love