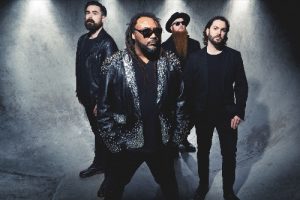 The music world may be in a permanent state of panic and flux, but one basic principle of rock n roll remains true: the key to longevity is to always deliver the goods. No band has better encapsulated this ethos of integrity and determination over the last twenty years than SKINDRED.
Widely acknowledged as one of the most devastating and enthralling live bands on the planet, the Newport destroyers have been a perennial force for musical invention and remorseless positivity since emerging from the ashes of frontman Benji Webbe's former band Dub War back in 1998. Over the course of seven universally praised studio albums, SKINDRED's reputation for producing the ultimate spark-spraying state-of-the-art soundclash has rightly earned them a reputation as a band capable of uniting people from all corners of the globe and making every last one of them tear up the dancefloor with a giant shit-eating grin plastered across their faces.
Anyone that has ever seen them live before will confirm that it is impossible not to get fired up and drawn into the joyous abandon of a SKINDRED show, the best live band on the planet simply cannot fail to conquer the entire world this time round. Wherever and whoever you are, SKINDRED are coming. Open your ears and get your dancing feet ready…
It's been 7 long years for fans to wait and joining SKINDRED on this incredible tour is iconic rockers OTEP.
Throughout the span of her career, Otep Shamaya has been one of the most consistent artists of her generation with eight albums in almost twenty years. She fronts the helm with her animalistic, beast like performance, seething with rage, rearing to look the world in the eye and spit in its face.
TOUR DATES
Tuesday, February 18: Amplifier Bar, Perth 18+
Thursday, February 20: Max Watts, Melbourne 18+
Friday, February 21: The Basement, Canberra 18+
Saturday, February 22: The Triffid, Brisbane 18+
Sunday, February 23: Factory Theatre, Sydney 18+
Tickets on sale Wednesday, November 27 @ 9am local time.
destroyalllines.lnk.to/SkindredOTEP
FOLLOW SKINDRED
Web | Facebook | Instagram
FOLLOW OTEP
Web | Facebook | Instagram