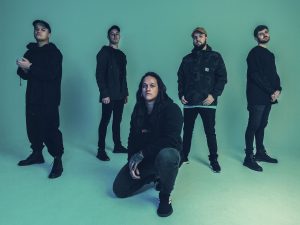 Sydney metalcore outfit 
Polaris
 announce the details of their highly anticipated second studio album, 
The Death Of Me
, out February 21, 2020, via Resist Records.
The Death Of Me will be available for pre-order on Friday, November 15 at 9am AEDT time HERE.
It's been two years since 
Polaris
 released their ARIA-nominated, Top 10 debut, 
The Mortal Coil 
which introduced the group to legions of fans around the country and, thanks to an extensive international touring schedule, the world.When it came time to making their new album, 
The Death Of Me
, the Sydney outfit knew they had a tall order on their hands.
"We wanted to walk a line between maintaining what's defined our band and brought people to our music in the first place, while trying to write for ourselves and keep ourselves interested," begins drummer Daniel Furnari, one of the main songwriters in the unit. "Being our second full-length, we knew it was important for us to surprise the listener as well – nobody wants to hear the same record twice. We wanted to give them things they wouldn't expect, take them to new places, but also for it to be definitively a Polaris record, building on what we've been working towards."
Polaris returned to the house in the small South Coast town of Mollymook where they made The Mortal Coil, converting it into a temporary studio. The familiar surrounds acted as something of a refuge after the high-pressure claustrophobia of touring.
Accompanying the band was their front of house sound engineer, Lance Prenc, and long-time friend Scott Simpson (of Melbourne band Alpha Wolf), both of whom co-produced the album with the band.
They tried a few new approaches to song writing, with tracks such as the anthemic first single, Masochist starting life as a vocal melody, around which the riffs were built, as opposed to the other way around.
As the main lyric writer in Polaris, Furnari warns that The Death Of Me contains some of the bleakest material he's ever penned, with recurring lyrical motifs and ideas floating throughout.
"We've experienced more of the world and gone out of our comfort zone, and I think that's audible in the music," says Furnari. "I think a lot of things people enjoyed about The Mortal Coil we've managed to retain, but we've stretched the envelope further in every direction of what we consider to be our sound. I just don't think we could have thought of most of this stuff two years ago."
In the two years since The Mortal Coil, Polaris embarked on three sold-out headlining tours of Australia, as well as supporting Architects and Parkway Drive around the country; five runs throughout Europe (including a series of arena shows supporting Architects and a slew of high-profile summer festival spots); three separate US tours; not to mention performing at the Download Festival and Unify Gathering in Australia. Somewhere in there, the quintet found time to write The Death Of Me.
Those eager to see Polaris live won't have to wait long as they announce The Death Of Me Australian Tour supported by Wage War, Crystal Lake and Alpha Wolf in February 2020.
Wage War sharpen their patented hybrid of heavy pit-starting technicality and hummable hypnotic melodies with each subsequent evolution. The group's 2015 debut, Blueprints, yielded multiple fan favourites with Alive cracking 12 million Spotify streams, The River exceeding 8 million and totalling nearly 50 million cumulative streams in two years. Wage War have toured alongside everyone from I Prevail and Of Mice & Men to Parkway Drive and A Day To Remember, logging countless miles on the road.
Japanese metalcore giants, Crystal Lake, have been touring the world non-stop in support of their latest album, Helix, with performances at major European and UK festivals including Download Festival, Resurrection Festival, Brutal Assault, Full Force, Nova Rock and more. They recently supported August Burns Red in the US followed by a support slot on Northlane and Erra's co Headline tour while currently headlining rope's premier branded club tour presented by Impericon, the Never Say Die tour.
2018 saw Melbourne's Alpha Wolf come out swinging with their new single Black Mamba and then taking their solidified line up on the road. 2019 has been an even bigger year with the band announcing their signing to SharpTone Records for the world outside Australia, smashing their first European tour supporting Emmure, as well as playing the Impericon Festivals to crowds of up to 10,000 fans. Coming home, the band sold out their entire Australian headline run, including their hometown show at Stay Gold before heading straight back off to dominate shows across Asia.
triple j, Destroy All Lines And Resist Records present
POLARIS 
THE DEATH OF ME AUSTRALIAN TOUR
WITH SPECIAL GUESTS: WAGE WAR (USA), CRYSTAL LAKE (JAPAN)
& ALPHA WOLF (AUS)
FRIDAY 21 FEBRUARY: THE GOV, ADELAIDE LIC AA
Tickets available from www.oztix.com.au
SATURDAY 22 FEBRUARY: THE FORUM, MELBOURNE 18+
Tickets available from www.ticketmaster.com.au
SUNDAY 23 FEBRUARY: ASTOR THEATRE, PERTH LIC AA*
Tickets available from www.ticketek.com.au
FRIDAY 28 FEBRUARY: ENMORE THEATRE, SYDNEY LIC AA
Tickets available from www.ticketek.com.au
SATURDAY 29 FEBRUARY: THE TIVOLI, BRISBANE 18+
Tickets available from www.ticketmaster.com.au
*Crystal Lake not appearing
Also performing at UNIFY Gathering
Saturday 11 January 2020: UNIFY Gathering, South Gippsland VIC
Exclusive Pre-Sale:
Follow Polaris on Spotify for your chance to access the exclusive pre-sale tickets from Monday 18 November at 10am local time.
Please Note: You must follow the band on Spotify.General public tickets are on sale on Wednesday 20 November at 10am from polarisaus.com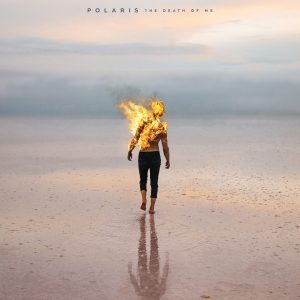 THE DEATH OF ME TRACK LISTING:
01. Pray For Rain
02. Hypermania
03. Masochist
04. Landmine
05. Vagabond
06. Creatures Of Habit
07. Above My Head
08. Martyr (Waves)
09. All Of This Is Fleeting
10. The Descent