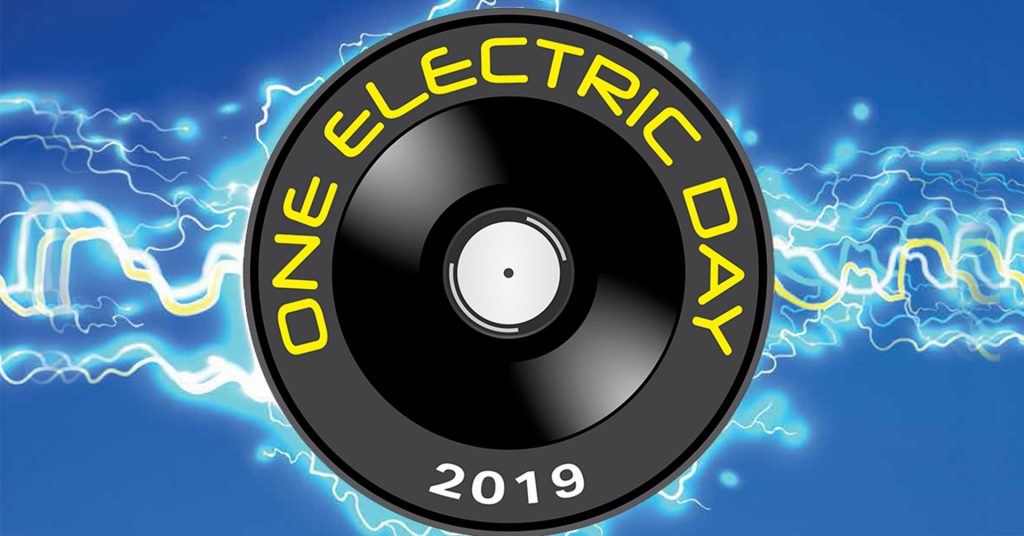 The day couldn't be more perfect weather wise, and the ferry on the way over to Cockatoo Island was a great start to what I'm sure will be a great day, an electric one if you pardon the pun. Today we are set for some Aussie Rock greatness, with Southern Sons reforming after 25 years apart, Vanessa Amorosi, Jon Stevens, James Reyne, and The Voice himself, Sir John of Farnham. So I'm looking forward to it.
With garden seats everywhere, people had staked their claim early and the spot they wouldn't move from if their life depended on it, standing room at front is where I plonked myself for my most anticipated band of the day, that being the reformed Southern Sons as I mentioned above. Twenty five years since these guys have played on a stage together and in seeing Jack Jones solo performing the songs of his band he still has it, so for me seeing the band for the first time, yes I didn't get to back in the 90's will be a treat. Walking on stage to a big round of applause they get straight into 'More Than Ever' to warm up and this just sounds great, but it's when they take it to 'Always and Ever' which was one of their big hits that the crowd truly give the band a big welcome back, I say welcome back but I mean for now… or do I? This song just full of hooks and catchiness is a perfect way to start the day and hearing it with the band is just right. 'Something More' followed by 'Which Way' keep things rockin' along before the band leave Jack on stage with an acoustic guitar to play arguably the band's biggest hit 'Hold Me In Your Arms' solo and hearing the crowd join in and seeing the smile on his face is a testament to a brilliant song. Then they pull out one of my favourite Southern Sons tracks, 'Lead Me To Water' from their second album and I've been waiting a long time to hear it played this way and boy howdy what a treat. This song should've been a much bigger hit than it was. 'Sometimes' is another catchy ditty as is 'Waiting For That Train' which was prefaced by Jack saying he'd keep the chit chat to a minimum which I know is tough for him, so well done in getting us some extra tracks in, Jack. 'The World Is Mine' allows the band, and I mean all of them, Jack, Reggie, Geoff, and Virgil to shine as musicians as they all absolutely kill this one, but the closer 'Heart In Danger' is what so many here were waiting for and it was perfection. The one that started it all for them finished things today and I get the feeling many were here early to make sure they saw this set. Welcome back, Southern Sons, let's hope this may be an ongoing thing…
Vanessa Amorosi is up next and 'Absolutely Everybody' starts as an intro and an almost medley into 'Freedom' and starting that way got people remembering exactly who she is. Just releasing a new album she gives us a song from that before Vanessa throws on a guitar and rocks things up a bit. My friend Kat on guitar stays up on stage with Vanessa to play 'Shine', a song originally called 'Die' she tells us which turns it much morbid as we sing it that way and with a 4 / 3 count the crowd joins in. 'Hello Me' then 'Mr Mysterious' mashed up a little with 'Sweet Dreams' was a nice touch. 'Perfect' is a killer rock ballad and made me happy as you know my love of a good rock ballad, so this was an easy win for her in this set. An interesting beginning to her cover of 'Dancing In The Dark' was actually damn good as it built into a big rocker, she did that well! Then 'Fire' and another Eurythmics cover with 'Would I Lie To You' suited her voice so well and the band nailed it. 'Who I Am' and its catchy as all get up chorus steals the set for me and I actually almost forgot this was part of her catalogue, this one was a big hit and live it turned into much more of a rocker. Closing the set, she bookends it with 'Absolutely Everybody' again, but the full song this time and it was the only way for her to go out. A powerhouse of a voice and some great songs made this a surprise set for me and with what's coming up next things are about to get even more lectric.
Jon Stevens has fronted two of the biggest bands in Australia, Noiseworks and INXS and today he's celebrating both of them, so we are in for a treat! Opening with 'Suicide Blonde' he smashes it out of the park, well, off the island in this instance before alternating bands and into 'Touch' from his band Noiseworks, even with keyboard issues you wouldn't have known and his powerhouse voice just takes charge. Back to INXS with 'New Sensation' then 'Noiseworks' with 'Love Somebody' it's just hit after hit, but as 'Devil Inside' takes its place the crowd love it and how can you not, it's songs like this that make you remember just how good INXS are. 'Miles and Miles' keeps the tempo on the same level and then 'What You Need' starts an INXS double with 'Need You Tonight' following, this one allowed the band to shine as he introduces the members and they showcase their talents, for me though Tony Kopa in his band is a treat, he was in his own band 'The Truth' back in the 90's and he still has that magic voice, so when he sang a bit of The Rolling Stones 'Miss You' and the band joined in, that sounded sweet. A special treat next with Stevens' Noiseworks bandmate Steve Balbi joining them on stage and seeing the way they interact is awesome, they belt out 'No Lies' which got the crowd singing and then I wasn't ready for two of my favourote songs in a row, not just of this set I mean of all time. INXS' 'Don't Change' followed by Noiseworks' 'Take Me Back' was a hell of a one, two punch as both of these songs were huge for both bands and the crowd let him know just that. As Jon says "Aussie pub rock is still alive it's still kickin" it couldn't be more truthful, look at this turnout to hear these songs that everyone grew up with, nostalgia is great but when these songs are still part of everyone's everyday playlists you know you've done something right. Closing the set with 'Hot Chilli Woman' the set went out absolutely rockin'. That was outstanding. All killer, no filler.
James Reyne starts with a solo track where there's "no way out at all" and as that fades 'Beautiful People' kicks in and we're now in full gear. We took a ride on a Train and some early sound trouble is rectified and yes! 'Slave' I wasn't sure if this one would get a run, then 'Hammerhead' keeps that mid tempo perfect radio rock going. Back into the Aussie Crawl with 'Downhearted' and then 'Reckless' that got a big cheer as it should. Such a timeless song. Just perfect. As the crowd joins in from where I'm standing towards the back it just sounds awesome. 'Motors Too Fast' takes it back to his solo work and live this always takes on a different vibe. It's so good. 'Errol' is up and the crowd truly love the Crawl stuff. The set continues with 'Water Water' and 'Oh No Not You Again' which keeps things going smoothly. Oh yeah!! 'Fall of Rome'!! which of course rocked then with only one more to go and it could only be 'Boys Light Up' and it is still such a classic. Oh a sneaky one more 'things Don't Seem' is a perfect way to close this set.
Here we go!
The drums are thumping as John Farnham walks on stage and 'We Will Rock You' is the opener. Bloody hell what a voice and what a band. From that into 'Hearts On Fire' which is still catchy and a staple of a Farnham set. Yes! 'Age Of Reason' is earlier than I expected and still 30 years on such a brilliant song. From one title track to another it's 'Chain Reaction' and that's always a good time, was fun to see everyone bopping along. 'Every Time You Cry' is up and the vocals from everyone in thus band are off the chain. Yeah it happened, 'Sadie' had to get a run and it's always a bit of fun. To the brilliant album  'Whispering Jack' and off it is 'Reasons' and damn that's a song and a half, still stands up, staying with 'Whispering Jack' and 'No One Comes Close' then a Kiki Dee cover of 'I Want Our Love To Shine' that allows Brett Garsed to shine, pun intended. One more slow one 'A Touch of Paradise' which is always a treat to hear and man can he still nail it.
'Talk Of The Town' brings the pace back up and FINALLY my favourite 'Two Strong Hearts' and that is just the best, how can you go wrong with this song, you can't. Plus the backup singers still have the moves down perfectly. 'Pressure Down' follows and even with a wrong line thrown in which made me chuckle, this song is still a huge favourite from those here. We're obviously heading towards the end as 'That's Freedom' hits, it's all the hits now. Oh sweet was hoping 'Playing To Win' would get in and here it is, such a brilliant rocker that is. So you definitely know we're at the end of the set now as 'You're The Voice' takes its place in the set, this Australian anthem has everyone up and on their feet and so they should be. He nails it. Of course the bagpipes come out and everyone is happy. Closing the set with a cover of AC/DC's 'It's a Long Way to the Top' he rocks Cockatoo Island and as I make my way out to line up for the ferries the applause at the end of his set is testament to this consummate professional.
A good hour or so before the ferry came allows the day to sink in, and what a truly electric day it was. An amazing line up of Australian talent and it was a pleasure to witness and be a part of the day.
Essential Information
Venue: Cockatoo Island
Date: November 9, 2019
Website: http://www.onelectricday.com.au