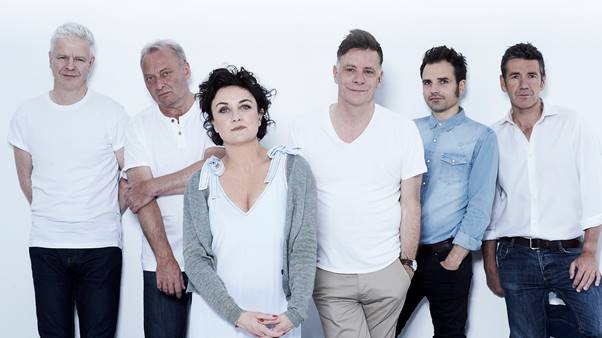 "…it has to be the best night of their life and that is what we strive for, whether we achieve that or not is not for us to say but we really strive, these gigs are important…"
From Release: DEACON BLUE are one of Scotland's most famous and successful bands, from their million selling debut album 'Raintown' (with classic singles 'Dignity' & 'Chocolate Girl'), and follow up, the chart topping 'When The World Knows Your Name' (featuring 'Real Gone Kid', 'Queen of the New Year' and 'Fergus Sings the Blues'),  through to 2016's 'Believers', their highest charting album in 22 years, Deacon Blue are consistently one of the most respected and best loved bands of their generation.
In Glasgow we gave Lorraine McIntosh a call to talk about Deacon Blue's return to Australia for the first time, memories, new music, and much more…
You're heading back to Australia and there are so many sold out signs on these upcoming shows, after 30 years away from Australia, how does it feel to have that kind of love still for the band?
Well you know it's one of the nicest things that's happened to the band in a very long time, we haven't played in Australia for 30 years and we probably thought we never would play in Australia again and then when the possibility came up that we might get over and do a few gigs we just thought we have to go for this then it just grew from there. I think in every town we've put on another night because it sold out so quickly. So we're just really delighted.
And with a catalogue now spanning nine albums, how do you go about putting a set list together after so long away?
I think we have to be realistic, and when we tour a lot more we can be possibly more liberal with putting in newer songs because people have had a chance to see you every few years, so they wont have missed out on the possibility of hearing one of their favourite songs somewhere from the bigger albums, but when you come to somewhere that you haven't played for thirty years we will be playing some new songs but we have to really bear in mind that people are coming to hear their favourite songs and we have a pretty good idea what most of those are.
What do you remember about your last trip to Australia?
Oh my goodness, it was a really kind of exciting point of life for the band, it was probably just when we were getting to our most successful joint, we toured Britain, we toured Europe, we did Australia and then we went straight on to The States o continue that tour, it was our first world tour if you like and it was just mind blowing. It was winter in Australia I remember that and I was only twenty four then and just thinking my god I can't believe I'm here and I'm not even on holiday, I'm here with my band and people are coming to see us. I also remember we were in Perth and we were walking down the street in Perth completely jet lagged and we heard at the end of the street someone going *sings part of 'Real Gone Kid'* from 'Real Gone Kid' one of our songs and we though my god that is unbelievable, the power of music to travel, but that' quite a while ago, Troy.
'Real Gone Kid' was of course the big song for us down here and for you, what do you remember most about releasing this song and when things really took off for the band?
Well, it's so long ago now, it was at the end of 'Raintown' obviously and it came out before the next album, it came out before 'When The World Knows Your Name' and was referred to as a preview single before the album came out and it just seemed to go, it was one of those songs that seemed to hit something with people and connect and people connected to it and is still one of the most popular songs in the show. It's just been a really joyful celebration of life and all great things and people still, when we start that guitar riff on stage people still instantly recognise it and it's a great song.
So over your time together it can be easy to say what can change but what would you say is the one thing that's stayed the same in Deacon Blue?
Well clearly four of the six members are the same, I wouldn't say our relationships are the same, I'm married to Ricky, and we've been married for thirty years that's stayed the same, but our relationships with each other has just deepened it's gone through it's ups and downs but we're like family to each other. What's stayed the same is the realisation that especially for coming to gigs, that people come to gigs, it's a lot to ask people to hand over money to come and hear you play live, and Ricky would always say it has to be the best night of their life and that is what we strive for, whether we achieve that or not is not for us to say but we really strive, these gigs are important, especially over here at the moment *laughs* the way the world is on this side of the wold it's depressing for us at the moment politically shall we say, so there has to be a celebration, there has to be a time for coming together and forgetting about those things and being together.
Other than being in the band, you also act, what for you is the biggest difference between working in music and in television?
I do, well, when I'm in Deacon Blue I'm me, I'm myself, when we're on stage we're on stage as ourselves and what we create is part of ourselves, obviously hen I'm acting I'm being someone else and I love doing theatre, I've done TV, I've done a bit of film and been quite lucky, but music is me up there and that to me is more rewarding.
Deacon Blue has continued to make and release music, can we expect anything new in the near future?
Well… you have to watch this space, Troy, maybe when we're in Australia we might have some news.
How much longer are you out touring the 30th Anniversary?
I can't really say too much about that either because of an announcement, but let's say we're gonna be out on tour for a while yet. All will be revealed *laughs* it's terrible I hate not telling people things but I'll get in trouble. You will find out about it while we're in Australia.
OK, so let's see if we can answer this one then *laughs* is there anything you would like to do with this band that you haven't yet had the chance to do?
You know I don't think there is, maybe go back and play in The States again, I would like to do that actually but it's not something that keeps us up, we go out now and we play to bigger audiences in The UK than we've played to in years and years, we went back to Europe for the first time, we went back and played a stadium for the first time in twenty five years, so these things you don't feel like you have to ask for any more, we're all so grateful for the way things have come and we're still loving it.
Other side of that, over the thirty years is there a moment that stands out that you'll always remember?
No, I honestly don't think there's one moment, there have been too many moments, I remember playing in the bottom wine club in New York in 1988 or 89 and Springsteen's manager came to see us and Rod Stewart was there, it was a tiny little club and we gave it our all, we went on stage at half eight or something and played for an hour and a half and literally came off stage to be told by our manager "I forgot to mention that you're doing two gigs here tonight, two sets, so you have to go back on at half ten" *laughs* it was crazy but we had to do it *laughs*. In 1990 we played in Glasgow when Glasgow was the European city of culture and we played to 250,000 people in our home city two miles from where I was born, these are the things you look back on like did that really happen? But it did happen.
Lastly, let's look ahead to the future, finish this sentence for me, in 2020 Deacon Blue wants to…
*laughs* Oh god that's a hard one, in 2020 Deacon Blue wants to blow your mind *laughs*
Deacon Blue Tour Dates
Monday 18 November 2019 – The Rosemount, Perth WA SOLD OUT
Tuesday 19 November 2019 – The Rosemount, Perth WA SOLD OUT
Wednesday 20 November 2019 – The Gov, Adelaide SA
Friday 22 November 2019 – The Factory, Sydney NSW
Saturday 23 November 2019 – The Triffid, Brisbane QLD SOLD OUT
Sunday 24 November 2019 – The Corner Hotel, Melbourne VIC SOLD OUT
Tuesday 26 November 2019 – The Corner Hotel, Melbourne VIC
Wednesday 27 November 2019 – The Factory, Sydney NSW SOLD OUT
Thursday 28 November 2019 – The Triffid, Brisbane QLD
Ticket On Sale Now
Adelaide and Brisbane:  https://www.oztix.com.au/eventguide/?q=DEACON+BLUE
Sydney: https://premier.ticketek.com.au/shows/show.aspx?sh=DEACONB19&v=TFM
Melbourne: https://cornerhotel.com/gig/62246590227
Essential Information
From: Glasgow, Scotland
Band members: Ricky Ross – lead vocals /piano, James Prime – keyboards / piano, Lorraine McIntosh – backing and lead vocals, Dougie Vipond – drums, Gregor Philp – guitar, Lewis Gordon – bass
Website: http://www.deaconblue.com