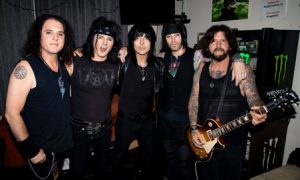 Hollywood Sunset Strip Legends, L.A. Guns will head to Australia in June 2020 for four shows along the East Coast and Adelaide, with special guests The Poor.
The tour kicks off on June 11 at Brisbane's The Triffid, followed by June 12 at Factory Theatre Sydney, June 13 at Melbourne's Corner Hotel and winding up on June 14 at The Gov, Adelaide.  Tickets are on sale now.
Audiences can look forward to an ultimate night of rock n'roll from the band's founding member, guitarist, Tracii Guns, joined by lead singer Phil Lewis, guitarist Ace Von Johnson (Faster Pussycat), bassist Johnny Martin and drummer Scot Coogan.
These kick-ass, high energy rock shows will feature a massive set list of the band's biggest hits including 'Never Enough', 'No Mercy', 'Rip 'n Tear', 'Electric Gypsy', 'Speed' and 'The Ballad Of Jayne'.
L.A. Guns were formed in 1983 by guitarist Tracii Guns with a then unknown Axl Rose on lead vocals. 
The "classic" band line-up featuring former Girl singer Phil Lewis, drummer Steve Riley, guitarist Mick Cripps and bassist Kelly Nickels have sold 6.5 million records worldwide, including 1988's 'L.A. Guns' and 1990's 'Cocked and Loaded', both of which were certified Gold in the US.  
1991 saw the band release the record 'Hollywood Vampires' and in 2017, their critically-acclaimed album 'The Missing Peace' was the highest selling album for US based label Frontiers Music that year.  Their current record 'The Devil You Know' was released in March of this year to the same critical acclaim, bringing their catalogue to twelve albums in total.
L.A. GUNS
AUSTRALIAN TOUR – JUNE 2020
Tickets on sale now
THU 11 JUN               THE TRIFFID,  BRISBANE, QLD
TICKETS: https://tickets.oztix.com.au/outlet/event/3ed43328-b57e-4151-b760-593e477b0aaf
                                           
FRI 12 JUN                FACTORY THEATRE, SYDNEY, NSW
TICKETS: SABO: http://bit.ly/FAC20-LAGUNS
Ticketek: https://premier.ticketek.com.au/shows/Show.aspx?sh=LAGUNS20
SAT 13 JUN               CORNER HOTEL, MELBOURNE, VIC
TICKETS: https://cornerhotel.com/gig/78738337487/
SUN 14 JUN              THE GOV, ADELAIDE, SA
TICKETS: http://tickets.oztix.com.au/?Event=109612
Follow L.A. Guns
https://www.facebook.com/L.A.GunsOfficial/  
@L.A.GunsOfficial
https://www.instagram.com/laguns/?hl=en 
@laguns
https://twitter.com/laguns?lang=en  
@laguns