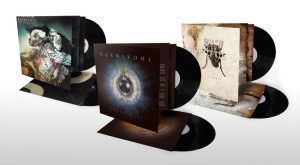 Perth progressive rock titans Karnivool have bowed to demand, announcing the reissue of their celebrated back catalogue on sweet, sweet 180 gram vinyl.
Originally pressed in 2015 and released online only, vinyl editions of Themata, Sound Awake and Asymmetry sold out instantly, throwing all three albums back into the ARIA Charts. With these limited copies now fetching top dollar on auction sites, the band have decided to give fans the opportunity to buy their records at a reasonable price.
Vinyl editions of Themata, Sound Awake and Asymmetry will be available in-store for the first time, worldwide from December 6, 2019. Pre-orders are available here.
Having just returned from India where they played their first international festival headline slot at NH7 Meghalaya, fans can catch Karnivool at Good Things 2019 or at one of their warm up shows, which includes their first trip to Tasmania since 2016.
Stay tuned for more Vool related news in the very near future.
UPCOMING TOUR DATES
Friday, December 1
Badlands, Perth (SOLD OUT)
Wednesday, December 4
Uni Bar, Hobart
Friday, December 6
Good Things 2019, Melbourne
Saturday December 7
Good Things 2019, Sydney
Sunday December 8
Good Things 2019, Brisbane
Tickets via karnivool.com/tour