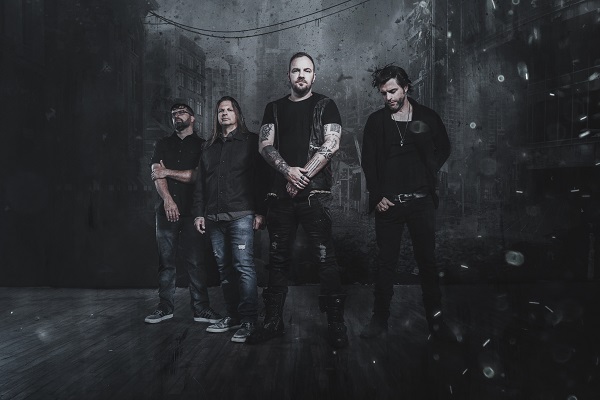 "We wanted it to be a step up from the last one and each record we make the plan is to make it better than the last so yeah I could say in a few different ways we tried to do that this time around."
From Release: Since their emergence in 2015, Saint Asonia quietly positioned themselves to progress and push hard rock forward in the process. Founded by Adam Gontier [vocals, guitar] and Mike Mushok [lead guitar], the band pivoted from the multiplatinum chart-dominating success of the two musicians' histories in Three Days Grace and Staind, respectively, and stormed new territory on their self-titled full-length debut, Saint Asonia. Within a few years, total streams crossed the 50 million-mark with "Better Place" and "Let Me Live My Life" both cracking 10 million on Spotify. After making their debut at a surprise, unannounced performance at Rock on The Range in 2015 before a sold-out audience, they toured with everyone from Seether, Breaking Benjamin and Disturbed to Mötley Crue and Alter Bridge in addition to making appearances at Welcome To Rockville, Fort Rock, and beyond. With the release of 'Flawed Design', their debut for Spinefarm Records, Saint Asonia fully realize the scope of their ambition.
At home in Canada, Adam from Saint Asonia gave us a call to talk about the bands new album 'Flawed Design', its creation, touring, and more…
'Flawed Design' has just been released, four years in the making, how did you approach this second record to make sure it was exactly how you wanted to represent Saint Asonia in 2019?
Well I think we managed to do that in a few different ways, I mean the first thing that was pretty important for us was to find the right producer which we did Brian Sperber who worked on a lot of great stuff including a couple of Staind records, so yeah we did some co-writing as well with some different artists and we spent a long time I mean we spent longer than we would making a record for a few different reasons but we really just focused on the job. We wanted it to be a step up from the last one and each record we make the plan is to make it better than the last so yeah I could say in a few different ways we tried to do that this time around.
What if anything did you set out to do differently on this record?
I think the main contributor was co-writing with different people, we didn't do that on our first record and on the first record Mike and I just basically wrote everything but on this album we reached out to people like Sully Erna from Godsmack, and Dustin Bates from Starset, Stevie Aiello from Thirty Seconds To mars, you know we just tried to think outside the box when it came to song writing and get some different people involved.
What's the feeling like when it's finally released to the world?
I mean it's exciting, especially this time around because it was so long in the making, it was four years between albums so it was definitely exciting and it's still pretty exciting to see how things go and how people are reacting to the songs and the record and stuff, it's a really good feeling to finally have it out there and get feedback from people on what their favourite songs are, and all that stuff it's a really cool feeling.
In the four years you've been together what has this band allowed you to do that you felt you couldn't do with your respective bands?
Well I don't think there's a heck of a lot that's different in that regard, this time around I'd say with Saint Asonia the creative aspect, the creative control is a little more in our hands than maybe in our previous bands. In those other projects there's a lot of people involved even outside of the actual band and the show, we have an amazing team of people that we work with but when it comes down to the music and the artwork and all that stuff it's really up to us and it's really important when you're making music and you're an artist that you have some control over what fans and what people are going to hear.
When you move from bands that have that big machine as you were saying, what's the biggest thing you've learned from being a part of this band?
Yeah I've been doing this for so long, over twenty years now and the biggest thing for me is in this band there's a certain level of respect with everybody and Mike has been doing this for so long as well and he's got a level of respect for me and I have a level of respect for him. It's just really about our personalities and how well we work together and I mean that's something when you're adding new band members which we did this time around we just want to make sure that everyone gets along properly you know.
Both yourself and Mike have been to Australia but not yet as Saint Asonia, is there a chance we may see you here any time soon?
Absolutely, man, definitely a chance, the last time I was there was years and years and years ago was with Nickelback I believe, so it would be great to get over there and get Down Under next year for sure. That's the plan, 2020 we're going to be touring as much as we can, and if we can get overseas and especially get to Australia we would absolutely love to.
I was at the Sydney show with Three Days Grace and Nickelback and what a great show, perfect pairing…
That was fun, man, I remember that it was my first and only time to Australia, I just had a ball and would really love to get back .
As you said you've been in the industry for a while now, over your time it can be easy to say what can change, but what for you is the one thing that's stayed the same for you over your time making music?
That's a good question, I think the thing  hasn't changed is the loyalty from fans, over the years the fans have been super supportive, it's been really amazing, when I left Three Days Grace the support has always been there and that is unwavering from the fans and people that love the music, so I mean that's the one constant throughout this business that keeps changing in different ways and I think the one constant is that people that love your music they love it for life and that's really something special for sure.
As a musician was there once piece of advice you were given when you started making music that stuck with you and you still refer to to this day?
I heard a lot when I was trying to make it as a musician early on and I always thought it was cliché but to not give up and if you have the dream of making it just keep at it and it'll happen and that was true in my case , I was really close to quitting the first band and just quitting music in general and we actually played one of our very last shows before we were going to stop making music and we ended up meeting someone at a record label that got us a record deal. So it's just one more thing, you've just got to stick at it for years and years and the reason people keep saying it is because it's true you've just got to keep working it and if you want to do it you can do it for sure.
Lastly let's look ahead to the future. Finish this sentence for me. In 2020 Saint Asonia want to…
Take over the world *laughs* No… really in 2020 we want to spend the year on the road and it's just really important to us to play shows and get on festival dates and get on good tours and just play everywhere that we possibly can, that's the goal for 2020 for sure.
Essential Information
From: Toronto, Canada
Band members: Adam Gontier – lead vocals, rhythm guitar, Mike Mushok – lead guitar, Sal Giancarelli – drums, Cale Gontier – bass
Website:  http://www.saintasonia.com/
Latest Release: Flawed Design (Spinefarm Records)