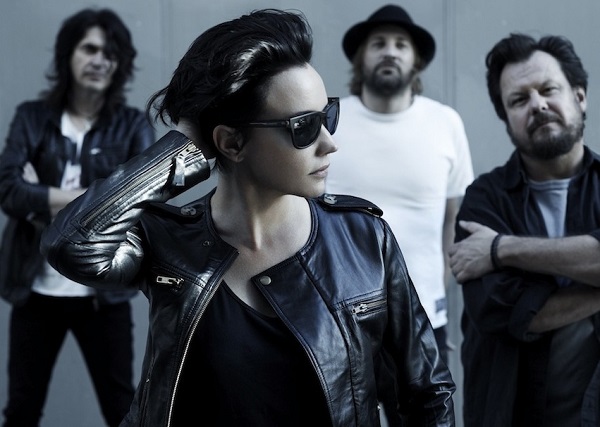 "I'm so grateful really that we've got such loyal fans, and if it wasn't for them we'd have no one to play to."
From Release: Baby Animals emerged on the Australian music scene in 1991 and delivered four massive hits off their debut album. They also picked up three ARIA Awards in 1992, for Album Of The Year, Breakthrough Artist Of The Year – Album and Breakthrough Artist of The Year – single for "Early Warning". Their self-titled album was also named in the 100 Best Australian albums. Their second album 'Shaved And Dangerous' reached No. 2 and their 2013 album, 'This Is Not The End' reached top 20.
We gave our old friend Suze DeMarchi a call to talk 'They Who Rocks' with The Angels, recording an Angels classic, new music, and much more…
We last spoke about eighteen months ago so let's catch up how have the last eighteen months been for you?
Well they've been good, I spent a bit of it in LA because my son is there doing High School so I go back and forth a bit at the moment. We've done a lot of shows, done a bit of writing, trying to get a new record done, you know, yeah… So we're all over the place so it's even harder, same same, it was the same when I was living over there was just a bit trying to get everyone together but it's cool, I just sort of write with people, whoever's around.
We're here because you're heading out on the road again and this time it's they who rocks, out with the mighty Angels! How did this touring pair finally come about after so long?
Well we were talking about it because we did some shows with them at the beginning of the year, we did some Red Hot Summer shows and we were talking about it then and John Brewster said "we want to record 'One Word' why don't you guys do an Angels song and we could do a tour?" I said "well we'll do 'Marseilles'" because I love 'Marseilles' and we ended up doing that and it turned into this tour and it's all kind of full circle for us because they were the kind of first big band we ever toured with before we had a record deal they took us out on the 'Dogs Are Talking' tour.
As you said you guys go way back to 1990, what are some of your best memories of touring with The Angels way back in the beginning of the band?
I mean we were just kind of in awe, we were a new young band and playing for Angels crowds was pretty full on because they didn't want to know about us, really, so we had to really work hard to turn them and bring them around. I mean they were crazy those tours, they were just mental, there was three young unsigned bands and The Angels and I just remember Doc coming off stage with his oxygen tank *laughs* and there was a lot of stuff to see from my perspective at that age, just the madness of t all and whoa these guys are serious.
You mentioned you have both recorded one of each other's tracks, you with 'Marseilles' and The Angels with 'One Word'. So how was it decided who did what song or did you pick for each other?
Nup I didn't pick 'One Word' for them I would've picked something else, I think John wanted to do it. I would've picked 'Rush You' or something maybe, I mean yeah it's cool, it's interesting, 'Marseilles' was fun to do.
So who goes on first at these shows? Is the plan to mess with the other band and play your version of their song? Or are you still playing your version of your song?
Yeah we still play our song, and what we're gonna try and do at some shows we're gonna try and do an encore with The Angels after they finish their show and we'll both do the songs together somehow *laughs*. Obviously we can't do it every show but we'll do it at every show we can.
You guys have always been a powerhouse live, how important is the live aspect of the band for you?
I mean it's everything really, especially the climate that we're in now, first of all it's our job and it's our real revenue stream that we have these days, that everyone has, it's not record sales anymore and it's almost back to square one in some ways because before radio it was all just live performance and that's all you ever did. It's what we love the most and for us it's the real payoff, so it doesn't really bother us and if I could be touring all year I would, I'd love to but we can't over saturate the thing, Australia is small so you've got to pick and choose a little bit. I love it, we just can't wait to play, for us it's just like go, don't slam the door on the way out *laughs*.
And I'm not sure what sorcery you use but you sound better than ever…
Thank you, I don't know I feel like I'm less stressed about shows than I used to be. I feel like I used to get bad ones, I think back when we used to do really long tours, but now we do shorter tours and so my throat gets a rest and I don't stress about it as much you know, you forget and my stress would all go in my throat and because I was always worried about if I'd get sick, I hate to blow shows out and I guess we had a bit of a different work load then. Now we do mostly weekend stuff we just go in and out you know which is great. I get to have a life as well.
With still such a following, after all these years what do you put this attachment to?
Well we pay them a lot. I have no idea it's crazy because there are some fans that come to every show around Australia and for me I can't comprehend it and I relate it to when I was younger, I mean these people aren't younger let's be honest they're older but when I was a kind and I had a favourite band I would go and see them every time they played, I wouldn't miss a show because I loved them so much. I guess it's that kind of thing, they just get a kick out of it and I've become friendly with a lot of them because you see them at every show and I think it's amazing, I'm so grateful really that we've got such loyal fans, and if it wasn't for them we'd have no one to play to.
You'd almost see it generational now, right?
I see people my age then their kids and now we're seeing the next generation. We did Caloundra music festival and we did an after show signing and that went for an hour and a half and there was kids, little kids, like seven and eight year old kids and it was really eye opening, I was stoked I mean this is crazy *laughs*.
You talked earlier on about new music, when do you think we'll hear something?
I mean by the looks of it and hopefully getting our asses into gear, we've got a bunch of stuff ready to record, I reckon it'll be next year, we were hoping it would be this year but I think it'll be next year. We've just got to get this stuff out of the way we're touring all year, then we've got four and half months of the Red Hot Summer next year, but we can do stuff in between so hopefully we can get it together by then. I'd like to do an album, I mean I'm an album girl you know, I'd like to do an album, it could be two EP's I don't know, it depends on a lot of things, one of them being financial it's not like they throw around money anymore, so we have to do it ourselves which is fine we did the last record ourselves.
What do you still enjoy about being part of Baby Animals?
I love the guys, they're idiots, those bloody idiots, I just love seeing them every weekend when we're on tour, and seeing the crowds and doing the shows and for me it's just a really nice well-oiled machine, man, it's just a lot of fun. I'm lucky I can still do it, I feel like I wont have to stop doing it for a while unless I have to you know *laughs*.
As always let's look ahead to the future, finish this sentence for me, in 2020 Baby Animals want to…
Put a new record out.
I knew you were going to say that…
Der *laughs*
Other than put a new record out, Baby Animals want to…
*laughs* Work with Butch Walker, work with a whole bunch of people. I'd love to do some more work with Justin Stanley, I did some writing with him in LA, Bob Clearmountain, so many… I'd like to do some more stuff with Kevin Shirley as well if we can get him away from Barnesy for five seconds *laughs* you know.
'They Who Rocks' – The Angels and the Baby Animals Live 
November
1st        170 Russell, Melbourne VIC
8th        Doyalson RSL, Doyalson NSW
9th        Toronto Hotel, Toronto NSW
15th      The Gov, Adelaide SA
16th      The Gov, Adelaide SA
29th      Astor Theatre, Perth WA
30th      Metropolis, Fremantle WA 
December
6th        The Tivoli, Fortitude Valley QLD
7th        Southport RSL, Southport QLD
13th      Waves, Wollongong NSW
14th      Metro Theatre, Sydney NSW
Tickets from theangels.com.au and thebabyanimals.com
Essential information
From: Sydney, Australia
Band members: Suze DeMarchi – Vocals / Guitar, Dave Leslie – Guitar, Dario Bortolin -Bass, Mick Skelton – Drums.
Website:  http://www.thebabyanimals.com