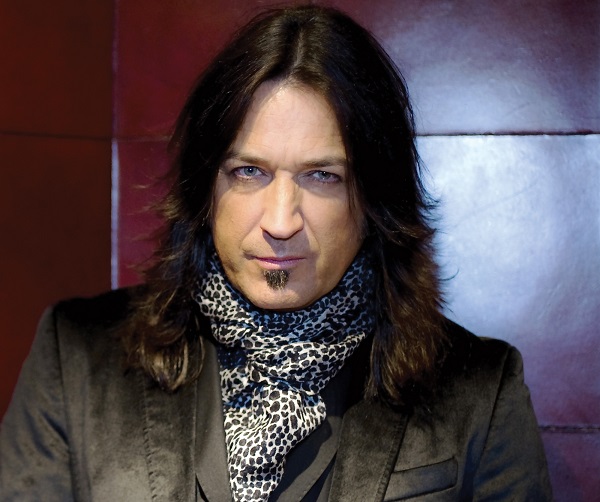 "…I'm gonna really try to make it unique and one of a kind for Australia because I've been out doing these solo acoustic shows but I want to make this very special."
From Release: With a successful 2018 tour with STRYPER under his belt, MICHAEL SWEET is heading back to Australia, thanks to Silverback Touring for his first ever solo shows down under this November. Expect to hear the STRYPER hits, his solo material, plus a few surprises, and a story or two, in a series of intimate acoustic shows along the East Coast.
At home in Plymouth outside of Boston we gave Michael Sweet a call to talk about his upcoming Australia solo acoustic tour, his new solo album 'Ten', new Stryper music, and more…
It's been about fifteen months since we last chatted, so let's catch up, how have the last fifteen months been for you?
Oh man it's been a blur we've been so busy travelling we did a six week ground run on a bus and did some other fly dates solo, I just took a vacation with my wife which was long overdue so there's a lot going on. I've got a new solo album coming out in October which I'm really excited about called 'Ten', Stryper is going to start working on a new album at the end of the year and beginning of next year and that'll be coming out next year. It's just a lot, there's a lot on the calendar, man, it's hard to keep up with but at the same time I'm very grateful for everything that's going on.
You are heading back to Australia solo this time around, can you give us an idea on how these shows are going to shape up?
Well they're gonna be very different obviously than last time around, we brought the amps and cranked them up and drums, full band and whatnot, this time around it's just myself and an acoustic guitar and I'm going to have a looper on a few tracks, a drum machine on a few tracks, and I'm gonna play a lot of songs that people might not expect to hear and present a different translation of these songs for people. When you think of 'Soldiers Under Command' or 'To Hell With The Devil' you don't think of an acoustic guitar, but when I play them on an acoustic guitar they work somehow. That's the way these songs were written, these songs were written on an acoustic, I always start on an acoustic and then I pick up an electric and move on to that and that's when they start to take on their form and full production, but they originate and start on an acoustic guitar.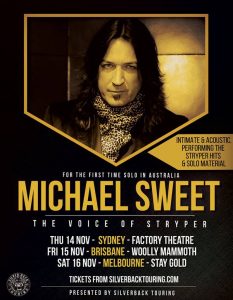 Performing these songs acoustically do you find that some songs take on a different vibe or feeling when performed this way?
Oh for sure, yeah, and 'Soldiers' is a very good representation of that it's got a little bit of a different feeling and honestly a completely different spin to it and I'm gonna be digging deep. I put the word out on facebook asking people what they want to hear me play, and people are responding and there are some songs that are expected like the typical 'Calling On You', 'Always There For You', 'Honestly' and these types of songs, the big hits, but then there are a lot of songs that people are asking for like 'First Love' and 'The World of You and I' so I'm gonna pull some of these songs out and learn them and really give the Australian fans something unique and special.
With a catalogue as vast as yours, how are you even going to attempt to put a set list together that isn't 4 hrs long?
*laughs* That's hard, it's really hard to do, you're typically looking at a seventeen, eighteen, nineteen, twenty song set list at most, you're getting into the two hour mark at that point and it's hard to get Stryper tracks in there, solo tracks, Sweet and Lynch tracks, and anything else that people may want to hear or expect to hear it's very difficult, but I'm gonna do my best and as I said a few moments ago I'm gonna really try to make it unique and one of a kind for Australia because I've been out doing these solo acoustic shows but I want to make this very special.
We never got to see you with Boston here so are we going to get some Boston maybe?
Oh yeah of course I've gotta throw some Boston songs in there for sure.
Of course we have 'Ten' coming up, can you give us an idea of what we can expect to hear?
Well it's an absolutely perfect follow up to 'One Sided War' so if you liked 'One Sided War' you're going to love 'Ten', it's in the same vein, it's on the same road, the only thing that's different about it is instead of just a few guitar players like I had on 'One Sided War' on this album 'Ten' I've got a different player on every song, so I've got guys like Gus G, Jeff Loomis of Arch Enemy, I've got Andy James, I've got Tracii Guns, Marzi Montazeri, Howie Simon, Ethan Brosh, Joel Hoekstra, Rich Ward, myself of course, Mike Kerr, I've got quite a list of players, and when you hear this album you hear these guys man, they just killed it, it's amazing.
What do your solo albums allow you to do that you feel you can't do as part of Stryper?
Well you know here's the thing, it's not that it's so much different or it really stands out that it's very unlike Stryper, there are similarities and some people might hear this album and think gosh it sounds very similar to Stryper. The thing that it allows me to do is I've got a song in my head every day so much so that it almost drives me crazy, in other words I'm always humming a song and I can't get out what I need to get out with Stryper alone if that makes any sense. That's why I do this solo stuff, that's why I do these side projects, Sweet and Lynch, that's why I do other things because it's an opportunity and a way to release what I've got inside and stay creative.
Over the years and with countless albums and projects under the belt how if in any way has your approach to song writing changed?
Oh gosh, well back in the day, back in the 80's I used to sit and work on a song or an album for much longer so in other words to write an album I might spend two or three months or six months, and some people say that's a better way to do it, not necessarily. These days the way I like to do it and the way basically both Sweet and Lynch albums were done, the last three Stryper albums were done, and the last three solo albums were done was I started writing two to three weeks before I started recording. It was a song a day, so basically for twelve days or thirteen days I'd write, I'd take a day or two off and then went in and started recording.
You don't find that as any pressure doing it that way?
There is but the pressure is good, I work well under pressure or at least I think so *laughs* people might tell me otherwise but I feel that I work well under pressure. If I get a dog or if I get a song that I'm not feeling within an hour I'll shelf it and I'll move on to something else and then by the end of the day I've got a song. It's usually a song a day every day and I'll lock myself with my two computers and my drum program and my guitar and I just sit there and I work, and every day I work out of the studio with a song.
Do you ever sit there and write and think, wait I'll keep that one for Stryper?
On rare occasion, rare occasion but every now and then that'll happen but for the most part you know I write for each album I don't sit and say OK I'm writing Stryper album so this has to be Stryper, or I'm writing a solo album so this has to be solo, I start writing and whatever I'm feeling or whatever I feel good about I go with. So in other words on this solo albums there are some songs that you might say that would be great on a Stryper album or there are some Stryper songs that you might say that might be great on a solo album, but I don't let that determine what makes it on a Stryper album or solo album.
You did mention before that there will be new Stryper on the way, what's the follow up to 'God Damn Evil' looking like?
Well that's a good question, I think we're gonna stay on the same path that we're on, so in other words in that heavy kind of direction, we did talk about branching out a little bit doing a couple of songs that make people go "wow, I did not expect that" but we don't want to venture too far away from what we're doing right now because that saying if it ain't broke don't fix it, you know? We don't feel the need to fix anything right now, we feel like we're in a good place.
Speaking of good place, how's Oz?
You know what? Oz is doing good he's on a diet and lost some weight and he seems in real good spirits, we've been out touring and he's in a good place, I mean they're keeping an eye on him and will continue to keep an eye on him to make sure everything is good, there's still a lot of the unknown we're faced with, he's got  couple of spots on his brain and no surgery it's too risky to perform surgery and there's still those question marks, those questions that aren't answered. Overall he's doing really well and we're gonna keep taking it day by day.
You guys of course came down here without Oz as a trio and I enjoyed calling you Triper but you did a great job covering and doing that and thanks for coming down and still playing for us.
*laughs* You know what, it's not easy covering his stuff as a trio because Stryper is all about three part vocal harmonies and two part guitar harmonies everybody knows that, so when you're missing a guitar part and a vocal part you're missing a lot, and it makes it very difficult to pull off and to do it justice but we gave our all, we tried, and we were faced with a situation where we really didn't have a choice, if we did have a choice we probably would've waited and come down with Oz but we weren't able to do that, but that being said, everybody came out to support and everyone was so generous, so kind and it blew my mind how many people turned out and how many smiles were on peoples faces, it really surprised me.
I'm good friends with Danny at Silverback Touring and it was just a great show and well done all round…
Oh yeah Danny is a terrible guy, terrible guy *laughs* I love Danny, man, obviously he brought Stryper and he's bringing me as a solo artist and we look forward to the future with Danny because he's a great guy, great promoter and there's a lot more in store for sure.
Lastly as always let's look ahead to the future, finish this sentence for me, in 2020 Michael Sweet will…
Be 57 years old instead of 56 years old *laughs*.
Michael Sweet November 2019 Australian Tour Dates
Sydney: Thursday 14th November, Factory Theatre
Brisbane: Friday 15th November, Woolly Mammoth
Melbourne: Saturday 16th November, Stay Gold
Tickets From: https://silverbacktouring.com.au/michael-sweet-2019/
Essential information
From: Plymouth, MA, USA
Website:  http://www.michaelsweet.com
Forthcoming Release: Ten – (October 11 – Frontiers Music)