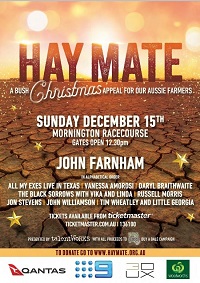 HAY MATE – A BUSH CHRISTMAS APPEAL FOR OUR AUSSIE FARMERS
FEATURING JOHN FARNHAM WITH ALL MY EXES LIVE IN TEXAS, VANESSA AMOROSI, DARYL BRAITHWAITE, THE BLACK SORROWS WITH VIKA & LINDA, RUSSELL MORRIS, JON STEVENS, JOHN WILLIAMSON, TIM WHEATLEY AND LITTLE GEORGIA
TICKETS ON SALE 9AM ON FRIDAY 1ST NOVEMBER 2019
Banding together this festive season, John Farnham will lead a cast of Aussie entertainers to raise important funds for Rural Aid with the Hay Mate – A Bush Christmas Appeal for Our Aussie Farmers. Joining John for this all-star line-up is a list of Aussie music royalty including Jon Stevens, Daryl Braithwaite, Vanessa Amorosi, John Williamson, The Black Sorrows with Vika & Linda, Russell Morris, All Our Exes Live in Texas, Tim Wheatley and Little Georgia. What a Christmas get together!
For John Farnham, being part of the Hay Mate concert in Mornington on December 15 – an event that has been made possible by the generosity of partners Qantas, Woolworths and the Nine Network – was an important thing to do. "Farmers are the backbone of this country," he says. "I understand what they are going through. They are doing it tough through this drought. Not only do we want to help out, we want to show them that they have our support."
All profits raised from the massive Sunday event will go to Rural Aid's Buy A Bale campaign. Rural Aid is one of the leading rural charities in Australia and have been championing the cause to farmers doing it tough. The Buy A Bale program supports farmers and rural communities throughout Australia, delivering hay and other essential items for those who have no feed left for their livestock. One of the key supporters of the Hay Mate event, Woolworths, has a long and strong history of supporting Australians in need, particularly in times of drought and disaster. Their continued support with Hay Mate will keep championing the cause for funds for drought-affected families.
Rural Aid chief executive officer Charles Adler said everyone behind the Hay Mate concerts were to be commended for coming together to put on the event. "They have recognised a need and are committed to supporting our farmers and families," he says. "I cannot say enough in terms of their generosity to this cause. The Hay Mate Buy A Bale program has so far distributed over $3-million worth of fodder to farmers around Australia. But, with the worsening drought and the need for a lot more, the commitment has been made to distribute more through the funds that will be raised at the Hay Mate concert."
The Nine Network will be broadcasting the Hay Mate concert from 8pm on December 15 on Channel 9, continuing its ongoing support of Australian farmers. Head of content, production and development Adrian Swift says the network is committed to helping farmers who are suffering through the worst drought in 100 years. "The job isn't over yet," he says. "Working with Rural Aid and Aussie music legends like John Farnham represents another massive opportunity to show support and raise more funds," he says. "Hay Mate will be a major television event featuring some of Australia's biggest musical acts."
Organiser Glenn Wheatley, who is one of the driving forces behind the Hay Mate – A Bush Christmas Appeal For Our Aussie Farmers says the success of the event is about everyone coming together for a united cause. "There are times when we need to stand together to support those in need, and our farmers are doing it tough," he says. "I can't thank the performers enough for agreeing to participate. Their support to this cause is enormous. It is a credit to them, and I do hope Australians get behind this bush Christmas appeal to support our farmers. December is the perfect time to get together – celebrate Christmas early and help out our fellow mates – come and join us for this very special event in Mornington on December 15."
Sunday 15th December 2019 | 12.30pm
Mornington Racecourse, MORNINGTON VIC
www.ticketmaster.com.au | 136 100
Tickets for Hay Mate – A Bush Christmas Appeal For Our Aussie Farmers go on sale at 9am AEST on Friday 1st November 2019. To donate to the appeal, visit the Hay Mate website.
TICKETMASTER PRE-SALE:
Begins: Wednesday 30th October 2019 (10am AEST)
Ends:     Thursday 31st October 2019 (11.59pm AEST) or ends earlier if allocation exhausted
GENERAL PUBLIC ON SALE
Begins:  Friday 1st November 2019 (9am AEST)