Good Things come to those who wait and Good Things Festival are thrilled to announce headline sideshows from some of the artists on the huge festival line up.
TICKETS FOR ALL SHOWS ARE ON SALE WEDNESDAY 30 OCTOBER @ 9AM LOCAL TIME
TICKETS.DESTROYALLLINES.COM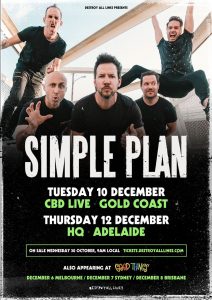 Destroy All Lines Presents
SIMPLE PLAN
WITH SPECIAL GUESTS 
TUESDAY 10 DECEMBER –
CBD LIVE, GOLD COAST
THURSDAY 12 DECEMBER –
HQ, ADELAIDE
Simple Plan, the multi-platinum, Canadian pop punk legends need no introduction.
The band boasts worldwide sales topping 10 million and countless accolades to their name.
Last year the band performed throughout the USA as one of the headliners for the final Warped Tour and were featured at the two monumental Warped finale events in Atlantic City and San Francisco this summer.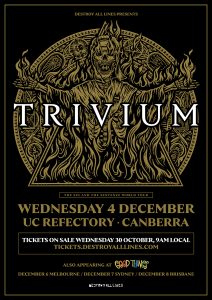 Destroy All Lines Presents
TRIVIUM
WITH SPECIAL GUESTS
WEDNESDAY 4 DECEMBER –
UC REFECTORY, CANBERRA
Following the 2003 independent breakout of Ember to Inferno, Trivium arrived as metal's hungriest contender on 2005's Ascendancy. Heralded as "Album of the Year" by Kerrang!, it stands out as a 21st century genre landmark. As they went on to cumulatively sell over 2 million units, they scorched stages with idols such as Metallica, Black Sabbath, Iron Maiden, and more in addition to regularly making pivotal appearances at Download Festival, Bloodstock,
KNOTFEST, and beyond. Shogun, In Waves, Vengeance Falls and Silence In The Snow all soared to the Top 10 of the ARIA Chart as the band staunchly secured its place in the modern metal pantheon.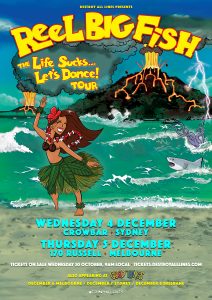 Destroy All Lines Presents
REEL BIG FISH
WITH SPECIAL GUESTS
WEDNESDAY 4 DECEMBER
CROWBAR, SYDNEY
THURSDAY 5 DECEMBER
170 RUSSELL, MELBOURNE
Reel Big Fish are one of the legions of Southern California ska-punk bands to edge into the mainstream following the mid-'90s success of No Doubt and Sublime. The band is distinguished by their hyperkinetic stage shows, juvenile humor, ironic covers of new wave pop songs, and metallic shards of ska. The group cultivated an underground following that broke into the mainstream in summer 1997 when their single Sell Out became a modern rock radio and MTV favourite. Still fronted by original lead singer and songwriter Aaron Barrett, they continue releasing albums and touring relentlessly, playing more and more countries and bigger venues all over the world.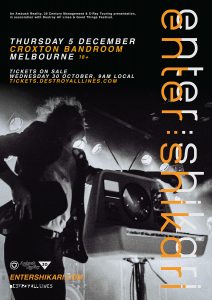 Destroy All Lines Presents
ENTER SHIKARI
WITH SPECIAL GUESTS
THURSDAY 5 DECEMBER –
CROXTON BANDROOM, MELBOURNE
UK's four piece, Enter Shikari, have toured the world too many times to count; including two area-sized runs in the UK, massive headline dates in Moscow & St Petersburg, Russia, and bar-room shows in Bangkok, Thailand, as well as appearing at festivals as far removed from each other as California's Coachella and Hellfest, France.
Throughout their 13 year career, Enter Shikari have always maintained a firm socially conscious stance; supporting charities and organisations such as the Music Venue Trust and Donate4Refugees (the band being patrons of both), as well as Teenage Cancer Trust, Nordoff Robbins Music Therapy and War Child.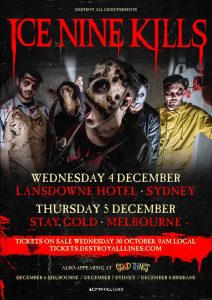 Destroy All Lines Presents
ICE NINE KILLS
WITH SPECIAL GUESTS 
WEDNESDAY 4 DECEMBER –
LANSDOWNE HOTEL, SYDNEY
THURSDAY 5 DECEMBER –
STAY GOLD, MELBOURNE
Bridging the gap between horror and metal, Ice Nine Kills focused their 2018 Billboard Hard Rock Albums chart-topping release The Silver Scream on classic films from the genre, while even enlisting some notable guest vocal performances from the likes of  Stranger Things' Chelsea Tamridge and Sam Kubrick,
grandson of Stanley Kubrick, who famously directed the iconic Stephen King adaption of The Shining.
Taking it a step further, the band created their own mini-horror series starring vocalist and horror afficionado Spencer Charnas to correlate with each of the album's singles, injecting their own narrative into the movies the tracks pay homage to.
All bands are appearing at Good Things Festival.
Friday 6 December – Flemington Racecourse, Melbourne
Saturday 7 December – Centennial Park, Sydney
Sunday 8 December – Brisbane Showgrounds, Brisbane
Tickets on sale at www.oztix.com.au
Brisbane and Melbourne shows are licensed and all ages 15+ while Sydney licensing
is still to be confirmed
Venues and line-up subject to change
For more information head to www.goodthingsfestival.com.au
FOLLOW GOOD THINGS FESTIVAL: 
WEBSITE | FACEBOOK | TWITTER | INSTAGRAM
FOLLOW DESTROY ALL LINES:
WEBSITE | FACEBOOK | TWITTER | INSTAGRAM