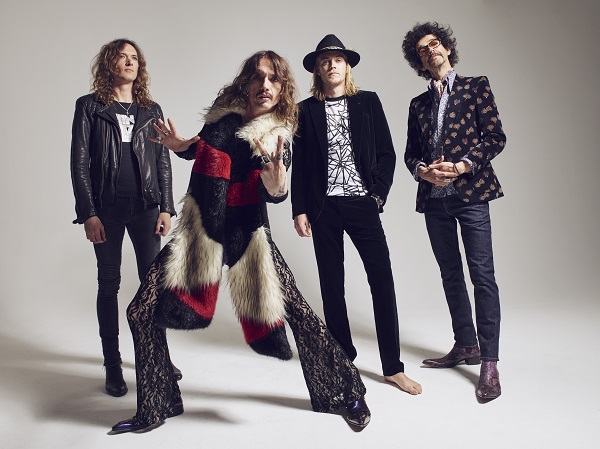 "…we don't want the wishy washy stuff, we just want the stuff that has the visceral impact and that doesn't make you over think and just makes you feel good or feel bad, it's stuff that makes you feel."
From Release: The Darkness will be spreading their Easter Is Cancelled message across the land with an Australian and New Zealand headline tour in March 2020. On a mission to lead us to the sunlit uplands of inclusivity, togetherness and rock' n' roll fellowship, The Darkness will play shows in Perth, Sydney, Melbourne, Adelaide, Brisbane and Auckland. These performances promise to be incredibly special, reflecting the grand scope and vision from the band's new album Easter Is Cancelled, alongside epic live favourites such as 'I Believe In A Thing Called Love' and 'Love Is Only A Feeling' from their spectacular canon of hits.
We gave Frankie a call to talk about 'Easter Is Cancelled' the new album from The Darkness, its creation, concept, differences, their forthcoming Australian tour, suits, cowbells, and much more…
To start, it's been about four years since we last chatted, so let's catch up, how have the last four years been for you?
The last four years, what's happened in the last four years? So many different things have happened in the last four years it's almost impossible to answer I could probably ramble on for the rest of the day actually talking about the last four years. I've had extreme highs and extreme lows and I've probably changed a lot as a person and I've had a very rich and involved and tense time. Musically it's been very good I think in terms of this new album coming back to the point.
Your new album 'Easter is Cancelled' is coming next month, and a concept album to boot, what was the idea behind running with a concept for this release?
Because we've spent so much time together the four of us there was lots of recording at the same time in the nine months previous when we spent a long time with each other and gradually it just evolved into it really, 'Rock and Roll Deserve To Die' was the track, was the benchmark that we laid down to ourselves and also to rock bands in general. From there the songs developed, there's a lot of songs of heartbreak, personal relationships going by the wayside and the one constant I guess was the guitar and our love for music which is why it ends up as an unashamed love for guitars. I also think it's a theme of wood running through the album, man's relationship with wood which I think there's so many things wrong in the fact that we're not in tune with wood anymore, that may sound a bit farfetched I'm talking about how music evolves, how music is created really, classical music and their instruments that are created lovingly from wood and guitars as well. Then also there's another type of wood, back in the day when people would crucify in medieval times when wood was used as weapons of destruction when people like Jesus would be executed for being rebellious. It is quite a far reach in things but it's a start.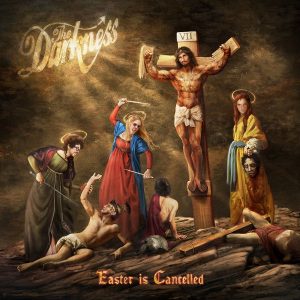 So what if anything did that allow you guys do differently this time around compared to your previous releases?
Well we had time, and Justin had time to open his heart and deal with the things going through it, and we had time to bond with each other and connect with each other, these are the kind of relationships we never had before, Dan and Ru would be jamming and riffing away and doing heavy stuff you know, like 'How Can I Lose Your Love' and 'Easter Is Cancelled' are heavy riffing stuff, and Justin would be holed away with a classical guitar and he'd be channeling things and songs like 'Deck Chair' and 'Confirmation Bias' so we had a chance to try everything really. Then we have 'We Are The Guitar Men' the last track on the album which is myself, Dan and Justin coming up with something which is shades of ELO and Travelling Wilburys and it's also probably our most Beatles-esque one, I know bands can't be the Beatles but I do think that the verse in that is the only time really we've gone Beatles-esque, every band has written a song like that in their career, the melody I think is quite McCartney-esque.
I always like to pick one song that stands out on the album and for me it's 'In Another Life' such a great song…
Oh wow that's interesting, we thought we'd almost gone a bit Shania Twain on that one, it's got country elements and doesn't sound like us and has a little bit of 'Love Is Only  Feeling' we don't normally do that the power ballad thing but I'm glad you enjoyed it, thanks.
You're heading back to Australia, and the shows here have always been amazing, what do you think it is about Australia that just loves what you do?
Well the further you are away from home the more you can reinvent yourself and sub-consciously it's like being on another planet and also the funny thing about Australia is it's a weird culture and time travel exercise it's very surreal especially when you're jetlagged, it's a strange thing first it feels familiar then unfamiliar which is like a multiverse, it's like you're taking different turnings and history and it blows your mind really when you go to Australia. It's great because it's liberating, very liberating.
As the catalogue grows, are you as a band finding it harder and harder to put a set list together?
Not really , we kind of agree it's the stuff that makes us feel good, we don't mess around too much, the cream rises to the top, we don't want the wishy washy stuff, we just want the stuff that has the visceral impact and that doesn't make you over think and just makes you feel good or feel bad, it's stuff that makes you feel.
Out of all the album tracks and B-Sides is there one song you wish you played in the set that never gets a run?
You mean one that I want in the set that the guys don't? Maybe something like, well we have a cover of 'Earth Song' by Michael Jackson that we usually do in rehearsal, but we've never played that live would've been nice to play that live once. There's also the B-Side to the Christmas song, 'I Love You 5 Times' we only played that once at a fan convention, we also played that at or very first gig so it's the only song that exists from our very first Darkness gig.
So over time it can be easy to say what's changed but what would you say is the one thing that's stayed the same in your time in The Darkness?
Probably the sense of irreverence.
For you in terms of moments that stand out, what for you has been that moment you've been able to have by being a part of this band?
The MTV Europe awards in 2004, it was in Edinburgh where I come from and it was just so good to be in my home town and it was presented by Christina Aguilera and Justin Timberlake, and Christina Aguilera was dressed in a metal gown when she introduced us and we were propelled from underneath the stage on these columns that came through these holes on the stage and in terms of reaching a TV audience it was just mammoth, hundreds and hundreds of millions it was just a buzz on a pure buzz level it was very hard to beat, not that I was particularly a fan of MTV but it was kind of surreal you know.
I put the word out to The Darkness Army and asked for a few questions, so firstly, do you have a designer for your dashing suits?
Yes, Angela Bright she's Canadian she's moved over here now and started off with Justin's stuff three or four years ago and then gradually her skills became Justin started looking better than all of us and we said OK you need to start designing all of our clothes. Now she's kickin' ass, especially she's got a great eye if you're fond and grew up with and have an appreciation for things like The Bee Gees back in the 70's that's one thing that we all agree on. You know the Bee Gees came from Manchester England? *laughs*
Did you do all your own stunts in the 'Rock and Roll deserves to die' clip?
Yes we did all of our own stunts and it took hours, my hair took weeks to recover they put this horrible grease on it and I was worried it was going to fall out afterwards, it took a while to get curly again. A song like 'Rock and Roll Deserves To Die' and we decided if there was going to be a video for that song the video has to be something that other bands wouldn't do because otherwise how can you lay down a gauntlet to other bands if we're not willing to run that gauntlet ourselves, and Justin came up with the great idea for the bald wigs because there's no was Coldplay would do that, Maroon 5, there's no way that even another rock band, could you imagine Guns N Roses doing that? Maybe your guys would do it, the only other band I can imagine would do that is Airbourne, I don't even think Steel Panther would do that, that's us laying down the gauntlet to Steel Panther they wouldn't do that.
Do you have a message for your adoring Cow Belles fan group?
I do yeah, they make me feel loved and that's the most important thing on earth.
If you had to build a super group, vocals, guitar, bass and drums from any musician in history who would your line-up be?
I don't believe in super groups, I don't believe it works like that, it doesn't work if you have the best of everything, it never works, time has shown that it never works it's to do with temperament and there are so many irrational things at play, you know humans are innocent characters and there's not even a mathematical equation that could capture or define what will make a good rock band, there's something else going on, something molecular, something that people give off and how you resonate with other human beings. There's a reason why it happens and we don't know the kind of rational, it's something you feel and I know that's a long winded answer but I don't believe in that. It's like you're creating a dish and using like all the purest ingredients, it wouldn't work if you mixed foie gras with oysters and with caviar all in the same sauce it would be too rich.
Lastly let's look ahead to the future, finish this sentence for me, in 2020 The Darkness want to…
Explode into oblivion.
'EASTER IS CANCELLED'
 AUSTRALIA & NEW ZEALAND TOUR 2020
WED 11 MARCH – METROPOLIS, FREMANTLE
FRI 13 MARCH – ENMORE THEATRE, SYDNEY
SAT 14 MARCH – FORUM, MELBOURNE 
SUN 15 MARCH – THE GOV, ADELAIDE
WED 18 MARCH – THE TIVOLI, BRISBANE 
FRI 20 MARCH – POWERSTATION, AUCKLAND
Presented by SBM Presents
Essential Information
From: Lowestoft, Suffolk, UK
Band members: Justin Hawkins – Vocals, guitar, Dan Hawkins – Guitar, Frankie Poullain – Bass, Rufus Tiger Taylor – Drums
Website:  http://www.thedarkness.co.uk
Forthcoming release: Easter Is Cancelled – (October 4 – Cooking Vinyl)