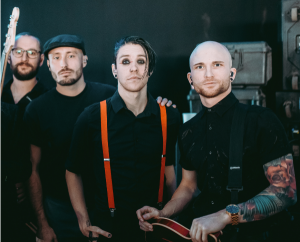 After 18-months of global touring in support of their acclaimed third album "The Great Depression", AS IT IS have announced they will be returning to Australia in February 2020 for a run of four shows.
Tickets for all shows go on sale 10am this Friday, October 4. 
My Live Nation members can secure tickets first during the exclusive pre-sale beginning 10am Thursday, October 3.
For complete tour and ticket information, visit: livenation.com.au.
With their third album "The Great Depression", As it Is are comprehensively proving themselves to use music to better understand who we are and feel powerfully less alone. "This record started off life as an exploration of the question 'Do we as a society have a fetish for mental illness?'" offers front man Patty Walters; "Do we romanticise or glorify a sickness? It was important for me to do some soul-searching around that question. Are we part of a scene that actually does more damage than good in terms of the way we talk about these issues?"
As It Is – completed by front man Patty Walters, guitarist Ron Ish, drummer Patrick Foley and bassist Ali Testo – take the listener on a journey which delves into every aspect of arguably the most prevalent social ill of our time across their third studio album, "The Great Depression".
AS IT IS
AUSTRALIA TOUR 2020
LION ARTS FACTORY, ADELAIDE
WEDNESDAY FEBRUARY 12
CROWBAR, SYDNEY
THURSDAY FEBRUARY 13
THE BRIGHTSIDE, BRISBANE
FRIDAY FEBRUARY 14
STAY GOLD, MELBOURNE
SATURDAY FEBRUARY 15
TICKETS ON SALE 10AM FRIDAY OCTOBER 4
Live Nation pre-sale begins 10am Thursday, October 3 until 9am Friday, October 4
(ADELAIDE ALL AGES – ALL OTHER SHOWS 18+)
For complete tour and ticket information, visit:
asitisofficial.com & livenation.com.au