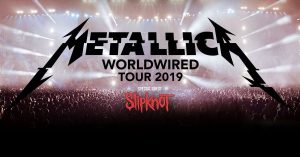 Live Nation regrets to announce that Metallica's 2019 Australia & New Zealand tour will not go ahead.
We are working with Metallica to secure a new tour period and will make a further announcement as soon as possible.
A note from Lars, Kirk, and Rob:
We are truly sorry to inform our fans and friends that we must postpone our upcoming tour of Australia and New Zealand.
As most of you probably know, our brother James has been struggling with addiction on and off for many years. He has now, unfortunately, had to re-enter a treatment program to work on his recovery again.
We fully intend to make our way to your part of the world as soon as health and schedule permit. We'll let you know as soon as we can.
Once again, we are devastated that we have inconvenienced so many of you, especially our most loyal fans who often travel great distances to experience our shows. We appreciate your understanding and support for James and, as always, thank you for being a part of our Metallica family."
All tickets purchased to the shows in Australia and New Zealand, including Enhanced Experiences and Black Tickets, will be fully refunded.
More details on how to obtain your refund are available on the following links and also below:
AU – https://www.livenation.com.au/artist/metallica-tickets
NZ – https://www.livenation.co.nz/artist/metallica-tickets
Enhanced Experience & Black Ticket  –https://www.cidentertainment.com/events/metallica-australia-tour/
Ticket refund arrangements are as follows:
TICKETMASTER AUSTRALIA (PERTH, MELBOURNE, SYDNEY, BRISBANE)
Tickets purchased online, over the phone or at a Ticketmaster outlet with a credit card, will be refunded automatically. Please allow up to 7 days to process your refund.
Tickets purchased using cash or EFTPOS will need to return to the point of purchase.
Please note, only the Ticketmaster account holder who purchased the ticket(s) can seek a refund via the methods outlined above. If you received your ticket(s) any other way, including via "Ticket Forward", you will need to contact the original ticket buyer for your refund.
For further help, please call Ticketmaster on 136 100 between 9am – 8pm AEST Monday to Saturday, or 9am – 5pm AEST Sunday.
TICKETEK (ADELAIDE)
Tickets purchased by credit or debit card will be refunded in full (including ticket insurance premium, if relevant) and patrons do not need to take any action. Patrons should allow up to 10 working days for the refund to appear in their account.
Patrons who purchased tickets with cash or EFTPOS will be contacted via phone in the next 7 days to arrange for a full refund.
Further refund enquiries should be directed to ticketek.com.au.
TICKETMASTER NZ (AUCKLAND)
Tickets booked online or over the phone with a credit card, will be refunded automatically. The refund process can take up to 5 days. Once processed, please allow 3-5 days for the funds to show on both your balance and statement.
If the credit card used to make this has changed, your original card has expired or is no longer valid (prepaid Visa and MasterCard included), you'll need to contact the Ticketmaster Customer Service Team here requesting a refund with your bank account details. Please remember to include your order number in your request.
If your tickets were purchased from a Ticketmaster outlet, you'll need to return to that outlet with the tickets and credit card used to make the booking.
Live Nation will work with the tour ticket agencies to ensure refunds are processed in a timely and orderly manner. We ask that fans remain patient while we respond to a large volume of requests.
Any updates will be published on Live Nation's website, Facebook and Twitter.