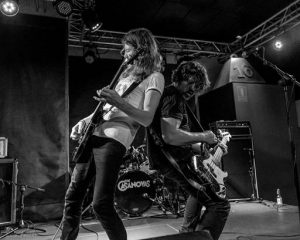 It's been over two years since THE CASANOVAS have played on home soil but the beloved Aussie rockers are back and hitting the road with Swedish rock n' roll outfit BACKYARD BABIES. Following their packed-out European tour in 2017, THE CASANOVAS have spent the past two years writing and recording their fourth studio album which is due to be released in 2020.
Earlier this year, THE CASANOVAS welcomed the newest member of the trio Brett 'Wolfie' Wolfenden. With a wealth of drumming experience, Wolfie's resume includes playing for artists like Davey Lane, Tim Rogers, Jim Keays and The Pictures.
The history between these two bands dates back to 2002 when THE CASANOVAS first opened for the BACKYARD BABIES. With plenty more exciting news to come before the year is out, THE CASANOVAS are thrilled to be kicking things off with their favourite Swedes.
Also joining BACKYARD BABIES and THE CASANOVAS are some great local talent THE MERCY KILLS in Melbourne and KVLTS OF VICE in Sydney.
For 30 years, BACKYARD BABIES has delivered top of the line dirty rock 'n' roll, both live and recorded. The fact that the original four guys that started the band still are playing together, is next to unique. Now for the first time in over a decade, BACKYARD BABIES are touring Australia thanks to Silverback Touring.
In 1989 childhood friends Peder Carlsson, Dregen and Johan Blomquist were joined by Nicke Borg and BACKYARD BABIES was born.
The 80's was a decade where many dreamt of a rock star life and for most that is exactly what it remains to be – a dream, however vivid. But BACKYARD BABIES understood that it requires hard work, ''persistent nagging" and a lot of networking to reach the absolute top. The ambition was set high from the very start. They enter a pact – they will breakup with their girlfriends and focus all their energy on the band. They will move to Sweden's capital, Stockholm. The goal is crystal clear – BACKYARD BABIES shall succeed. They will be rock stars.
The band quickly builds a life consisting of intense repetition and equally intense partying, whether it's a weekday or weekend. In Stockholm's nightlife, they develop new contacts and one thing leads to another. BACKYARD BABIES finally sign a record contract with Megarock Records and in 1994, they release their debut album – aptly titled "Diesel & Power".
Fast forward to 2019 and 7 albums later, the band recently released their latest album 'Silver And Gold' it is energetic and powerful, the band prove that they´re in better shape than ever and most certainly have enough material to last the coming 30 years.
Watch: ''44 Undead'' (OFFICIAL VIDEO) Click below
With Gold Records, Swedish Grammy Awards and Major European tours with the likes of Alice Cooper, AC/DC, Velvet Revolver, Guns 'n' Roses and co. BACKYARD BABIES have further amplified their status as Sweden's most successful rock band.
Three decades later, BACKYARD BABIES finds that the move from Nässjö to Stockholm was just the starting shot. Today, the band has the whole world as their playground. And if their career is similar to a three-course menu, the band has not even covered the main course yet.
Backyard Babies and the Casanovas Australian Tour Dates:
Friday 4 October – Sydney – Manning Bar
Saturday 5 October – Melbourne – Max Watts
Sunday 6 October – Brisbane – Woolly Mammoth
Tickets
On sale: NOW
From: https://silverbacktouring.com.au/backyard-babies2019/