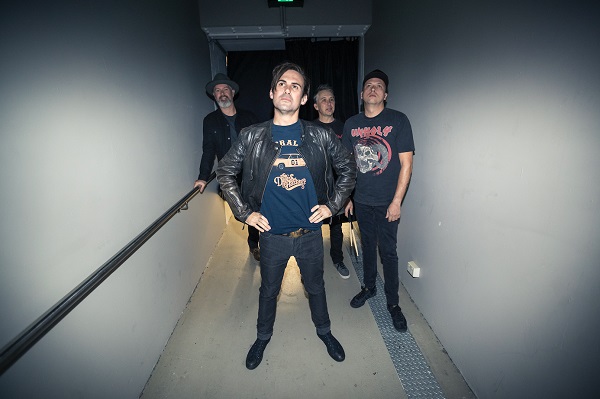 "I'm still thankful that we've still got people that believe we are still somewhat relevant and they want to come and see our shows, and want to hear our music, and we don't have anything new since 2012 but people are still keen and that makes me extremely happy."
From Release: Legendary Aussie rockers Grinspoon have announced their epic Chemical Hearts national tour, set to make its way around the country in October and November.  In celebration of the tour, the band will be releasing a Chemical Hearts vinyl record on the day the tour kicks off (October 11) with a tracklist that will offer fans a nostalgic taste of what's to come at the shows. In 1997, the youthful Grinspoon uploaded the track Sickfest to triple j Unearthed, not knowing the life-changing success that was to come.  What followed was an illustrious career, with seven albums, Top Ten ARIA chart spots, ARIA Awards, 13 ARIA nominations, more than 1,000 gigs, tens of thousands of frequent flyer miles, 7 appearances at the Big Day Out as well as slots at Homebake, Falls Festival, Splendour In The Grass, an NRL Grand Final and a Commonwealth Games Closing Ceremony in Melbourne.  Despite these massive achievements, Grinspoon don't have plans to wrap things up any time soon.
Sitting in his studio in Byron Bay, Pat gave us a call to talk about Grinspoon's upcoming tour, best of, moments, the possibility of new music, how Tom Gleeson can help the band, and more…
So to start, it's been almost seven years since we last chatted, so let's catch up, how have the last seven years been for you?
Seven years that was the Black Rabbits tour? Yeah we did the Black Rabbits tour and we decided that we were going to have a bit of a break for a while, we'd been hammering at it for quite a number of years as you're probably aware and after that tour I think everyone was a bit burnt out and you know what I think our audience might have been a bit burnt out and I don't know if there was much desire to hear new Grinspoon music from the general public, I mean we were still enjoying doing it and stuff like that but things had started to wane a little bit. So we just decided that we'd been travelling, trying to crack America, all blah blah blah all that kind of stuff, let's just have a break, so we did that. We did a couple of one offs, we played with Chisel I think in 2015, did a couple of shows with those guys, and then in 2017 our management and us decided to maybe make a bit of a celebration of the twentieth anniversary of 'Guide To Better Living' our debut record, so we went out and toured for on and off really, we did a tour then we did some stuff for ALH which was called Hotter Than Hell then we did Groovin' the Moo in May of the following year and then we've all been back to normal life ever since then. There's been a lot of downtime, we're not in the mode of like it used to be when we had a record deal and we were like tour, stop, write, record, tour, which was kind of our lives pretty much from 1995 – 2012.
You're heading back out on the road this October, so if you've been living under a rock in Australia and haven't seen you guys live before, if had to use one word to describe a Grinspoon show what would it be and why?
I think it would be 'unpredictable' to be honest with you *laughs*not naming any names *laughs* but I've got to tell you we used to be a two shows good one show bad kind of band but I think nowadays all our shows are pretty good, they really are, I think we've been around long enough that we've got our sound together and we know what we're doing, but there's still that element of danger when you come and see a Grinspoon show that you don't know exactly what's going to happen and we like the fact that there's an element of danger in our shows so I guess that's the best way for me to describe how we've always been and to a lesser extent how we still are.
So, tell us what does a Grinspoon show circa 2019 look like set wise?
Well, it's a best of, to be honest with you we did a best of after two albums or something and I don't know why but we did, so we're kind of stuck in this situation where we're kind of keen to do some new music but we need to get together and I guess formulate a plan of how the band is going to go moving forward and our management came to us and said do you guys feel like going back out on the road again and we were like yes because they were like we would really like you guys to release a best of material including albums that have never been included in a best of, so it's a best of in a way that it's a live best of and it features a lot of songs that have never been compiled together on the one album, and you know what it's like with vinyl these days so I think we'll be releasing digitally and we'll be releasing on vinyl and going out on the road and probably basically doing a best of set but we're going to be doing some other things and I don't want to give too much away but it's going to be a show, I guess that's what we need to do now because we haven't got any new music at the moment we're really going to try and put on an amazing show. A little bit of nostalgia and maybe a lot of nostalgia as well.
Now, as we said before the last time we chatted was in 2012 which was the last time there was a new album from the band, has there been talk of a new album from the band?
Yeah bits and pieces, I'm always writing and obviously I've got a studio which we discussed earlier, at the moment I've got Kristian's drum kit set up in the live room he came down a couple of weeks ago, I got him to play on some of my songs and as far as that goes I'm just writing, I've got in the back of my mind that I'd like to do some new Grinspoon music so I'm pushing forward with that. So who knows, I mean Grinspoon is a democracy so just because I want to do new music doesn't mean that it's going to happen *laughs*. So hopefully 2020 which is the twenty fifth anniversary of the band we may have some new music, no promises *laughs*. I'd love to as you can tell obviously keen to do some stuff for sure.
So over time it can be easy to say what's changed but what would you say is the one thing that's stayed the same in your time in Grinspoon?
Same four guys, same kind of democratic attitude towards the music, a lot of the same crew, there's a lot of sames it's really where do I start? We're a band that thrives on things being the same to be honest with you, we don't like a lot of change and as far as our organisation is concerned and we've had the one manager a long time, as I said the same four band members. The shows have got better and I'm not just saying that I mean they have, like as I said before we were pretty unpredictable in the old days and we were a two and one kind of band and you weren't always sure what you were gonna get, you could've got a fight, you could've got a great show, you could've got a disaster, so that has probably changed but the things that have stayed the same I guess is the group and the attitude and the keen youthfulness that we try and portray and try and be in our lives.
For you in terms of moments that stand out, what for you has been that moment you've been able to have by being a part of this band?
It's a tough one man, we had some great times in the late 90's, obviously when we got signed to Universal in The U.S., when all that was happening that was huge for us and in hindsight it didn't work out the way we probably hoped it was going to work out but it didn't kind of detract from the feeling of getting over there and hooking up with a major label and having all those things that go along with that in the 90's which was a very different time in music to what it is now. I think also when also when we went back out on our twentieth anniversary 'Guide To Better Living' tour, I mean I had no idea, that was the hugest tour we've ever done in Australia and I had no idea the amount of love that was still out there for the band and that was incredible, that was such a beautiful feeling and we were all blown away by the response to the amount of people that came to the shows, to the feeling of the crowds, that was a seriously highlight, man.
Other side of that, what's the one thing you'd like to do as a band that you haven't yet had the chance to do?
Have a number 1 album…
You've never done that?!
Nope, number 2 *laughs* got beat by Eminem, I think it was 'New Detention' got held out by Eminem, and I think 'Thrills' was number 4 would you believe. 'Guide To Better Living' I don't think even cracked the top 10 but it stayed in the charts for over a year. So if we do do a new record let's get a steadfast campaign going, like Tom Gleeson for The Logies, let's go Grinspoon for Number 1. Maybe we can talk to Tom Gleeson for that one; maybe he can get behind us as he seems to have a lot of success when it comes to media campaigns.
So what do you still enjoy about being a part of Grinspoon?
It's different these days because I don't feel like I'm as much a part of it as I used to be because we aren't doing as much but I think the best part of it is the fact that it's still going and it still feels somewhat relevant you know what I mean? I think that I look at a lot of my contemporaries out there that are doing different things to us, I mean we're still playing the Hordern which is amazing and I'm still thankful that we've still got people that believe we are still somewhat relevant and they want to come and see our shows, and want to hear our music, and we don't have anything new since 2012 but people are still keen and that makes me extremely happy.
Lastly let's look ahead to the future, finish this sentence for me, by the end of 2019 Grinspoon want to…
Start compiling new music for a new record.
For a new Number 1 record!
For a new number 1 record, exactly, thanks man! I'm gonna use that in the rest of the interviews I do today *laughs*.
GRINSPOON 'CHEMICAL HEARTS' NATIONAL TOUR
FRI 11 OCT | METROPOLIS, FREMANTLE WA | 18+
Tickets available from http://www.grinspoon.com.au/
SAT 12 OCT | METRO CITY, PERTH WA | 18+
Tickets available from http://www.grinspoon.com.au/
WED 16 OCT | THE FORUM, MELBOURNE VIC  | 18+
Tickets available from http://www.grinspoon.com.au/
FRI 18 OCT | UC REFECTORY, CANBERRA ACT | 18+
Tickets available from http://www.grinspoon.com.au/
WED 23 OCT | ODEON THEATRE, HOBART TAS | 18+
Tickets available from http://www.grinspoon.com.au/
SAT 26 OCT | ENTERTAINMENT CENTRE THEATRE, ADELAIDE SA | AA
Tickets available from http://www.grinspoon.com.au/
THURS 31 OCT | WAVES, WOLLONGONG NSW | 18+
Tickets available from http://www.grinspoon.com.au/
FRI 1 NOV | ENTERTAINMENT CENTRE, NEWCASTLE NSW | AA
Tickets available from http://www.grinspoon.com.au/
SAT 2 NOV | HORDERN PAVILION, SYDNEY NSW | AA
Tickets available from http://www.grinspoon.com.au/
THURS 7 NOV | THE STAR BROADBEACH, GOLD COAST QLD | 18+
Tickets available from http://www.grinspoon.com.au/
FRI 8 NOV | THE FORTITUDE MUSIC HALL, BRISBANE QLD | 18+
Tickets available from http://www.grinspoon.com.au/
Essential Information
From: Lismore, NSW, Australia
Band members:  Phil Jamieson – Vocals, Pat Davern – Guitar, Joe Hansen – Bass, Kristian Hopes – Drums
Website: www.grinspoon.com
Forthcoming release: Chemical Hearts (October 11)
GRINSPOON 'CHEMICAL HEARTS' VINYL TRACKLIST
Side A
Chemical Heart
DC X 3
Champion
Just Ace
Pedestrian
Black Friday
Ready 1
Lost Control
Side B
Hard Act To Follow
No Reason
Sickfest
More Than You Are
1000 Miles
Better Off Alone
Post Enebriated Anxiety