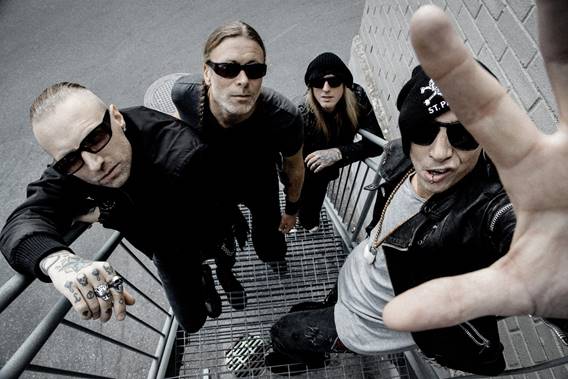 "We've been doing it basically as you said for our whole lives at the moment and I wouldn't be surprised if this is what I'm gonna do for the rest of my life."
From Release: For 30 years, BACKYARD BABIES has delivered top of the line dirty rock 'n' roll, both live and recorded. The fact that the original four guys that started the band still are playing together, is next to unique. Now for the first time in over a decade, BACKYARD BABIES are touring Australia thanks to Silverback Touring. In 1989 childhood friends Peder Carlsson, Dregen and Johan Blomquist were joined by Nicke Borg and BACKYARD BABIES was born. Fast forward to 2019 and 7 albums later, the band recently released their latest album 'Sliver and Gold' it is energetic and powerful, the band prove that they´re in better shape than ever and most certainly have enough material to last the coming 30 years.
We gave Nicke Borg a call while he was at home and discussed the upcoming Australian tour, new music, the band's thirty year stability, the Swedish music scene, opening for AC/DC, and more…
You're heading back to Australia for the first time in over a decade, tell us what can people expect at a Backyard Babies show circa 2019?
A lot of things, to start with, first I should say we haven't been in Australia for way too long, for various reasons I guess it's not really around the corner, and also we haven't been given the opportunity. So we're super excited of course because we got the offer to come and play. Any of our fans in Australia that have been following us during the past ten or fifteen years have seen a band developing and also had time to even take a bit of a break to do other stuff. So when we started to record this new album it was really weird because we felt it was like a debut album we kind of wrote again, so I think you will get a really hungry and excited band for many reasons coming to play in Australia.
With eight albums in tow is it a challenge to put together a set list these days?
No I would say it's easier because you have your own favourites and most of the time these are also the audiences favourites so I think the set list that we put together this summer and even this spring in Europe has been one of the best set lists we've done so far. I feel we have fun playing and the audience has the same reaction.
You released your newest album 'Sliver and Gold' this year, how if in any way has the writing and recording process changed for the band since your beginnings?
It's changed basically for every album we do, sometimes I wrote everything myself, sometimes we write everything together and there's everything in between also. I think the big difference this time is that we really got back together as a band and wrote and the songs came together in the rehearsal room, it was very few songs that were like finished before, I mean if you take the album before that, the comeback album or whatever people want to call it that we released in 2015, that was an album basically more or less written by myself and on my own and then I presented the songs to the band. This time we were in the rehearsal studio, started with a riff and out came a finished song which is I think is the most fun process of doing it, everybody gets involved and I think you can hear it in the songs also.
It's quite rare for a band to have its original members for the life of the band, what do you put this thirty year relationship down to?
Yeah I mean this is a really interesting question because it comes to us after thirty years as a band, there's two ways of looking at it, I see there's one side which is of course the really proud of actually managing being together for this long and not letting things come in between. We did the right things here and there while we're still able to play but also you need to renew yourself in a way because you take each other for granted a little bit too much. It's really hard, I don't have a good answer to all these questions, I guess we just learned to be on stage and love our music and we didn't have any other option for a long time *laughs* but I find it really unique when you talk about it but when we're not talking about it I don't really think about it like that, we still have major issues that has a band in the first year but it's not, there's friction, there's bullshit band stuff going on and it's been going on for thirty years, sometimes I have no idea how we even can stand each other, but now for example coming to Australia after such a long time it keeps pushing the band to do more stuff. It'll be interesting, after Australia we have no really set plans what to do, we might just take it easy for a while or we might start to dive into a different project with the band, so let's see. We've been doing it basically as you said for our whole lives at the moment and I wouldn't be surprised if this is what I'm gonna do for the rest of my life. I do other stuff also *laughs* but we won't talk about that.
Over the three decades you've been together it can be easy to say what's changed in that time and besides the four of you what for you is the one thing that's stayed the same in your time together making music?
Good questions *pauses* I think it's what I said there, what's stayed the same is you have some kind of driving force that you want to move forward, of course you always have a dream of reaching out to a wide audience, I wouldn't say that money itself is the driver but you want to be more successful on every level and that is of course something that stays the same from the beginning of the band up until we are now. I mean it's easy for me to say now because we never really had that mega success ever in our career but if we were to become an arena band twenty years ago, or fifteen years ago or something I'm not sure if we would actually be playing today because I think the kind of slow struggle, the slowly moving forward thing is something that's been constant throughout our whole career and that might be a good thing, I'm not sure.
The Swedish music scene just seems to be one of the best and most flourished out there, what's in the water over there, why is it so good?
Yeah that's also something that people have been asking us ever since this Scandinavian active rock thing happened in the late 90's with us, The Hellacopters, The Hives, Millencolin, all these bands. Of course all our colleagues in Sweden are amazing bands, you have lots of great artists that are successful around the world we have songwriters that are successful all around the world that are behind monster hits on charts around the world. I have no idea I seriously don't have a good answer for that. We are fortunate in a way that I think we have more support maybe from lets say the government or whatever if you decide to go and start up your own your own business and keep it going, I don't even know if that's the reason. Sometimes you become a better artist if you really have to struggle so I'm not sure.
Since 1989 what has been the biggest and most memorable thing to happen in the last thirty as a band?
One think which is actually interesting because I'm speaking to you, we have done great things and been able to play and meet bands that we look up to for example we were offered to support AC/DC on the Stiff Upper Lip tour back in 2000 and that was like one of those landmarks in our career and you're like OK, done, played with AC/DC fine, now we can be happy *laughs* I joke about that a little bit. All this stuff that you think as a kid growing up would be impossible like playing with AC/DC, going to Japan and Australia for the first time and things like that, playing in Los Angeles, meeting that person, making a record, even all these types of stuff. So there's thousands of things in our career that are like these things but there are special moments when you can share the stage with your favourite bands.
Lastly let's look ahead to the future, finish this sentence for me, in 2020 Backyard Babies want to…
Want to have new music out and start a new tour, because we have some great ideas about that, and maybe also want the music business to change a little bit and people will come and continue to buy records *laughs*.
Backyard Babies Australian Tour Dates:
Friday 4 October – Sydney – Manning Bar
Saturday 5 October – Melbourne – Max Watts
Sunday 6 October – Brisbane – Woolly Mammoth
Tickets from: https://silverbacktouring.com.au/
Essential Information
From: Sweden
Band members: Nicke Borg – lead vocals / rhythm guitar, Dregen – lead guitar, Johan Blomqvist – bass guitar, Peder Carlsson – drums
Website: http://www.backyardbabies.com
Latest release:  Sliver and Gold (Out Now)