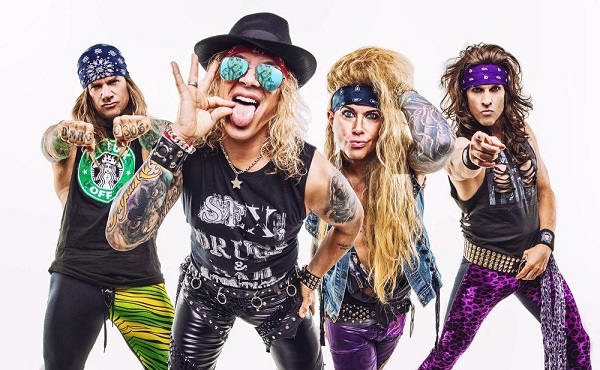 "We're gonna do what we're gonna do record after record and if people say ah fuck you're the same one trick pony or whatever and that's all, fine because that's all we've got."
From Release: California's greatest export and renowned feminist supporters Steel Panther recently took a break from working with NASA scientists on a multiple orgasm-inducing guitar pedal to record their fifth studio album. The band is excited to announce that their new album Heavy Metal Rules is finished and scheduled for release on Friday September 27th. The album showcases the band's musical and lyrical growth and is destined to become an instant classic in the band's impressive catalogue.
At his Mom's house after a party and making her cook dinner we caught up with Lexxi Foxx of Steel Panther to tell us about the band's new album 'Heavy Metal Rules', and more…
It's been almost five years since we last chatted so let's catch up, how have the last five years been for you?!
They've been fantastic, they have been, I mean we're excited for this new record 'Heavy Metal Rules' so we're excited about that, and being in Australia again it's like shit, all of you guys you have treated us so well coming from The States you guys have been so welcoming to us, so I can't wait to be out there again and promote our new record.
We're here because your newest album 'Heavy Metal Rules' is on the way, tell us as it's your fifth album, if you had to review the record using only five words what would they be?
Heavy Metal fuckin' rules all the time and Lexxi Foxx is hot. Sorry I went over sorry about that.
What if anything did you set out to do differently on this record compared to your previous releases?
I'll tell you what it is, we're still gonna write about the same shit we did, I mean all the fans we have lived in the 80's even to to the older generation or the younger generation. I mean Motley Crue quit, ah fuck we're done, Ozzy is like ah fuck I'm done and all these fake escapes and I'm sure they're gonna come back and go wait a sec, we went out because we did too many fuckin' drugs and they come back and do another tour. We are staying here, and even though those are our idols, but we're not going to go away, we're going to continue to tour and do what we do and these records are about sex, drugs and alcohol and about what people write about but they can't say it as clearly. We're putting it on front of everybody's face and we get crucified for it, I think that's the right word I don't know. We're gonna do what we're gonna do record after record and if people say ah fuck you're the same one trick pony or whatever and that's all, fine because that's all we've got.
The riffs on this record are heavy and some of the band's best, what did you feed Satchel to come up with such Heavy Metal goodness?
That's all him, all I'm worried about is my fuckin' highlights, my eyes that I don't have any spider webs or crow's feet. If you want to interview Satchel, interview Satchel, he comes up with riffs because he's a genius and I'm just thankful that I have a beautiful fuckin' face and I need to make sure I stay in that band by keeping that up. If you want to talk riffs and songs and idea talk to Satchel about it, I just show up and go what do you want to do? Sometimes they'll just track the rest of my shit because I don't play on the records anyways. So…
That was my next question though, as the most important member of the band, the bass player, how do you live up to the expectations of just being the greatest?
Well I'm not. Rudy Sarzo plays on the record, Matt Nelson plays on the record, those are good bass players I'm not, I flip my hair around and I just try to dress what matches my bass and that's all I got. We put the great bass players, I mean you can't get better than Matt Nelson and Rudy Sarzo, those guys are the most amazing, well they look bitcin' and they play with the best guitar players in the world. One dude had a fuckin' dude that was famous, I don't know which one but at the same time I just show up at work and try and look as good I can and that's all I have.
You talked about Australia before, when do you think we'll see you back?
I don't know that but we have to do our next run next year to be in Australia, whether it be Perth, all the way to Sydney, Melbourne, all that, we have to be there because you give us so much support over there, wherever we are and you guys have the most beautiful women over there I have to say that and the accents, like I did these two interviews and I'm sure they were hot I wanted to fuck them just if I could be blindfolded and they could talk, but they sounded hot.
In seeing you guys live since 2007 you always deliver such a great show, what is it about the band that just works so well live?
I have no idea, that's something you'd have to ask yourself, well not yourself because that's kind of why you're here. We've just known each other for a long time and we know that we love doing what we do, I don't know if we know any other way.
Over the years it can be very easy to say what has changed but what would you say is the one thing that's stayed the same about Steel Panther?
That socks look like kind of a cock. There you go.
Next year you guys will have been a band for twenty years, where's the party and can I get an invite?
Well you can, the next time we do a record release party at the Whisky and then we're going to Jeremy Renner's house and we're all gonna party up at his place, he's like a fuckin' big movie star and we're gonna party and have a great time, that's what we're gonna do.
Seriously though, looking back over the band's career, is there one moment that stands out for you as that can't be beaten?
Being in a band, I don't know if there's one thing. Playing with Steven Tyler was great, playing with Donnie Vie from Enuff Z'Nuff was great, there's all different things that people value but playing with Steven Tyler and Donnie Vie those are two people that are big influences, and same with playing with Ted Poley from Danger Danger, these are just good looking people and when I look over and see a good looking person next to me I'm so thankful that Michael and Satchel and Stix are back there I don't give a fuck because they can make mistakes all day long it doesn't matter to me when we're up there on stage.
What do still enjoy the most about being part of Steel Panther?
Just being a part of Steel Panther.
Lastly let's look ahead to the future, finish this sentence for me, in 2020 Steel Panther wants to…
We want to promote and play our next record and hope everybody enjoys it, that's what my answer is.
Essential Information
From: Los Angeles, CA, USA
Band members: MICHAEL STARR – Lead Vocals, SATCHEL – Lead Guitar, LEXXI FOXX – Bass Guitar, STIX ZADINIA – Drums
Website: http://www.steelpantherrocks.com
Forthcoming Release: 'Heavy Metal Rules' (September 27)