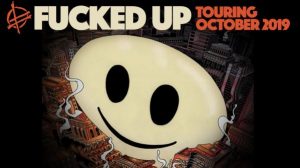 Frontier Touring are thrilled to announce the return of roaring Toronto six-piece Fucked Up, heading to Australia for the very first time since 2015 for three exclusive headline shows in October 2019.
Live, the Canadians are one of the most momentous, heavy lifting acts on the planet… Don't delay in grabbing tickets, as these intimate headline shows will sell out!
Fucked Up will perform at the Corner Hotel in Melbourne on Wednesday 9 October; Oxford Art Factory, Sydney on Thursday 10 October; and Saturday 12 October at Crowbar Brisbane. Tickets are on sale now via frontiertouring.com/fckedup.
The Polaris prize-winning band (they took out Canada's top music trophy with 2008's The Chemistry Of Modern Life) return to our shores in support of their colossal fifth opus, Dose Your Dreams, out now via Merge Records. A 90 minute, double-length concept album, Dose Your Dreams sees the return of lyrical protagonist David Eliade, first introduced by frontman Damian Abraham on 2011's critically-acclaimed punk opera, David Comes To Life.
Now working 9-to-5, a depressed David's life begins to change when he meets elderly mystic Joyce. From that starting point, Fucked Up throw away any musical pre-conceptions, and hit the ground running: this is the band at their anthemic, transcendent best. Working across a myriad of wildly experimental genres with special guests, Fucked Up deliver everything from prog rock to indie and psych, doo-wop, krautrock, groove, hardcore and more. As Spin says, Dose Your Dream cements Fucked Up's legend as "an exercise in excess, intentionally impossible to replicate."
Joining Fucked Up at all shows is Melbourne trio LOSER (Tim Maxwell, Chris Cowburn, Craig Selak). Currently working on their debut album, musically LOSER give a sly nod to the likes of Weezer, Foo Fighters and Nirvana. They were first introduced to fans via their debut single 'Loser', released on the indie label owned by Violent Soho's James Tidwell. EP Restless Noise followed next, plus slots on Falls, The Hills Are Alive and Beer InCider festivals. Check out their latest single, 'Vacation'.
Psych-rock grooves; an infinite universe; live, a snarling beast… Don't miss Fucked Up touring Melbourne, Sydney and Brisbane for Frontier Touring, October 2019!
Fucked Up are Damian Abraham (vocals), Mike Haliechuk (guitar/vox), Josh Zucker (guitar), Ben Cook (guitar, vox), Sandy Miranda (bass) and Jonah Falco (drums).
FUCKED UP
With special guests LOSER
AUSTRALIA
OCTOBER 2019
Presented by Frontier Touring 
Tickets on sale NOW
Wednesday 9 October
Corner Hotel | Melbourne, VIC
18+
Cornerhotel.com | 1300 724 867
Thursday 10 October
Oxford Art Factory | Sydney, NSW
18+
Moshtix.com.au | 1300 438 849
Saturday 12 October
Crowbar Brisbane | Brisbane, QLD
18+
Oztix.com.au | 1300 762 545
* Also playing Yours and Owls Festival, not a Frontier show
fuckedup.cc/home | facebook.com/FUglassboys | Twitter: @fuckedup
Spotify | YouTube | Instagram: @fuckedup
bandcalledloser.com  | facebook.com/bandcalledloser | Instagram: @bandcalledloser
| Twitter: @loserbandaus | Youtube | Spotify
frontiertouring.com/fuckedup | facebook.com/frontiertouring
Twitter: @frontiertouring | Instagram: @frontiertouring