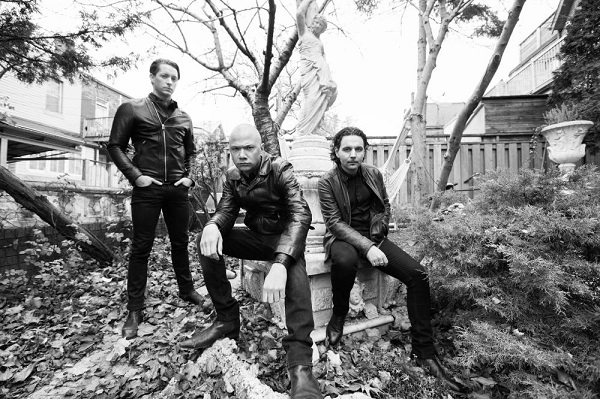 It's been far too long since Danko Jones has graced Australian shores, and finally after six years they return and are ready to melt some faces!
Intro plays as the band take to the stage and within seconds this three piece band get things rockin'. 'I Gotta Rock' starts things off and if this is what sets the scene for this evening then we are in for a treat. Within seconds of the opener closing Danko hits the riff for 'Fists Up High' and with some amazing cowbell work from Rich this one keeps things moving. This band is amazing, they don't even pause for applause as they hit 'The Twisting Knife' and this frantic and fast paced rocker full of whoa ohs is just live music brilliance. The banter from Danko is second to none, this man owns the crowd from the second he opens his mouth and launching into the opening track from their newest album 'A Rock Supreme' we get the epic and made for stadium tune 'I'm In A Band' and I'm loving every second of it. This song is catchier than the common cold and I've been waiting to hear it live from the first second I heard it on the album. Not even pausing for applause the band hit the opening for 'First Date' and as the crowd yell the chorus back to the stage the band are smiling and rightfully so. Holy shit this a Fucking rock show. This hasn't stopped, this is just one song to the next and its straight up rock and roll. 'Invisible' tears us another new one and how the hell is this going to slow down?! I'm tipping it won't.
Seriously there's no hesitating here as 'Lipstick City' kicks in and holy shit, and as it finishes for the first time they stop and basking in the fact that they didn't fuck up they just have this down. The one thing I have to mention and I'll do it many times tonight, the charisma of Danko is unbelievable, like seriously off the charts. This is not only a rock and roll show but it's fun too. 'Forget My Name' keeps things moving and again before it even fades out the guitar rings in the opening of 'Code Of The Road' and an anthem for many rock bands well it should be. 'Legs' is straight up sleaze rock then 'Gonna Be A Fight Tonight' keeps the rock going and with only the second pause of the night the band catch their breath before taking us into 'Dance Dance Dance' and getting the crowd singing along in the chorus was damn cool and seriously before it could even finish the guitar rings in 'Full of Regret' which blends into 'I Think Bad Thoughts' seamlessly but as good as that was, as the riff for 'Had Enough' starts there are cheers and rightfully so and rating their own show as a 9 out of 10 so far and this is genius. Danko is hilarious, you need to see this show, it just ticks so many boxes for what a live show should be.
'Burn In Hell' goes out to us and then as JC rings in introductions and then 'Lovercall' and again within seconds of finishing 'We're Crazy' kicks in and this is the quickest set ever. These songs are short, sharp and peck one hell of a punch and just slay and as we get towards the end of the set 'My Little RnR' takes its place and if you're not singing along with this song even just reading this then what's wrong with you? This chorus is just hook city. The bands leaves the stage for 11 seconds and they're back.
'Sugar Chocolate' followed by the closer 'Rock Shit Hot' was full force and as they truly say goodbye the crowd stand there stunned for a moment as they just witnessed a true rock and roll show and seriously just one of the best you'll see. The banter, the intensity, and the straight up energy this band gives off is amazing. Danko Jones are a band you have to see live if they ever hit your town you must go, that's an order.
Essential Information
Venue: Crowbar – Sydney
Date: September 7, 2019
Presented by: Silverback Touring
Website: http://www.dankojones.com
Set List:
I Gotta Rock
Fists Up High
The Twisting Knife
I'm In A Band
First Date
Invisible
Lipstick City
Forget My Name
Code Of The Road
Legs
Gonna Be A Fight Tonight
Dance Dance Dance
Full Of Regret
I Think Bad Thoughts
Had Enough
Burn In Hell
Lovercall
We're Crazy
My Little RnR
Sugar Chocolate
Rock Shit Hot