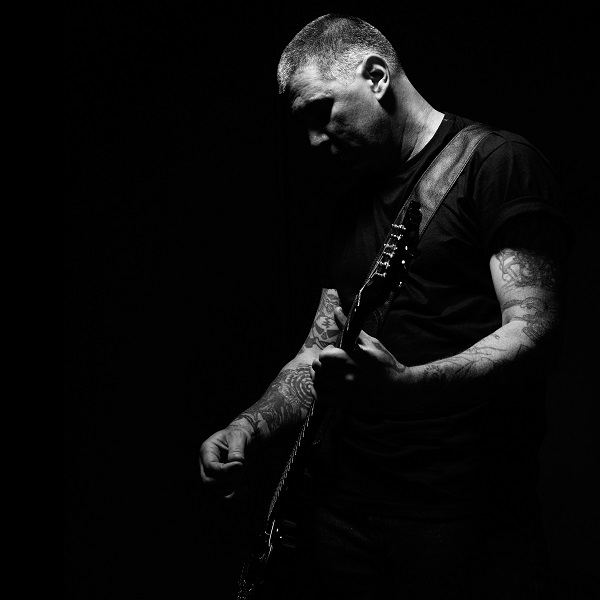 "…I was a fan long before I was ever in the band, so it's not just like I'm playing the songs from my former band, I am playing the songs from a band I grew up idolizing and then was lucky enough to play with for their most successful years *laughs*."
From Release: One of the last few surviving punk rockers blessed with famous Ramones sobriquet (and the only who wasn't behind the drumkit), CJ is bringing his killer band of cretins for a guitar crushing session of psychotherapy! Make no mistake; you are NEVER going to hear the Ramones songs done better than CJ RAMONE does them. If you missed the Ramones – or just miss them – this is the show you need to see.
On a day off in Massachusetts CJ Ramone gave us a call to talk about his upcoming return to Australia for some shows, his time in The Ramones, his solo music, being on The Simpsons, and more…
You're headed back to Australia, can you give us an idea of how these shows will be structured?
So the shows basically are it's a combination of Ramones stuff and my own stuff, I haven't been to Australia in a while so what we're doing is extending the set and adding in a bunch more Ramones songs and we mostly do all the standard big Ramones hits but I also throw a couple of fan favourites in for the people that are more than just a passing fan *laughs* some of the people that appreciate the deep cuts. So that's basically what you're gonna get, you're gonna get a whole bunch of good Ramones stuff and some of my stuff thrown in.
What do you still enjoy so much about playing those old songs?
They're classics. You've gotta remember I was a fan long before I was ever in the band, so it's not just like I'm playing the songs from my former band, I am playing the songs from a band I grew up idolizing and then was lucky enough to play with for their most successful years *laughs*. So it's not like it's hard for me to get up there and do them I still listen to The Ramones constantly pretty much when I'm at home, I'm still a huge fan and I still really love playing the songs, besides the fact that the response that we get from fans is undeniably as enjoyable for us as it is for the fans themselves. We really enjoy doing it, we really have a good time doing it and I tell ya, that's how you measure a classic, whether or not music is a classic is does it stand the test of time and The Ramones music, every generation picks up on it.
So very true and I was going to say that after all these years what do you think it is about the music of The Ramones that people still attach to so fondly?
You know The Ramones took the pop sensibility and sound from all the music of the 50's and the 60's, the real roots of rock and roll and they sped it up and added heavy guitar sounds and the combination is undeniably perfect, it really is perfect pop music and that never goes away. If you listen to Elvis or you listen to Buddy Holly or you listen to The Supremes or anything from the 50's or 60's pop music was unbelievably exciting and just had those nice harmonies and melody lines and The Ramones just added a heavy guitar to it and it still worked just as well. Their music really, it's funny, started a revolution because when The Ramones came out music had become very kind of difficult to play, the music that was popular at the time you had to really be an accomplished musician to be able to pull off anything that was acceptable back then and they just stripped it down and simplified it and kind of made the average kid who couldn't pick up a guitar and learn how to play YES be able to pick up a guitar and play a Ramones song, that's powerful stuff *laughs* you know what I mean? They basically empowered multiple generations of kids who had something to say but weren't the greatest instrumentalists and gave them the incentive to get up and do it, keep it simple, make it catchy and melodic and people will dig it and they really started a revolution.
And I think that's why there's still an influence in a lot of bands today because they did just that…
Yep, absolutely agree. You've gotta remember, the people that pick up on The Ramones generally are younger people and for them to be able to play something like Led Zeppelin or whatever unless you started playing when you were really young, all that stuff is difficult to play you know what I mean, like with School of Rock I'm blown away by kids abilities and very young ages but back in the day it wasn't like that, back in the day was really whether or not you could afford lessons, and even without taking lessons you could sit down and pick up on The Ramones stuff. Like I said, it's a classic sound and carried on for generations, they outlasted a lot of bands that were a lot more talented than they were as players and stuff but they just didn't have the songs that The Ramones had *laughs*.
If you had to look back at a stand out memory of your time playing with The Ramones is there one that sticks out?
*laughs* As contradictory as it might sound, probably my greatest moments with The Ramones were the final show, at one point Dee Dee came up on stage and I was up on stage with *laughs* the band and Dee Dee and that was just such a I don't know, weird kind of karmic moment and then later on that night just as big an honour Lemmy jumped up and did the song with us that he wrote for The Ramones of course the song was called 'R.A.M.O.N.E.S.', when I first heard the song I was blown away that Lemmy would ever include me in a song *laughs* I really was hugely blown away by it but that night when he came up and we played next to each other and sang harmonies together that really was a highlight for me. I have a lot of great memories, I played on stage with Perl Jam, I played on stage with Soundgarden, that night the guys from Rancid came up, I've got some really big moments on stage, but, Dee Dee and Lemmy when I was growing up were absolutely two of my favourites and to play with the two of them in one night with The Ramones was kind of a weird full circle thing for me and that's definitely one I'll take to the grave.
For me, you got to be on The Simpsons and deliver arguably one of the best lines ever on the show, can you tell us a bit about that experience?
*laughs* Yeah that's often the one that I give as my second greatest moment in The Ramones, not just because I was a huge Simpsons fan but I actually got to curse on prime time TV, my line was "Go to hell you old bastard" so the little nine year old CJ Ramone inside of me was jumping up and down screaming and yelling the entire time I was watching that on TV because I was like a little kid "ooh I got to curse on TV" *laughs*. Yeah that was really interesting, one of the producers from the show came to the studio and gave us our lines and we got to say our lines a couple of times and that was it, but when I actually watched it on TV it was just unreal, it was really unreal. It was such a simple thing being animated on a cartoon but for me I come from a total blue collar background and never expected to be part of something like that, so it was extra special for me. You know the other cool thing I actually rewrote Happy Birthday, I rewrote it the way we played it and recorded it so that was like one of my cooler contributions to the band.
This year you also released your newest solo album 'The Holy Spell', how has your approach to making music and song writing evolved over the years?
I was gone for music for a while, I started a family and was gone from music pretty much from 2000 – 2008, I did release a record with a band under the name of Bad Chopper and did a couple of shows here and there but I was gone from music for a while. 2008 I started going out started playing some shows but I never released anything under CJ Ramone because I never felt like the songs I was writing kind of lived up to The Ramones name, and then 2011 I had a good batch of songs and I felt like they deserved to be released under CJ Ramone, so I went into the studio and recorded the record three times *laughs* three times… the first two times I recorded it I just didn't like it and it wasn't until the third time and that's thanks to my friend Steve Soto who made it all happen that I like it enough to release it. Part of the problem all along is that I really didn't feel like the songs back in the day measured up and I didn't want to just dump an album out of fast songs and call it CJ Ramone and hope that Ramones fans wouldn't recognise that the songs were mediocre and just buy it for The Ramones name, I didn't want to do that. So I was picky about the songs and I'm glad I was, at this point I have four records out, my first record 'Reconquista', the next record 'Last Chance To Dance', then it was 'American Beauty' and then the most recent one 'The Holy Spell', and it's funny listening to my last records each one seems to work its way, the influence that I hear in the music on each record goes deeper and deeper into my musical past so that the newest record contains a lot of country influence on it because that's really the music that I started with, that I grew up with, and *laughs* it's this weird thing that the older I get the deeper into my influences I seem to go and it's not a conscious thing, I'm not trying to write that way, I'm just writing songs and I pick the best ones and put them on the record and this one just happened to be very kind of I don't know, it just has a country feel to it a lot of the songs, so it's all been a very natural process, I guess that's the best way to say it, it's been very natural, there's been nothing contrived, I didn't try to write Ramones songs I just try to write songs that were good enough to wear the Ramone name, that was my only concern
Lastly let's look ahead to the future, finish this sentence for me, in 2020 CJ Ramone will…
Retire *laughs* no don't say that… In 2020 I'm going to learn to tattoo, I've already kind of started learning but next year I'm really going to get down to it.
When you're good to go I'll come see you and get some ink!
Alright! Done deal *laughs*
CJ RAMONE – AUSTRALIAN TOUR 2019
Tickets via DavidRoyWilliams.com
Wed Sept 11 – Edgehill Tavern, Cairns
Thurs Sept 12 – Coolangatta Hotel, Gold Coast
Fri Sept 13 – The Zoo, Brisbane
Sat Sept 14 – Croxton Bandroom, Melbourne
Sun Sept 15 – Barwon Club, Geelong
Wed Sept 18 – The Basement, Canberra
Thurs Sept 19 – Factory Theatre, Sydney
Fri Sept 20 – Small Ballroom, Newcastle
Sat Sept 21 – Narrabeen Hotel, Narrabeen
Wed Sept 25 – Karova Lounge, Ballarat
Thurs Sept 26 – Lion Arts, Adelaide
Fri Sept 27 – Bar 1 Nightclub, Hillary
Sat Sept 28 – Prince Of Wales, Bunbury
Sun Sept 29 – The Rosemount, Perth
Essential Information
From: Queens, NY, USA
Album Website:  http://www.cjramone.com/
Latest Release: 'The Holy Spell' (Out Now)