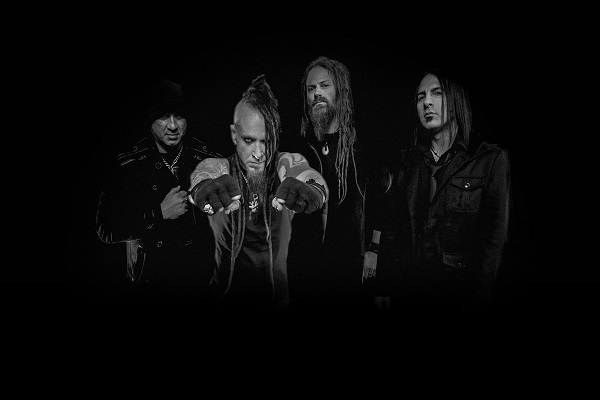 "…doing this for Vinnie is our way to give back to all of our fallen heroes and stuff and to help embrace the metal community and be like come on you lean on me I'll lean back on you and we'll get through this shit together."
From Release: HELLYEAH was formed in 2006 by Pantera founder/drummer Vinnie Paul, singer Chad Gray (Mudvayne), and guitarist Tom Maxwell (Nothingface) with bassist Kyle Sanders (Bloodsimple) and guitarist Christian Brady, who joined in 2014. The band has released five albums, culminating in the #2 Hard Rock album release UNDEN!ABLE in June 2016. Their final album with Vinnie Paul, Welcome Home – a truly stunning album that does both Vinnie's memory and groundbreaking legacy proud – is slated for release on Friday, September 27, through Eleven Seven Music. The eagerly anticipated new album, featuring the late Vinnie Paul's final recordings, will unleash 11 tracks, driven by their love, loyalty, reverence and respect for their fallen brother.
Just on the way out of Home Depot I got to ask Chad Gray one question…
Now it has been seven years since we last chatted so let's catch up, and obviously aside from Vinnie's passing which I do want to send my condolences to because the man was a fucking legend, how have the last seven years been for you?
Thank you. It's been good, man. Just fuckin' plugging along, the last say six *laughs* or five and a half of those seven were pretty great but last year has been pretty fucked up obviously since Vinnie's passing it's been pretty crazy but we're getting through it. I've kind of cleared the hurdle of my mourning and grieving phase and I'm onto being more along the lines of what Vinnie would want me to be and that is to celebrate his life and to make people smile and to give 'til it hurts you know what I mean? Do all the things Vinnie would want me to do, smile, so I'm back to smiling which is a good thing. Our family, our fans have helped us so much it's been so cathartic for us to take this thing on the road, the Celebration of Life tour which we will feel is going to continue to every continent, you know everywhere we go we're gonna keep this theme going of reminding people to celebrate his life and his legacy, and his brother's life and legacy and shit like that you, put the tissues away you know what I mean? Vinnie would even be over it by now you know what I mean? So he wasn't like that, basically when his birthday was coming up I did this thing for Instagram and this post was like "tomorrow everybody do me a favour, do Vinnie a favour and don't mourn or grieve, let's celebrate his birthday" so I put that up the night before and then I woke up the next day and my girl asked me and said "what are you gonna do today?" and I'm like "I don't know, maybe make a bloody Mary?" *laughs* like let's have a drink kind of thing and it's 10 O'clock in the morning or something and "that's what Vinnie would want me to do, right?" and I hadn't been drinking, I hadn't drank for two months and I wasn't planning to want a drink, I was getting right, staying fit and in that head space and she's like "well do you wanna do it?" and I'm like "I don't know, I really don't want a drink" and she's like "You know what? I'm not telling you not to, I don't care, it's been awesome you haven't had a drink in two months and you're really focused, so why don't you do what you do every day, go to the gym, work out, come home and if you want to have a drink we'll have a drink" I'm like "that's a great idea".
So I went to the gym, put on Pantera, I played Damage Plan, I played HELLYEAH and I really did smile the whole workout thinking about him, listening to his music, all this wonderful music he was so generous and kind enough to leave behind for us to help us through this grieving and mourning period, and I get home and she's like "well how are you feeling?", "I feel great, I had a good workout, listened to Pantera, Damage Plan, HELLYEAH" she's like "awesome so where are we at do you want to have a drink?", 'You know what I really don't think I want to" and she's like "well what do you want to do?" I was like "I don't know what should we do tonight?" and she's like "well what would Vinnie do?", I'm like "well he'd probably go out for a bad ass dinner" and he'd probably take eight or ten people with him and he'd probably buy the whole goddamn thing *laughs* that's how he was even on his birthday he'd take people take people out to dinner to some bad ass chop shop you know. So she said "where do you think he'd go?", "he'd probably go to Del Frisco's" she said "let's go to Del Frisco's" so we called and I made a reservation and said "can I get two in for tonight at 8 o'clock or whatever" and she's like "yeah no probably and said who should we make the reservation for is it a special occasion?" I said "well that's kind of weird, kinda and kinda not" she said "well what do you mean?" I said "well it's my friend's birthday, my brothers birthday but he's since passed away but he used to frequent your restaurant quite often" she's like "I'm sorry to hear that but it is his birthday and you're celebrating it at a place he'd want to, who was it?" I said "Vinnie Paul" she said "oh my God yeah I'm sorry, condolences Vinnie came in here all the time" I was like "I know" and she's like "you know what? Don't worry about it, I'm gonna get you a nice table 8 o'clock you come in, bring your girlfriend" I'm like "perfect". So, we had the rest of the day, we didn't drink, and drinking is still not off the table by the way *laughs*we go in and it's a really nice table and the waiter comes up and says "do you guys want anything to drink?" we look at each other and just started smiling and she was waiting for me and I said "you know what I'll just grab a water" and she said "me too" and they come up and at the end of it all they'll bring up maybe three different desserts or whatever and it said 'Happy Birthday Vinnie Paul' and it kind of welled me up I mean how cool, it was such a cool night and so gracious of them to do that and that they would do that for us because Vinnie had that effect on people where they wanted to be kind and generous and that kind of stuff, so for them to do that was great, it was probably $35 for the dessert *laughs* they'd given us. We got out of there, we didn't drink and woke up the next day and my girl was like "how do you feel today?" and I was like "you know baby, I feel better today that I think I've felt since Vin passed because I could finally stop the mourning and grieving and could celebrate his birthday the way he would want me to celebrate it."
I felt like I properly celebrated his birthday and that was the first day and like you know what? I'm over it, I think I'm done. Like I had the best day since before he passed yesterday and that was a turning point for me to just have one day where I really did truly celebrate his life and his birthday, and that for me was a turning point and I kinda never looked back it was awesome, it was an amazing milestone to me to get over and now we've been together, we did the Vegas show that was the 'Celebration of Life' show, we had the one and then we sold out the House of Blues in Vegas and we had so much fun, it was just a fuckin' blast, I mean we had puke buckets around the stage *laughs* it was so goddamn emotional. We were all super emotional going into it, walking on stage for the first time without Vinnie, fuck, we got out there and we started playing and Roy is just a beast and did such a fucking great job, leading up to it we only had three days of rehearsal and we hadn't played the set in fuck, eighteen months *laughs* and we were playing eighteen songs that night I believe, so we had three days of rehearsal with Roy and just crushed every day and Roy just played his ass off in the rehearsals and we were laughing in rehearsals and having fun but it wasn't show day yet and then on show day we had a 250 person meet and greet I mean fucking insane it took us like an hour and a half to go down the line, I always make sure I give people time because they paid for that shit you know what I mean? So I always make sure I talk to people and I give them time and I'm gracious because I love my family, my fans are not fans they're fuckin' family and they're worldwide and it's a beautiful thing and I embrace it so much.
So we did this giant meet and greet and went warmed up, put all my gear on, fuckin' got ready and walked in there like dry heaving *laughs* getting ready to walk out there and not only is it the first time walking out there without Vinnie, I'm walking out there for the first time in almost two years being in front of a crowd, so I always have butterflies and I always tell myself the day I don't have butterflies is day I may as well fucking retire because clearly something is missing, so I always have natural butterflies no matter what, but they were extra flappy wings that night *laughs*. We got out there and once it started going, man, Roy did such a good job and if I didn't look back there I wouldn't have known that Vinnie wasn't back there, fuckin' Roy did a great job doing his diligences as a player he was practicing and playing his drums for like six hours a day for like forty days nonstop, every single day playing six hours a day learning this material and he just nailed it, he fuckin' nailed it. We got done with that show and we were just high on life, we know we did Vinnie proud by doing this, by basically doing it in his honour and showing the love and respect for him and giving the fans an opportunity to come to a show and pay their respects by listening to his music he was a part of even though he wasn't there he was still very much a part of that music. So like I said it was very cathartic, it was therapeutic for us to do that, we got done and I was high on life and I was like "you know what we've gotta take this motherfucker on the road, we need to take this everywhere". People walked out of here I think able to smile tonight if they hadn't been able to at that moment maybe they hadn't had that birthday reckoning that I had you  know and maybe that night was that for them and maybe they walked out of there feeling a little lighter and their heart felt a little better or fuller and things like that, so we really need to take around this to our family, to our extended family, across the country and around the world like wherever we play we should just keep this going to let everybody feel this cathartic aspect of what music really does because music is really powerful at so many levels and especially metal, I mean metal saved my fuckin' life I don't know how many times, and it's gotten me through some really rough shit and this is just one more example of it how powerful hard rock and metal music is.
The fans are so fuckin' loyal and beautiful and the outpouring of love and condolences from all of them when Vinnie was passed was just overwhelming and its funny I say it on stage every night I tell the crowd that their condolences and outpouring of love from the day he died was so tremendous and I want you guys to know that within ten minutes of me hearing the news my condolences were going out to all of you because I did lose my drummer of twelve years, yes, I did lose my brother a man that did become my brother because we played in a band together for twelve years, but what I really truly lost was the same thing that everybody in that crowd lost and that was a man that I looked up to as a heavy metal hero of mine since I was seventeen years old, far before he was ever in my band, I lost one of my musical icons, in body not in spirit but in body I lost him. I feel like I gained more of his spirit you know what I mean, I might have lost the vehicle that was his body, and his personal touch like I could put my hand on him like "what's up Vin?" but what I lost there I've gained through my love and admiration for him even more and I believe he's with us, I believe he's with me every day and when people say God is everywhere and omnipresent and everybody and all the guys in my band that were really close to him you know I'm like I don't want you guys to forget, Vinnie is omnipresent now, he can be there for each one of us all the time at the same time you know what I mean? He can touch everyone and that includes his fan base around the world that was fuckin' massive and worldwide , he can be with every single one of them, including me and the people that were closest to him as well.
He loved his fans and family, he really did, like I said the guy he just naturally gave until it hurt, the fucker that's what he did, he loved to make people smile, he loved to make people laugh and I mean him and Dime what I learned from them far before Vinnie was my drummer, they shaped me as a human being to be a better human being because I remember watching those old Pantera videos and seeing how humble Dime was, he was full of humility he said so much humility like that dude would fuckin' talk to anybody, but long before I was a rock star or whatever the fuck I am *laughs* I kind of knew how to carry myself, it doesn't matter what you do you keep your feet on the ground, nobody is better than anybody else and I'm a better man because of Vinnie and I'm a better man because of Dime, I'm better human being because of those boys and the only thing that's given me any peace is knowing how much Vinnie loved Dime and that he's back with his mother and back with his brother and he's with them right now so they must have needed him pretty bad you know what I mean? *laughs* he must have been needed pretty badly for them to take him but hey like I said, that's given me a lot of peace knowing that Vinnie and Dime are together again because the way his brother was taken from us is fuckin' bullshit and brutal and tragic as fuck and I can't imagine being Vinnie having to see it and witness it right in front of him and he grieved for a long time but HELLYEAH was the band that brought him out of that and I'm so blessed and proud to be a part of that band, be the front man of that band that pulled him out of that funk and allowed him to use this band as a conduit to carry the torch for Dime. I mean Dime was our sixth member and basically this band was mentored on how to carry the torch for someone that had passed by Vinnie, so we know how to do that now because he taught us how to do it for Dime, we were in a band with him for twelve years and we always talked about Dime, in press, together, during writing, during touring, Dime was just revered by him so highly and he really did, he taught us how to do this, he taught us how to do what we're doing right now and that's to carry his flame and his torch and he goes across from Vinnie, to Dime, to Jeff Hanneman, to Chris Cornell, to Chester Bennington, to Paul Gray, to Lemmy, to fuckin' Ronnie James, to all the greats that we lost, we're doing it for Vinnie but at the end the day we're really celebrating the life of all of them aren't we? It's pretty cool, it's been a really cool thing to be a part of and I'm such a fan of the metal community because we do lean on each other very hard to get through the tough times and music like I said has saved me more than once, a million times so doing this for Vinnie is our way to give back to all of our fallen heroes and stuff and to help embrace the metal community and be like come on you lean on me I'll lean back on you and we'll get through this shit together.
Essential Information
From: USA
Band members: Chad Gray – Vocals, Tom Maxwell – Guitar, Christian Brady – Guitar, Kyle Sanders – Bass
Website:  http://hellyeahband.com
Fortthcoming release: Welcome Home – (Eleven Seven Music)