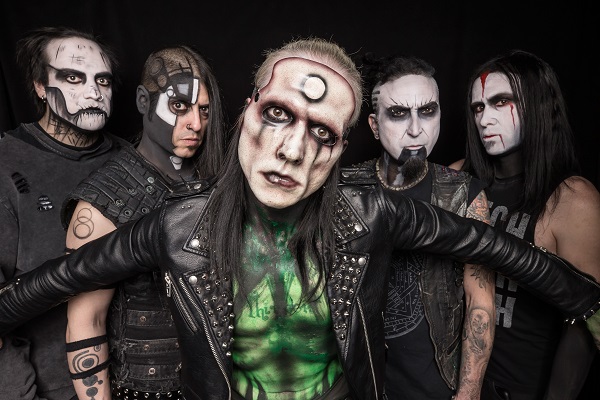 "We may have started this fifteen years ago but it's just now the monster is complete, it's ready."
From Release: The Duke of Spook has returned once more from beyond the grave to reveal the 'Necrophaze'! This latest, full length offering from the ghouls of WEDNESDAY 13 will be available on September 27th, 2019 via Nuclear Blast Records. Heavily influenced by the real life night terror occurrences of Wednesday himself, historical serial killers, and a slew of 80's horror films, the ideas behind 'Necrophaze' are bizarrely familiar, frightening, and a hell of a lot of fun. Being a collector of both media and toys, Wednesday 13 was inspired by a craving for variety to create dual album artwork for this release. The covers showcase either end of the horror spectrum with a "Creepshow" comic book vibe for the LP artwork, and the eeriness of something akin to John Carpenter's "The Fog" adorning the CD.
We gave our old mate, Wednesday 13 a call to catch up and talk about the forthcoming album 'Necrophaze', its creation, having Alice Cooper on the album, the band's return for an Australian tour, and re-establishing the band…
It's always good to catch up and it's been just over two years since we last chatted, so let's catch up, how have the last two years been for you?
Busy, busy and ever changing and things are good. The past two years has been just a whirlwind of things around the band, you know we signed to Nuclear Blast with 'Condolences' two years ago and now we're about to release our second record and it's just been kind of a process of getting Wednesday 13 established again, back on a label and just touring and now we've spent the last year and a half supporting other bands and going out and touring, so we're just trying to re-establish the band because I think over the years it's definitely morphed and changed into something than it originally started out as  so I like to think of it that it's now finally complete. We may have started this fifteen years ago but it's just now the monster is complete, it's ready.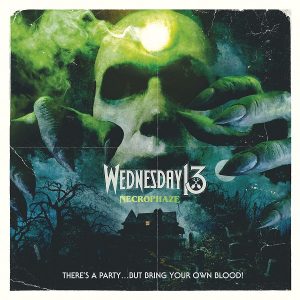 A couple of big things happening in your world, firstly we have 'Necrophaze' on the way in September, on this new album what if anything did you do differently this time around compared to your other releases?
Everything *laughs* and I think that was something that anytime we've crossed the path of possibly doing something different than the past I would be like "let's do it". Like for example 'Condolences' was recorded in Massachusetts with our producer Zeus, we basically lived in his basement and recorded for a month which was cool but at the same time I was like I don't want to spend a month in a basement in Massachusetts again or something, so this time I was like well you can record in LA and I can go home every night and I was like "yes". So that was one thing, I was able to go to the studio and come back to my apartment every night and relax and not really feel like I was away from home. I got to make a home record so to speak, so nothing was taken out of me for travelling or anything so I think I got to put a little extra work into this record because I was kind of working on it from home.
You also had some special guests on this record which I believe is a first for you?
Yes.
 I have to ask specifically what was it like working with Alice Cooper?
Oh as amazing as it still sounds, having Alice on the record is the cherry on top of everything and he's the reason I do what I do and to have him acknowledge us and be a part of it is amazing. Yeah the whole idea with the guests I think with every band when they record after a few records and every time you record it would be cool to get blah blah blah if we did this cover and we did this idea and we always toss ideas around but the Alice Cooper idea has been around for over a decade now. Originally he was going to do the intro for my 'Skeletons' record back in 2008 and at the time that was before everybody had laptops and had all their computer gear in studios and in their pocket, we were a few years before that so we didn't have a chance to get Alice in the proper studio to do it, so we missed out on it in 2008, then we were going to do it again with the last Murderdolls record and that didn't work out so it was just kind of like it's been a long time in the making to get him on this and I'm glad it didn't work out before because I think this is the one to have him on.
The album has a really heavy fun vibe to it, it's almost like a horror party. A song like 'Bury The Hatchet' stands out for me, can you tell us a bit about that song?
That's the last track on the record before it kind of wraps up before the outro. To me that was kind of a throwback to what I did in the first couple of years of Wednesday 13 it was more punk with scattered heavy metal now it's heavy metal with scattered punk. So that was more of a throwback to the older days, and it wasn't something that we tried to do, it was just something came up, we had a punk song, it sounded cool, and the title was just a funny title, I believe I read something online, I can't remember what hair metal band I think it might have been Great White, one of these bands were fighting over their name and they just could not get it over and one guy said "yeah we'll finally bury the hatchet one day when it's in one of our heads." I thought that hilarious and I wrote it down and it became a song, so it has nothing to do with those bands I was just like that's a pretty good way to say it, we'll bury the hatchet one day when it's in your fuckin' head. It's a fun title.
The album as I said is very fun, is that what you set out to do with this record?
I don't really know, I think you go in with an idea or an idea that you're hoping to go for and the record just always takes on its own form that's why I don't try to force it too much. I was really happy with how it turned out, it's got a cool eerie dark vibe but it's still got fun to it and I think the last record was lacking the fun vibe, it was heavy and dark it just didn't have the fun atmosphere and I think that's what this record has it has atmosphere.
You've also had the same line-up for a while now, has that sort of helped you continue and approach your song writing in a different way as you move along?
Absolutely, that's the best thing ever I think was to have other people come in and to write the newer songs. It started in 2014 with the 'Monsters Of The Universe' record and then it continued on 'Condolences' and to this, just letting my guys come in with their ideas and us kind of shaping everything together and even more so on this record I even let the guys this time it was even more of letting them bring in their ideas. I can just work better and I know when certain things won't work and I know when certain things do and it's a lot more fun and challenging to have a song that I don't have in my head already with something that they bring to the table, so it's healthy and I think that's what's made the sound change and evolve and sound the way that it does. It's unique because it's a bunch of different influences besides what Wednesday 13 is as a band or what people come to know it's just all the guys bringing their own influences. Our guitarist is a huge Devin Townsend fan and huge Smashing Pumpkins fan whereas I don't know any of the guitar stuff of that so he brings that kind of stuff to the song, stuff that I would never ever bring.
The other big thing is your return to Australia this month with Static X and Dope, tell us how are you structuring your set in 2019?
That's a good idea *laughs* I just this morning started off getting all my artwork and stuff for our T-shirts and approving all that sort of stuff. With this tour it's the first time coming to Australia to support act and not doing a headline tour which is great for us because we get in front of a different audience and more people so we've just kind of been going in as an opening band, sort of the band that kind of rip the band aid off and get to the blood straight away. So that's how we've been kind of approaching it, we like to call it the punk rock theatrical version of our show.
The album won't be out by the time you're here, can we expect a couple of new ones in the set?
Yes. I mean of course we're only playing a forty to forty five minute set on this run, so to kind of squeeze in twenty years of history to show people what I've done to make a set list it's still kind of tough, we're still deciding on it, I don't know what's going to be played but we usually play a song or two off the new album. Just up until a couple of weeks ago when our tour finished we were playing one off the new album and now we have the single out and we're going to try and work that into the set, who knows what will happen by the time we get to Australia, we've still got a few weeks and stuff changes every day in our world so we shall see.
Australia has been a great market for you and you've been here a number of times, what do you think it is about us that just gets what you do?
I don't know, I really never questioned it and I definitely never had a problem with it, it was almost like one of those things when I came back in 2010 and that was my first return in Australia since my first album in 2005 and I hadn't been there, I didn't know if anyone still listened to us and I came back in 2010 and we did three shows and they were insane and I was like "Holy Fuck! This is maybe more intense than anywhere" and so we just kept coming back and we did the Soundwave Festival and did Murderdolls there as well and I think we've been back every year for the past decade with the exception of maybe 2014 I think. So we've been really fortunate to come back and the fans love it there and every time we come back I think we give them a little bit of a different show, they feed us, we feed them it's a never ending cycle.
Over the years it can be very easy to say what can change but what for you is the one thing that's stayed the same about Wednesday 13?
I think just the overall approach and just when you see us I don't know I think there's a sense of comedy with the tragedy is what I'm trying to say, it's not so over the top that it will make you feel uneasy but at the same time it kind of makes you smile. So it walks that fine line that I like to keep a little comedy with the tragedy and that's something that's always stayed there, there's never been a record that's no smiles at all there's always been that little smirk and I think that's something that I've always kept is that sense of humour I think.
Lastly as always let's look ahead to the future, finish this sentence for me, in 2020 Wednesday 13 wants to…
That's good, whoa that sounded good I was ready for you to finish, you set it up… I want to conquer everything, I want to be known as when people say Halloween or Horror Rock I'm the first name that comes up after Alice Cooper or something, so just converting the people that don't know about it yet, so spreading the disease, so hopefully by 2020 our sickness has spread and everyone has a circle on the centre of their head.
STATIC-X + WEDNESDAY 13 + DOPE August 2019 Australian Tour
Thursday 22nd – Brisbane – Eatons Hill
Friday 23rd – Melbourne – Croxton
Saturday 24th – Sydney – Metro Theatre
Monday 26th – Adelaide – The Gov
Tuesday 27th – Perth – Rock Rover
Tickets: https://metropolistouring.com/tours/static-x-2019/
Essential Information
From: Los Angeles, CA, USA
Band Members: Wednesday 13
Website: http://www.wednesday13.com
Forthcoming Release: Necrophaze (September 27 – Nuclear Blast)