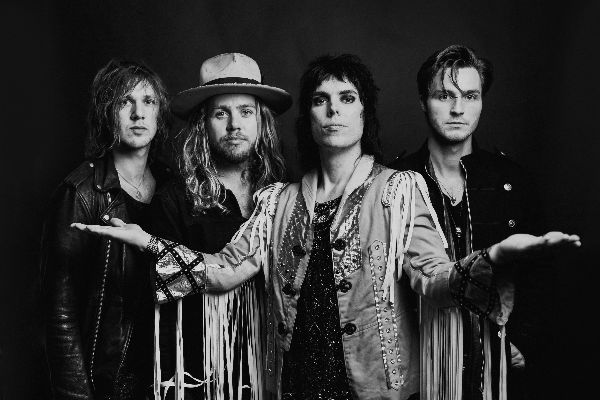 Sydney, tonight you are in for a treat. The Struts are back and well, if you saw them last time you know what we're in for, if it's your first time this is going to be fun.
J3 comes out to warm up the crowd and opens with the Bon Jovi classic 'Wanted Dead or Alive' which is a surprise and I'm happy and such a cool way to start the show. He kicks into 'Benny and The Jets' and I'm loving this, a set of covers just him and an acoustic guitar. 'Smile Like You Mean It' originally by The Killers but tonight by J3 is awesome and not even a broken string can stop him as he continues and belts out 'Atlantic City' and after the string change here's 'Wonderwall' which has the entire crowd singing along. He closes out his set with a bold cover of 'Purple Rain'. That was actually pretty damn impressive.
As Gary Glitter's 'Rock and Roll part 2' plays the lights dim and we're ready. An air raid siren rings as The Struts takes to the stage and instantly the energy is there and the presence these guys have is off the charts. The crowd is jumping and clapping along to the opener 'Primadonna Like Me' and you just know this is going to be something special. Opening finger clicks signal 'Body Talks' and the way this band plays is so tight, it's truly hard to pick who to watch on stage as they're all so into it, and as Adam rips the solo it's just sounding so good. What an opening! Speaking of Adam, he's ripping it up to open 'Kiss This' as Luke gets the whole room clapping. These songs are seriously made for the stage, as is this band.
Oh yeah here's my favourite! 'In Love With A Camera' and mark my words, if Luke Spiller isn't the best frontman in music these days then I don't know who is. These songs are just so infectious. 'Fire' is up next and that's exactly what this is, this band is on fire. Mid song Luke takes to the piano as Adam and Jed stand up front to rock out the solo. Oh man what an outro and again just so damn tight as a band. It's so great to see a band get this kind of reception, reaction and love from a crowd one of which I haven't seen for a live band in a while. Back to the piano for 'One Night Only' and this big rock ballad is a masterpiece and a perfect way to slow the set slightly. Then after a slight breather the place starts clapping along for 'Dirty Sexy Money' and this sleazy groovy rocker is made even better by Geth's cowbell use and Adam's guitar outro. Wow.
'Tatler Magazine' is just so good and as Queen as you can get and it's a pleasure to witness. 'The Ol' Switcheroo' blends into the song with a chorus with more hooks than a bait and tackle 'Black Swan' then the medley continues with 'Roll Up' and man this is great and truly a killer way to showcase some of the catalogue. 'Young Stars' closes out that excellent interlude and if you weren't already impressed, we'll firstly what's wrong with you? And secondly, you are now.
Addo stays on stage as the others leave and he hits us with an old school guitar solo. Then as the band returns they hit the riff for 'I Do It So Well' and this is another song that just hits a groove. Even the storytelling mid song fits so well, I mean they truly have this down. Yes, they truly do it so well. It's time to dance and or boogie woogie woogie if you like, as it's time for 'Dancing In The Street' and I really dig their take on this classic, and they nail it and even get a small circle open on the floor for those to dance. We get to "oh yeah" as 'Put Your Money On Me' is up and wow that's just pure entertainment. The crowd energy is still up there as it was at the beginning of the show. Right now with the crowd split in two it's a battle of who is loudest, currently my side is winning, go Team Addo. After band introductions it's time for 'Where Did She Go?' and if you ever look up 'crowd participation' in the dictionary it will say 'go and see The Struts live and be there when they play 'Where Did She Go?' There are arms waving, human fireworks and just an all-round absolute ball tearer of a song. It's just beautiful to watch. The band leave the stage for a rest, a well deserved rest.
Luke returns and takes up a seat at the piano for another huge ballad in 'Somebody New'. Damn that's a good song!! Hits a spot. After some thankyous it's time for one more and it could only be 'Could Have Been Me' and this huge production is all class. All of it. Thunderous and deserved applause sends the band off and not one person has left without a smile on their face and all I can hear as I walk out is mutterings of "wow" or "how good was that?"
Some people say that rock is dead but how can it be when it has a future purely because of this band. Ladies and Gentlemen remember the name, The Struts, and I'll actually add more to that. NEVER miss this band if they're in your town. They'll make you fall in love with music all over again.
Essential Information
Venue: The Factory Theatre
Date: August 24, 2019
Presented by: Live Nation Australia
Supported By: J3
Website: http://www.thestruts.com
Set List:
Primadonna Like Me
Body Talks
Kiss This
In Love With a Camera
Fire
One Night Only
Dirty Sexy Money
Tatler Magazine / Medley
I Do It So Well
Dancing In The Street
Put Your Money On Me
Where Did She Go?
Somebody New
Could Have Been Me