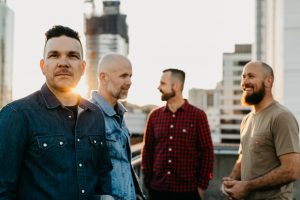 The Butterfly Effect return! Clint, Kurt, Ben and Glenn have not released new music together for 10 years – since the release of their 2008 album Final Conversation of Kings. Earlier in 2019 – the band gathered in a studio for the first time in many years – and the time in the studio created this new single entitled 'UnBroken'. The new single will be available for purchase and streaming from Friday August 16 at http://ffm.to/TBE_unbroken.
Not only that – but TBE fans will be ecstatic to learn that the band have teamed with their favourite brewery, Green Beacon Brewing Co, to create an 'Amplified Ale', which will be available to enjoy on their upcoming (mostly sold out!) tour! The beer will also be available to purchase in bottle shops all over the country. The can for the 'Amplified Ale' is decked out in the very same shade of blue that adorns their "Begins Here" album cover. Check out https://www.greenbeacon.com.au/beer for more details.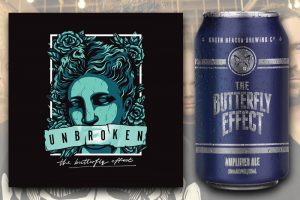 Mixed and Mastered by Forrester Savell (Karnivool, Cog, Dead Letter Circus), this new track simultaneously invokes the nostalgia of the band's "heyday", showcasing what made them such a seminal sound in Australian music – and also what the future holds for the sound of the band.
Vocalist for TBE, Clint Boge, says that "UnBroken is a snap shot taken from a very dark, difficult and personally tumultuous time in my life. I realised my whole world was falling apart, relationships were breaking down and every thing I'd known was crumbling around me. With seemingly very little to hold onto I found an inner strength and the will to keep going, to keep getting out of bed although every part of me wanted to hide away from the world. This song and these lyrics represent that struggle, to remain unBroken."
The Butterfly Effect's legacy stretches back to the heady days of the late 1990s and early 2000s – they are part of Australian Alternative Music's "Big Three" alongside Karnivool and Cog, they etched their name and fan base in stone across Australia and the world, many times over.
Through the course of their phenomenal career, The Butterfly Effect excited fans and brought venues and festivals to life with their three massive albums (all certified Gold), one incredible EP that introduced the world to the band, six consecutive years with triple j Hottest 100 entries, ARIA chart placements, triple j One Night Stands, Big Day Out main stage spots, overseas tours, DVD Documentaries, countless tours and so much more.
The Butterfly Effect formed in 1999. After the release of their EP and their albums, they put themselves on hiatus in 2014. They returned to the world in 2016 to re-release their albums on vinyl, which re-ignited the spark for the four-piece to perform live again – and in 2018, they returned triumphantly to stages all around the country and have since done numerous sold out tours.
The Butterfly Effect's new single 'Unbroken' will be available for purchase and streaming on all digital platforms worldwide Friday August 16 at http://ffm.to/TBE_unbroken. All information regarding The Butterfy Effect's 'Amplified Ale' collaboration with Green Beacon can be found at https://www.thebutterflyeffectband.com.au.
THE BUTTERFLY EFFECT
AUSTRALIAN TOUR DATES AUG 2019
WITH HAMMERS & THESE FOUR WALLS
FRIDAY 23 AUGUST – Adelaide, SA
HQ – TICKETS AVAILABLE
SATURDAY 24 AUGUST – Fremantle, WA
METROPOLIS – TICKETS AVAILABLE
THURSDAY 29 AUGUST – Brisbane, QLD
THE TIVOLI – SOLD OUT
FRIDAY 30 AUGUST – Sydney, NSW
METRO – SOLD OUT
SATURDAY 31 AUGUST – Melbourne, VIC
FORUM – SOLD OUT