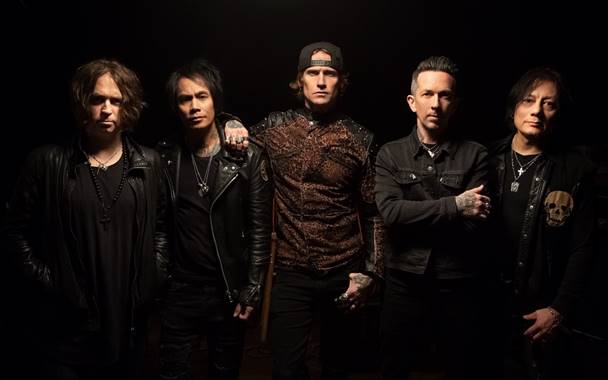 "…it's high energy, high octane, maybe low IQ *laughs* but at the end of the day we're there to have a good time and entertain."
From release: BUCKCHERRY staunchly uphold the commandments of rock music with an arsenal of anthems primed to explode on impact live on stage and teeming with riotous energy, sexy swagger, and primal chops intact.  It's something that the boys have done since day one, but it's more necessary now than ever. BUCKCHERRY head back to Australia for the first time since 2016.
While he was driving down the 101 we gave Stevie D of Buckcherry a call to talk about the band's return to Australia this October as well as adjustments, moments, and much more…
You're heading back to Australia, I love a Buckcherry show because it's just raw, straight up rock and roll without the bells and whistles. Now, if you had to use one word to describe a Buckcherry show what would it be and why?
Oh gosh, one word? Let's see… mayhem, chaos, it's just rock and rock, it does ebb and flow, it does have quiet moments but we do bust out of the gate all guns blazing, it's high energy, high octane, maybe low IQ *laughs* but at the end of the day we're there to have a good time and entertain.
As the catalogue grows are you finding it harder to put a set list together for shows these days?
Yeah obviously when you pick the set list you have to cover and feed the fans, so you have to do the ones that are the obvious ones like 'Lit Up', 'Crazy Bitch', 'Sorry', 'Ridin' those types of songs, the obvious ones. There is eight albums, even more actually, there's a live album, a covers album, so then there's been other soundtracks, so yeah it's a little difficult but at the end of the day it's really up to Josh and how he's feeling, so that's what dictates what goes into the set, he likes to roll the set to have peaks and valleys and plus it's a different ball game than it was twenty or thirty years ago and if you're four weeks into a tour it might not be as easy to hit those high notes. So we adjust accordingly.
It's been three years since you've been back here, so what are you most looking forward to about coming back to Australia?
Coming back to Australia I really want to go and see the outback but I don't think we'll get a chance, you know what's that bridge? I think I want to take a walk up that, everyone does it when they're there.
I love that you're coming with Hardcore Superstar too, those guys are amazing!
Oh man, we love those guys, Joki, Vic, they're all fantastic human beings and monster players and monster performers, they're the brothers from another mother. We did a European run some years back and it was one of the best tours we've ever been on.
Now, 'Warpaint' has been now for a couple of months, how has the cycle been since its release?
There's new life in this band, it could be because there's literally new life in the band there's two new members, it could be because there's new songs, a new record label, but there's a difference in the turnout, we're selling out more shows, there's more capacity shows and it's all a welcome change. We had toured so much at the end of the last band that it put a huge strain on everyone and especially the fans and we burnt out a lot of markets, so we took a break and me and Josh did another band and we came back and it's been nothing but smooth sailing.
Obviously this was the band's first album without Keith, for you as the other guitarists in the band, was there much of an adjustment for you personally when making the album?
A huge adjustment, this was Keith and Josh's band and since his departure a lot of the guitar playing fell into my lap and wherever Keith was was where I had to pick up the slack. There was a bit of an adjustment and I was up to the task, I had already hit the ground running with Josh Todd and The Conflict as song  writing, guitar playing, and producing, I was the only guitar player in that band so I had already been used to operating alone at that point. So when we started recording 'Warpaint' I was ready for the task.
What has Warpaint allowed you to do that you feel you weren't able to do on previous albums?
The writing process was just me and Josh, whereas Buckcherry was mostly Keith and Josh and the band, now at this point there was a lot more freedom and our managers and label and even Josh had requested to just keep writing, there's no wrong answers, let's just keep write and keep writing until we know we have twelve solid songs, we wrote over forty, whittled that down to twenty and then we decided on the final eleven. As a guitar player I got to stretch out in directions I didn't normally, there's shredding, chicken picking, slide playing, and good old fashion rock and roll all on this album.
Over your close to fifteen years with the band it can be easy to say what's changed but what would you say is the one thing that's stayed the same in your time in Buckcherry?
My time in Buckcherry, Josh, that's easy. Josh's presence has been the constant and that's the signature sound of what Buckcherry is, I think the riffs and the mindfulness of what's going into the songs has not changed either. The influence of AC/DC, bands like Aerosmith and The Rolling Stones is still there as well you know what I mean? We're also stretching out with maybe funkier rhythms, with an R&B and soul influence, but yeah I'd say Josh's signature sound has been a constant. Like if you turn on active rock radio here in The States I bet not everyone will know the difference between the majority of the bands, when you hear Josh you know it's Josh.
For you in terms of moments that stand out, what for you has been that moment you've been able to have by being a part of this band?
Oh gosh, I call those God moments, I'm not a religious guy, spiritual for sure, and there's moments we'll be playing a sold out arena and everyone will be singing the song along with you, there's moments like that. Going to another country and having a sold out crowd singing along, that's usually where it happens for me, those are indescribable.
Looking back was there one piece of advice you were given when you started making music that you still go back to and use to this day?
Yeah, usually as a guitar player it's you're gonna hit brick walls but just keep playing you know what I mean, and stretch out in other directions that you're normally comfortable with that will inspire new playing, but yeah, just keep playing, always play.
Lastly let's look ahead to the future, finish this sentence for me, by the end of 2019 Buckcherry want to…
Want to be headlining in Australia *laughs* I would love that. Be back at the top of the charts, be probably on a package tour with a huge band and about to bust out on another headline tour of our own in arenas.
Buckcherry / Hardcore Superstar / Bad Moon Born October 2019 Tour Dates
Tuesday October 08 PERTH, Rosemount Hotel
Wednesday October 09 ADELAIDE, The Gov
Friday October 11 MELBOURNE, Max Watts
Saturday October 12 BRISBANE, Zoo
Sunday October 13 SYDNEY, Metro
TICKETS – http://silverbacktouring.com.au/buckcherry-2019/
Presented by Silverback Touring
Essential Information
From: Los Angeles, CA, USA
Band Members: Josh Todd – Vocals, Stevie D. – Guitars, Kelly Lemieux – Bass, Kevin Roentgen – Guitars, Francis Rulz – Drums
Website: http://www.buckcherry.com
Latest Release: Warpaint (Out Now)