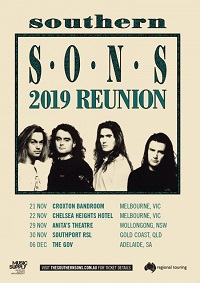 It has been more than two decades since iconic 1990s four-piece Southern Sons performed together. Now, in a special coup for music fans, the beloved band are coming back together for a 2019 Reunion tour, featuring all their classic hits. Original members Jack Jones, Virgil Donati, Geoff Cain and Peter Bowman will undertake a whirlwind tour throughout November and December, taking music lovers on a walk down memory lane as they traverse hits such as Hold Me In Your Arms and Heart in Danger to name a few.
For Jack Jones, returning to his roots – where it all started and playing the songs that kicked off their music careers – is an exciting prospect. "I'm proud of everything I've done, but Southern Sons is where it all started for me," he says. "So, I'm very excited about these shows. I'm very fond of these songs. The band was a great time in my life."
Southern Sons' debut ARIA-nominated self-titled album hit #5 on the charts and spawned smash hits Heart In Danger, Hold Me In Your Arms, Always & Forever and Waiting For That Train. The first single, Heart in Danger was released in 1990 and cemented the band as a formidable force in the music scene. They would continue to dominate the charts for the next half a decade.
Their 1992 album Nothing But The Truth, continued their drive of success, with the singles Lead me To Water and You Were There. Three Southern Sons tracks were also included in the 1993 Sydney Dance Company's production of Beauty & The Beast. Their third and final studio album – released in 1996 – Zone featured a guest appearance from Men At Work's Colin Hay on the lead single Don't Tell Me What's Wrong. The band called a permanent hiatus in 1996, much to the dismay of music fans around the country.
General public tickets go on sale from today.
Thursday 21st November 2019
Croxton Bandroom, THORNBURY VIC
www.thecroxton.com.au | www.thecroxton.oztix.com.au
Friday 22nd November 2019
Chelsea Heights Hotel, CHELSEA HEIGHTS VIC
www.chelseaheightshotel.com.au | www.oztix.com.au
Friday 29th November 2019
Anita's Theatre, THIRROUL NSW
www.anitastheatrethirroul.com | www.ticketmaster.com.au
Saturday 30th November 2019
Southport RSL, GOLD COAST QLD
www.rslclubsouthport.com.au
Friday 6th December 2019
The Gov, ADELAIDE SA
www.thegov.com.au | www.oztix.com.au
For more information, please visit www.thesouthernsons.com.au