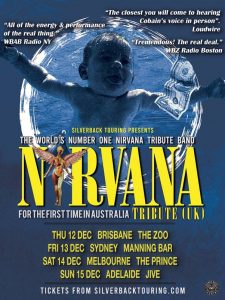 NIRVANA, put simply, changed the course of music, over a few short years, defined a genre, and maintains an unscarred legacy with their biggest hits being a staple of rock radio all over the world.
Whilst the band may no longer exist, they are firmly entrenched in the history books of pop and rock culture as one of the most important bands of the last century.
The Nirvana Tribute, out of the United Kingdom, which has been featured in countless publications and has toured across Europe, the United States and Asia, has captured the imagination of both the media and fans alike with their high energy, explosive live performances and their authentic take on everything NIRVANA.
Loudwire magazine says that the band is "the closest you will come to hearing Cobain's voice in person", whilst original Nirvana drummer, Aaron Burkhard, has said that "Jon O'Connor" really is the closest to the real thing". In a recent show review, O2 Venue reviews have said that "you couldn't ask for a more visually accurate experience", whilst US radio stations WBZ Boston and WBAB New York have said, "Tremendous! The real deal" and "all of the energy and performance of the real thing", respectively.
Whilst the reviews speak for themselves, the band has also been listed as one of the world's best tribute bands (Loudwire). Australian fans now have the opportunity to witness this amazing tribute to NIRVANA live for the first time this December.
Expect all the NIRVANA hits, across all albums, including a classic MTV Unplugged set, in what will be one of the Tribute shows of the year.
Nirvana Tribute UK: Tour dates:
Thu 12 December: Brisbane, The Zoo
Fri 13 December: Sydney, Manning Bar
Sat 14 December: Melbourne, The Prince
Sun 15 December: Adelaide, Jive
Tickets on sale: NOW
From: https://silverbacktouring.com.au/nirvana-tribute-2019/