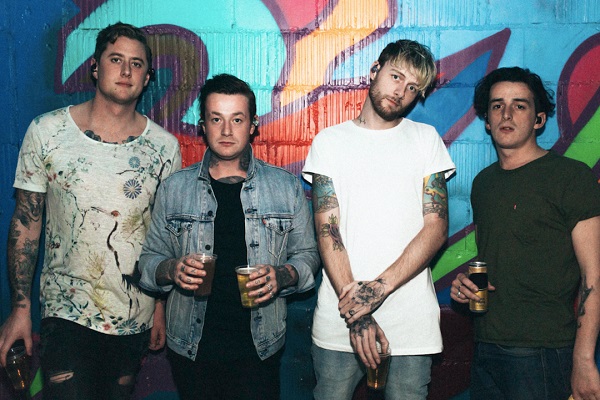 "…we used to get wasted before we played and now we don't do that anymore because you realise that you just suck when you do that so we try and take it a bit seriously…"
From Release: Deaf Havana have been an enduring force in the British alt rock scene for almost a decade and a half, releasing five studio albums over 14 years. Their latest effort, 'Rituals', was released in August 2018 and has been described by the band and critics alike as an evolution of their sound. After their last trip to Australian shores as the main support for Placebo's 2017 national tour, Deaf Havana have grown, as individuals and as a band. Unafraid of changing direction, baring all and making people dance – the four piece are set to continue their 2019 UK & US headline tour run around Australia this August.
While in the North of Italy, James from Deaf Havana gave us a call to talk about band's return to Australia, their latest album, new music, touring, and much more…
It's been just under 2 years since we last chatted, so let's catch up, how have the last two years been for you?
They've been pretty kind to us actually, what did we do? Came back from Australia, started writing another record, recorded and released the record and then yeah pretty much just been touring and playing shows and promoting and actually just enjoying life really. It's been awesome and I couldn't really ask for more.
You were last here in 2017 and in the two years between visits what if anything can people expect differently from Deaf Havana 2017 vs 2019?
I mean yeah the live shows are probably a little bit tighter and we play a different variation of songs because obviously we've got a whole new record and quite a different sound to it, but generally speaking they can expect the same thing, we try and not take ourselves too seriously and try and have as much of a laugh as we can at shows without compromising playing *laughs* but just a good laugh really.
Your show in Sydney which I reviewed was probably one of if not my favourite show of 2017, how important is the live aspect of this band?
I guess nowadays the main income for bands is from live so I guess it's pretty important but for me the way we started our band was just for fun so we never had any expectations and we never took ourselves too seriously so we always try to have a laugh on stage and be a bit relaxed. It is important of course, but we used to get wasted before we played and now we don't do that anymore because you realise that you just suck when you do that so we try and take it a bit seriously. Yeah it's important but whatever you've gotta have fun with it.
When you have five albums like you do now does it get harder to put a set list together these days?
Yeah it's a fucking nightmare *laughs* I mean obviously the longer amount of time you have it makes it easier because you can just shove more songs in but if we have to play a festival set I have no idea what people want to hear now so it's just agonising and then at the end you just have to compromise certain songs that you want to play versus what you think people want to hear. So yeah it's pretty bad *laughs*.
'Rituals' has been out now for almost a year, how has the cycle been since its release?
It's been a kind of weird cycle compared to what we're used to because normally we'll release a song in I don't know just after the summer or in the winter and then we go straight on tour, do that for a couple of months, into festival season do festivals, blah, blah, blah, another tour at the end of the year. This one we released stupidly which I'll never do again bang in the middle of festival season so it was kind of like a stop start thing, we released the record and then didn't tour for like two months, it was kind of weird. So I's cracking on now, it's kind of good it picked up loads in Germany since last album so it's been good but weird.
With 'Rituals' being somewhat of a departure sound wise for the band from previous works, as the band continues to make music what if anything do you try and do differently on each release to keep things fresh and exciting?
I think I don't know really I've just always been a fan and it probably sucks for the people that like our band because they get into us and then we release an album that sounds completely different to the previous one *laughs* it's a stupid idea I don't know why I did it. For me, back in the day that wasn't unheard of, people would release records that sounded completely different and people would be fine with it. The main thing is to find an aspect that you can play on like this one although this record didn't work as well as I thought it was gunna, the fact that I recorded a lot of it myself and I wrote a lot of it on the computer instead of on the guitar that kept it a lot more interesting for me as I was learning as I was going along. So I guess I just try and learn something and do something challenging each time.
Last time we spoke we talked about you were thinking about doing something different and I joked and said "like an electro dance record" and I was kind of close…
*laughs* Yeah you kinda got it *laughs*
Evolution is a necessary thing, but do you worry about alienating fan bases when you change a little bit?
Yeah definitely and I think it was probably a bit too far this time, I think we probably lost a few fans from this record but we gained some in other territories so you win some you lose some. I think I was a bit selfish on this one and didn't think about what people want so next time I'm definitely going to be a bit mindful.
So what can we expect next time?
I have no idea. I started writing and it sounds completely different to 'Rituals' so I don't really know what I'm gonna do, I need like a sold month to fine tune the direction but I have no idea, I don't even know what to expect from it *laughs*. It could be a reggae album *laughs*.
I asked you the opposite of this last time, so let's flip it. Over time many things can stay the same within a band but what is the one thing that you'd say has changed the most in your time together?
Ooh, that is a difficult question… I would say probably the way compared to when we first started playing music live to now the way we approach live shows is different because we used to just get blackout drunk and play and treat it like we're having a party whereas now we want to actually be good. I'd say how seriously we take live shows has definitely changed drastically.
This is your first headline tour of Australia, do you worry when it's your first time as the centre of attention?
I mean I kind of do because when it's your own show all the responsibility is on you but I'm quite excited because we're not particularly well known in Australia so I'm quite excited to like start again, because my favourite years of this band were the first four or five years and yeah and I'm stoked. It's a bit daunting but my experience of Australia is people are pretty fun and pretty nice so I think it'll be fine.
What as a band would you like to do that you haven't yet had the chance to do?
I think it's always the same answer, I want to explore other territories. We've never really had the chance to do America properly, we did it years ago supporting a band it was a mismatched line-up and it didn't work, then we were supposed to go over in May but we couldn't get our visas in time so that screwed up as well. I think maybe have a crack at America would be good but I don't know if it's too late now, we might have to bypass that.
What does the rest of the year have in store for you in terms of touring?
So the rest of the year is we play some festivals and then fly to Japan to do some promo, a club show in Tokyo, then Summer Sonic festival in Tokyo, then straight to the Australian tour, then we've got some shows in like South East Asia, so I think we do Hong Kong, Thailand, Singapore and Taiwan maybe. Then we go home.
Then start work on the new record yeah?
Definitely do that, I should be doing that now *laughs*
Just work on those reggae beats and you'll be alright!
*LAUGHS* Excellent.
Lastly let's look ahead to the future, so finish this sentence for me, by the end of 2019 Deaf Havana wants to?
Still be talking to each other *laughs*
DEAF HAVANA AUSTRALIAN TOUR 2019
TICKETS ON SALE via DESTROY ALL LINES
Tuesday 20 August
Amplifier Bar, Perth
Thursday 22 August
Jive Bar, Adelaide
Friday 23 August
Oxford Art Factory, Sydney
Saturday 24 August
Max Watts, Melbourne
Sunday 25 August
The Brightside, Brisbane
Essential Information
From: London, UK
Band members: James Veck-Gilodi – lead vocals/ rhythm guitar, Lee Wilson – bass guitar, Tom Ogden – drums, percussion, Matthew Veck-Gilodi – lead guitar
Website:  http://www.deafhavanaofficial.com
Latest release: Rituals (Out Now)