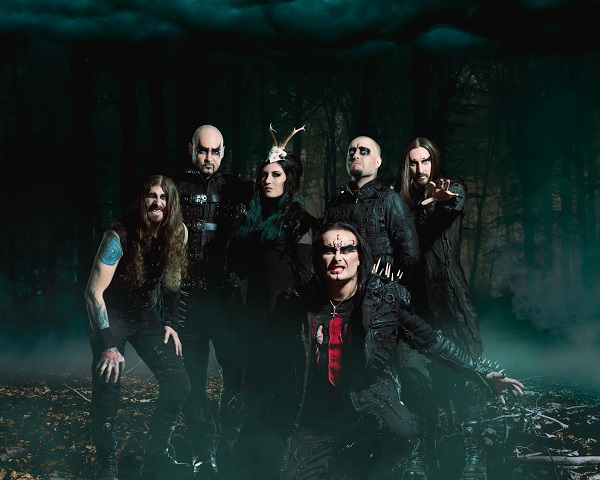 "It was a challenge, it was a big mountain to climb because it was a difficult album to play and to sing when we recorded it let alone twenty one years later…"
From Release: In 1998 Cruelty and the Beast was released and showcased the band's hybrid of brutality and macabre romanticism, crafting a concept album based on the life of Hungarian Countess and mass murderer Elizabeth Bathory who tortured and murdered hundreds of young women in the 16th and 17th centuries. The album was both bombastic and grandiose, inflected with gothic touches, yet unquestionably rooted in black metal. In addition to the feral bludgeoning and the slower, more melodic keyboard passages, Cruelty and the Beast featured three haunting, elegiac instrumentals filled with chiming organs, horrified screams and synthesized orchestra parts that enhanced the drama and split the presentation into three acts. No other band other than CRADLE OF FILTH would have been capable of creating such an opus. As a concept album, it is executed with perfection…creative, intelligent, shocking, written brilliantly and played expertly. This is the only chance CRADLE OF FILTH Australian fans will ever get to witness this masterpiece live.
At the end of the telephone at home in England we gave Dani Filth a call to talk about Cradle of Filth's upcoming 'Cruelty of the Beast' tour of Australia, the album itself, new music, changes, and what he listens to when he gardens…
It's been about four years since we last chatted so let's catch up, how have the last four years been for you?
Good, busy, incredibly busy. This year alone we've done three big turs, we literally came back from four months away bar two days here three days there since the beginning of mid-February. Before that I was in India and Spain and it's been a busy few years, all very good though.
Even better because you're headed back to Australia in September and playing 'Cruelty and the Beast' for us in full, can you give us an idea on how this show and tour is going to shape up?
Well we've done some shows like this in Europe thus far and Russia, basically we play the whole of 'Cruelty and the Beast' as like a first act and the second act focuses on fan favourites and the predictable end of set classics, and a couple of surprises with stuff we haven't played before. It's great, I mean doing the whole of 'Cruelty' has this kind of cinematic experience really.
When you go back and revisit an album like that, what's it like going back and almost relearning some of these songs to play it in full, I mean there would have been songs you've never played before?
Well exactly *laughs* this is the first time we've actually done this. This current line-up which has obviously been in effect since 'Hammer of The Witches' hasn't played 'Desire…' I think we've played everything else bar 'Lustmord…' as well, and yeah this is the first time the band has done something like that so I can't really comment on anything previous. It was a challenge, it was a big mountain to climb because it was a difficult album to play and to sing when we recorded it let alone twenty one years later but I think even from the first show we really got into the swing of it, some of the big festivals, not all of them, but a few of the big ones have just been 'Cruelty' ones as well so yeah it's becoming more fluent and something that we might possibly translate to another album at a later stage.
You did mention it was twenty one years old, when you look back what are your memories of releasing what was a pretty big album for you guys?
Well yeah that's exactly what it was, it was a big album for us and our second for Music For Nations, the previous has already been written it just needed re-recording so this was like our first proper album for Music For Nations and it was a real lengthy labour of love in its completion from writing to recording and releasing and it was one of those albums that catapulted us up another level. We started to play bigger shows and had people coming in droves to shows, and the album getting favourable reviews and seeing things really open up as a band was exciting times and it was a relief. Everything about the album was literally like a Vampire, it completely drained me and then we went out on the road and it was like thank god for that. We were doing Kerrang and Metal Hammer, it was an exciting time and it's hard to believe it was actually twenty one years ago as well.
You've now been in this band close to three decades and it can be very easy to say in that time what's changed but what would you say is the one thing that's stayed the same in your time and about this band?
The vision of the band, I know people say that the sound has changed or evolved but that's going to happen anyway the natural progression it literally is evolution and it would be ridiculous to even assume that a band would do the same album even if they wanted to album after album. So the direction, the theme, the atmosphere, the drive, the incentive behind the band has always remained true. Like I say you don't do a succession of very similar albums and you certainly don't do similar albums about the same thing. So yeah I would definitely say the fire, the drive of the band has always remained the same it's just evolved.
Let's talk about new music, we had 'Cryptoriana' back in 2017, can we expect new music in the near future?
Absolutely, we're due to release an album next year, we're beginning the writing process and when I say beginning the writing progress started when we were out on the road, I think we have five or six tracks none of which have been worked to the point where they're finished. Now we're on to summer festivals, the big festivals and they're sporadic because we went back to America this year went to Russia, went to South America, done Europe a few times and now the gigs are thinning out a bit we can turn our attention to the writing process which begins in earnest, well it's beginning now really but will start properly when I return from Australia strangely enough. With the idea to release an album September next year, we're due to be in the studio in mid-January.
How if in any way has your approach to making music changed over the years?
It's pretty much as backward as it always was, I still use a pen and paper and scribble down notes and even breakdown songs in my own weird jargon and handwrite lyrics as well. When I write I come up with a lot of notes and hideaway surround myself with stuff that I really like so I love being in my office late at night when everybody's asleep type shit, that's never changed. Obviously writing as a band has become necessarily easier because our band are situated all across the world, we've got a Canadian, we've got two Czech people we call the Czech Mates, a Scottish guy and two of us from England and technology has evolved to the point where it can help us bat ideas backwards and forwards via Dropbox etc so that's an obvious change. We do get together once we've got things collated, we've got ideas going and enough in the gene pool, we'll get together and we've gotten together previously in Brno which is in the Czech Republic to thrash things out and get it ready for the studio. So the change is that we're all international, obviously in our formative years we were all from the same town and therefore none of us had a fucking computer not at least one that didn't play anything other than Pong on it *laughs* maybe it wasn't quite that bad but the programs were a bit limited, so it was all about playing live and recording on a tape player and getting our songs down.
So what do you still enjoy about being part of this band?
I like the fact of being in command of your own destiny, I love that, I love the fact I can be creative and can do what I want within reason, I can do what I want with life, if I want to get up tomorrow, no that's not true I've got a meeting *laughs* it's not as easy as you think. I just like creative freedom, freedom to do what we want when we want and to be challenged by it all and just feel the passion for this stuff. Touring is great, playing live in front of people and I wouldn't give it up for the world it's a great life to be sharing your music with people, having people enjoy it, have people come to your concerts still after all these years it's a fantastic life you just need to embrace it. I think with every band there's moments where you start that self-deprecation and doubt thing and I'm too old for that shit now, I turned forty six, I don't feel forty six, I look forty six *laughs* and yeah I think I'm getting a second wind on my career, because we've got a great line-up, we've done two very successful records recently, we've got a new management company, we've got some great plans afoot for the future, blah blah blah blah blah and a great team behind us now that we've spent a few years building. So couple that with determination and a real hunger for it again and you can be unstoppable.
You talk about the line-up and you've been a solid line-up for the last five years now, does that help keep that fire going when there's no changes in and out?
Yeah because we're very good friends, we've been touring together, for example this year in South America, we'll go and hang out we go and do some really cool things, like we were at the Equator at Ecuador, let's go and visit it, let's go up a mountain, let's hire bikes and do something stupid, let's go sightseeing, we enjoy having time off and hanging around together and I think that helps a lot actually, a great deal. Obviously we spend so much time together on stage the last thing we want to do when we get back to our prospective countries is to hang around each other that would be awful, but when we do spend the time together we're thick as thieves, it is great.
Earlier this year I went and saw Bring Me The Horizon, and seeing you up on the big video screen was awesome, what was it like working on 'Wonderful Life' with those guys?
Cool, they're very nice people, very nice, and it turned me into super Dad because my daughter is a massive Bring Me The Horizon fan, so I actually took her along to the shooting of the video for the song and she's actually in the video as well in the background shopping in the supermarket. So yeah that was great, and I performed with them live in London a few months back and yeah I hadn't met all the band before but each and every one of them is really super nice and very respectful and humble you know, they were coming up to me and thanking me, like you've made my night by coming along and wanting photos and stuff and just being really super nice. So yeah it was great fun, and I don't really give a fuck about the people that said "You sold out doing that" not really, not really I think it's actually completely the opposite and it was a lot of fun. I've just recently done vocals on the 69 Eyes one of their new tracks, I went to LA a couple of weeks ago to shoot the video for it as well and I was very lucky that they flew me and my girlfriend over there for a few days while we did it, and that's cool as well, that's very different that's more Billy Idol, Danzig, The Cult, very rocky as opposed to Bring Me The Horizon which is I don't know how to describe their music now because their new album is just phenomenally different.
Outside of Cradle of Filth what else keeps you busy?
Well there hasn't really been much outside of Cradle of Filth this year, if I get a chance I'll go on a holiday and take my girlfriend away for a week or two, that's pretty much been taking up much of my spare time. I don't know, I went to the cinema with my daughter this afternoon. Try and tame my garden, four months away, come back, garden, jungle *laughs* so that's something that has to be done regularly along with taxes.
That's so metal!
*laughs* Yeah well you can blast out a bit of Cannibal Corpse when you're doing it, it's not going to hurt anybody.
Lastly as always let's look ahead to the future, I want you to finish this sentence for me, in 2020 Cradle of Filth wants to…
Cradle of Filth wants to release their new album… on time *laughs*.
TOUR DATES:
Tuesday 3 September – Capitol, Perth 18+
Wednesday 4 September – The Gov, Adelaide 18+
Friday 6 September – 170 Russell, Melbourne 18+
Saturday 7 September – The Valley Drive In, Brisbane 18+
Sunday 8 September – Metro Theatre, Sydney 18+
Tuesday 10 September – The Basement, Canberra 18+
Thursday 12 September – The Studio, Auckland 18+
Tickets From: http://www.destroyalllines.com/tour/cradle-of-filth-2/
Essential Information
From: Suffolk, England, UK
Band members: Dani Filth – Vocals, Richard Shaw – Guitar, Daniel Firth – Bass, Marek 'Ashok' Šmerda – Guitar, Martin Skaroupka – Drums, Lindsay Schoolcraft- Live Keys
Website: http://www.cradleoffilth.com
Latest release: Cryptoriana