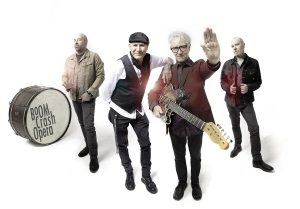 Much loved 80's Australian band BOOM CRASH OPERA is set to make a stunning comeback with charismatic lead singer, Dale Ryder.  Ryder will join Peter 'Maz' Maslen, Peter Farnan and John Favaro for the November tour which celebrates the 30th anniversary of the band's second album, 'These Here Are Crazy Times'.
Joining Boom Crash Opera will be 80's synch pop band Machinations. The two bands will hit the road across November with shows in Adelaide, Brisbane, Sydney, Newcastle and Melbourne.
In Dale's words…"Wow! 30 seconds, that's all it took, Mazzy counting in 'Great Wall' at BCO's first rehearsal with me back after 3 years (which felt more like 10 to be honest!) and here I am feeling totally at home like I was never away.  It's uncanny all the lyrics to songs I haven't sung in years just came back like a Teleprompter. Feels so natural to be back with these awesome people. Can't wait for our first gig".
Boom Crash Opera were one of the biggest Australian bands of the late 80's, who went on to crack the US with the album 'These Here Are Crazy Times'.  Featuring the hits 'Onion Skin', 'The Best Thing', 'Great Wall', 'Get out of the House' and 'Dancing in The Storm'.  The band cultivated powerfully catchy and infectious tunes that still remain permanent fixtures on Australian radio today.
Machinations were definitely one of THE post punk bands of the 1980s. Danceable and cerebral, with helium driven guitars and a booming funk bass, laden with swirling synthesisers, they had something for everyone. They had a brutal energy about them and more than held their own in the rock driven Sydney pubs of the 1980s. They also had a sizeable catalogue of hits by the end of the decade with songs like 'Precious Way'', No Say In It', 'You got me Going Again', 'My Hearts on Fire' and 'Do to You'. With three of the original four members, the Machinations will be playing all of their best loved songs, so don't miss out!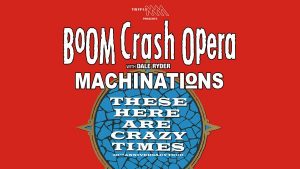 'THESE HERE ARE CRAZY TIMES' 30TH ANNIVERSARY TOUR
WITH MACHINATIONS
Presented by Triple M
For all ticketing information: www.facebook.com/BoomCrashOpera
Nov 1st            The Gov                     Adelaide, SA
Nov 8th           Southport RSL            Southport, QLD
Nov 9th           Hamilton Hotel           Hamilton, QLD
Nov 15th         Bridge Hotel                Rozelle, NSW
Nov 16th         Bridge Hotel                Rozelle, NSW
Nov 17th         Cambridge Hotel         Newcastle West, NSW
Nov 22nd        Yarraville Club             Yarraville, VIC
Nov 23rd         Memo Music Hall        St Kilda, VIC
FOLLOW BOOM CRASH OPERA
www.facebook.com/BoomCrashOpera/