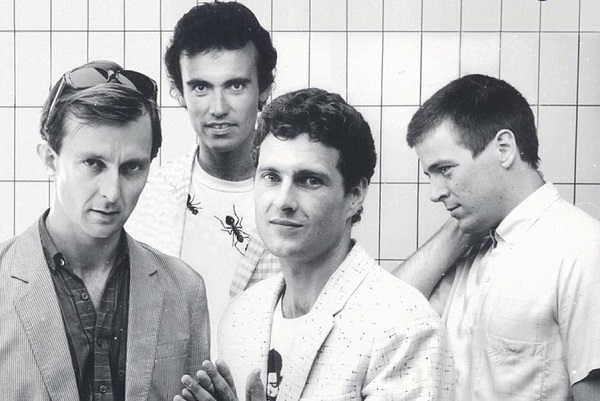 "…it's going to be 100% Mondo Rock it's not going to be any other stuff that I've done before…"
From Release: In a career spanning five decades, few come close to delivering the catalogue of Australian classics that Mondo Rock boast. From 'Come Said The Boy', 'Cool World', 'State Of The Heart', to 'Chemistry', 'No Time', 'The Queen & Me', 'Summer For 81' and more, Mondo Rock have delivered some of the most recognisable Australian Classic Hits of all time. It's an incredible story: Four Top 10 albums. Nine Top 40 singles, including three Top 10 hits. More than 30 members. Six studio albums.
While he was in Melbourne we gave Ross Wilson a call to talk about the Mondo Rock Hits! Baby! Hits! Tour, set lists, memories, new music, defining moments, and more…
What was the idea behind getting back together and doing these shows?
Well the demand is out there you know, we've done it before but we did one about two years ago and just did four show in three cities and it went really, really well so we decided to, well the guys looking after us said we ought to do more of these. So we're doing eight shows all through the month of August and hitting more cities than we did before.
It's called Hits! Baby! Hits! but with so many how do you go about putting the set list together?
*laughs* It's not that hard when you look at all the ones that hit the charts and you do then and there are also some album tracks that are well known so we throw them in as well and to keep it fresh we maybe play songs that we haven't played for years and years and years that we like, taken from Mondo Rock albums, it's going to be 100% Mondo Rock it's not going to be any other stuff that I've done before like we're not going to throw in 'Eagle Rock' or anything like that, it's purely Mondo Rock and if you want to hear all that stuff you've gotta come to the 'Hits! Baby! Hits!' show.
Mondo Rock stood out in a way when I was growing up as it felt more mature if you like compared to some of the other bands on the scene, how did you see the scene back then and knowing you had to stand out become what you were?
Well yeah the music that we made reflected who we were at the time and as you said we were a little bit older than, well I was, within the Countdown era I'd already had a career with Daddy Cool before so I was in my thirties and in Countdown era that was like you're an old guy *laughs* and thankfully I was genetically blessed thanks to my parents and I didn't look that old *laughs*.
Is there one song from the catalogue that you feel defines the band?
Well there's a couple that have really stood the test of time and gone on to have sort of a life of their own independent of if we go on the road or if I even do them in my own sets, and that's 'Cool World' and 'Come Said The Boy', they still get flogged on the radio and to a certain extent 'State of The Heart' but those two in particular and now you've got Spotify and Apple Music and the streaming era come in they're like clocking up millions of streams, so we're definitely finding a new audience because of that.
From this do you think maybe we might see some new music from Mondo Rock coming?
We've discussed that and we are a little bit interested in doing that and I think that will probably come around as a maybe bonus track the next time we put out a best of collection like a bonus record. It's a funny thing, and I've seen it happen with other people they put out a new thing and people aren't really interested because it's very difficult to get airplay for older acts, there's very few people that have pulled that off, I remember everything Skyhooks was kind of washed up and then they put out 'Jukebox in Siberia' and that was like a number one hit ten years after their last one. So it does happen but it's a little bit discouraging like I'll record something new and people might be interested but it's a hard climb that one.
Skyhooks were lucky as it was 1990 and it's a very different time now…
Yeah different time, music has changed a lot, what they're playing on pop radio is not the kind of stuff that I'm interested in *laughs* you know what I'm talking about? Modern pop music just doesn't do it for me.
Now you've been in the business for a while, and it's easy to say what's changed in that time but what for you is the one thing that's stayed the same in your time making music?
Well I mean I'm kind of the same but I've evolved and you do start to get hindsight and think well what are my strengths and what are my weaknesses, so I try to work on things that I'm maybe not as good at and I think I've improved over the years, I think I'm a pretty good singer and still learning things and as far as other things that have stayed the same, music is very subjective, things that I like other people mightn't like but I think I've got a pretty good ear for what's good and what's not so that's helped me get through things.
Over the five decades you've been making music, what for you has been the most defining moment you've witnessed in music over that time?
I mean the rise of the internet has affected everyone on all levels including music, Look when Mondo Rock was making albums there were certain Australian bands that did make the jump to overseas, there was INXS and Midnight Oil, and Crowded House, but overall it was a very hard thing to do, you had to get all your ducks lined up and you had to get a lot of push behind you and a lot of luck involved and Mondo Rock had a few stabs going to America. We had 'Primitive Love Rights' got on the top 100 over there and something happened and we couldn't go over, but now I know young musicians and they've like formed bands and they play around the country and someone notices them on the internet and they get signed nationally and they're off touring The UK and The US and selling out rooms and moving on to festivals. I mean Tame Impala who are sort of kind of big here but came out of Western Australia, they are topping the biggest festivals around the world, Coachella, Desert Days, you name it. Tame Impala they're like on the top line, everyone here goes "yeah yeah they're kind of good" and they've got fans but around the world they're humongous. So the internet is the thing that's really changed everything because you've heard about YouTube stars I mean that's how Justin Bieber started on YouTube, Amy Shark I think did that too, that is the big difference, you can go international without to struggle like we did to try to get off the continental shelf *laughs*.
Outside of Mondo Rock what have you got going on musically?
Well I play all the time, all the guys play all the time and it's quite hard to get it together that's why we plan a long way ahead, and this tour has been on the cards from well over a year ago, but the rest of the time I'm out and with my touring band the Peacenicks and we play a bit of Daddy Cool, Mondo Rock, solo stuff, new songs, whatever you know. I did the APIA tour I was part of that one this year, seventh year and they've got seven acts, was really big show and then after a holiday I'm back for Mondo Rock, so I'm pretty busy *laughs*.
I wanted to ask about your involvement with Yellowcake and our old mate Whitfield Crane, how did it come about you being a part of one of their tracks?
Turns out we have mutual friends and they turned up at a party I was at while he was in town and after Ugly Kid Joe had played and he came to this party and he was friends with Dallas Frasca and their guitarist Jeff who is in Yellowcake and they said we've got this little project and we're writing songs in the studio and Jeff said you've gotta get this guy you don't understand how good Ross Wilson is, yeah OK thanks Jeff *laughs* and he goes OK, I said yeah OK I'll come and blow some hard as I really love playing harmonica. So he rang a few weeks later and said OK come down we're ready we've got a track and I want you to do a duet with me and maybe play some harp. So I get there and we plug in and play some wild electric harp and sang this duet with him on a song and that's on the EP they're putting out, then I play harmonica on another tracks as well, so I'm kind of like a featuring, Yellowcake featuring Ross Wilson *laughs* a bit of a guest on it. He's a really great guy, everywhere he goes he hangs around after and does a project and gets involved with the locals, that's his thing with the local musos which is quite refreshing. It was really good fun doing it.
Lastly let's look ahead to the future, finish this sentence for me, in 2019 Mondo Rock will…
Play the Hits! Baby! Hits! tour, sell out and everyone will think we're still as incredible as we were in our hey day *laughs*
Hits! Baby! Hits! Tour 2019.
Visit mondorock.com for all ticketing information.
August 2019
Friday 2 – Anita's Theatre, Thirroul, NSW – with Boom Crash Opera
Saturday 3  The Enmore Theatre, Sydney, NSW – with Boom Crash Opera
Friday 9       The Palms, Melbourne, Vic
Saturday 10  The Palms, Melbourne, Vic
Friday 16      The Governor Hindmarsh, Adelaide, SA – with Taxiride
Saturday 17  The Governor Hindmarsh, Adelaide, SA – with Taxiride
Friday 23       The Tivoli, Brisbane,QLD
Saturday 24  The Star, Gold Coast, QLD – with Dragon & Taxiride
Essential Information
From: Australia
Band members: Ross Wilson, Eric McCusker, James Black, Paul Christie, Gil Matthews
Website: http://www.mondorock.com