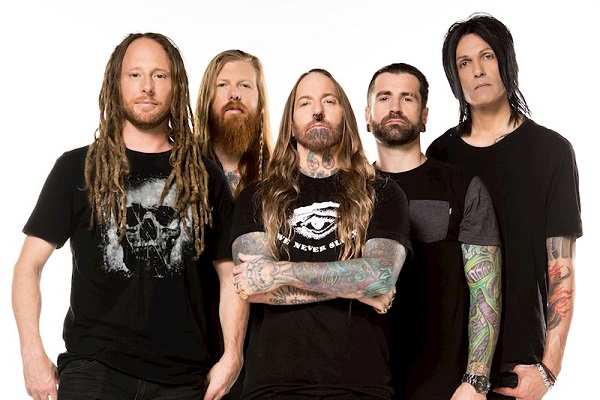 "I don't know what it is I think there's something very authentic about DevilDriver and surely myself because I really have a no bullshit attitude you know what I mean? I'm not going to try and pull the wool over anybody's eyes and I think people see that and it makes them come to DevilDriver in droves…"
After what seems like an eternity, US metal icons Devildriver are finally returning to Australia to appease their rabid legions. It's been five long years since the band last headlined here and Dez and the boys are primed and ready to make up for lost time! Armed with their latest release, Outlaws 'Til The End: Vol. 1, and a back catalogue of face melting, circle pit inducing anthems, Devildriver in 2019 are as barbaric as ever and will be on point to deliver the goods in a big ole barrel of heavy metal moonshine!
We gave our old mate, Dez a call to catch up ahead of the Australian tour to discuss what people can expect, new music, changes, authenticity, and much more…
Hey mate, here we are again, it's been about a year since we last chatted so let's catch up, how have the last twelve months been for you?
Yeah man twelve months have been great, we released a record, we did a lot of touring, came home and wrote and recorded a double album that we're getting ready to stagger releases next year and the year after, the band is tight as ever and just getting ready for this US run that's sold out across the board, so it's it a good time right now in DevilDriver world.
You're back in Australia shortly for some shows, finally, after five years since your last headline run what can people expect at this run?
Get ready it's gonna be blistering, the set is so blistering that I don't think I'm going to be able to say anything but hello for the first nine songs. Definitely going to be bringing some surprises from just let's say my past and bringing it into my future, not only that bringing out All The Remains, great friends of ours and great partners on stage, I think it's a great concert for people and I'm looking forward to coming Down Under, I miss it and the only reason it's been five years is we were supposed to come down there last year with another festival that kind of fell apart, they'll go unmentioned. It sucks the five year wait, we also let me tell you it was great to be called Australian citizens and at that point I said to myself look, maybe we need to take some time out of the market to really test it, to really see who we are here. Looking at the show tickets and where everything is now, if you're hearing this and you're listening to this now you should get a ticket because these are all gonna go clean.
Eight albums in as the catalogue grows are you finding it harder to put a set list together these days?
No not even, there's certain songs that have to be played, 'Clouds Over California', 'I Could Care Less', etc, but there's  gonna be all the surprises we do to invigorate ourselves so we don't get bored as musicians and that will transfer to the crowd at large watching us, so there's definitely gonna be some surprises in this set list for people.
'Outlaws 'Til The End Vol 1' has been out for almost a year, how has the cycle been so far?
That's been incredible, I was told in the beginning you should never mash up country and metal but you know what? That thing came out like a monster and when you have things like 'Ghost Riders In The Sky' with John Carter Cash, Johnny Cash's son, and Randy from Lamb of God and myself it's like how could that go wrong? We had so many guests on that record and it really came out high on the Billboard charts and it did extremely well, so it was something for and I hate the word fans, but something for our people to listen to in between records, I knew we were going to have this double record coming in staggered release next March and the following March after that and I needed to give people something to listen to in the meantime and doing that record was a good time and having all those guests was certainly interesting and it was definitely a lot of work.
I know last time we hinted that there may be a Volume 2 of Outlaws 'Til The End, any thought as to if this may happen?
Absolutely, I'm looking for next year March to release and then next year March 2021 to release and then we're looking at 2022 about Volume 2, going to be speaking to the label shortly about that to see if they're going to be the partner, I'm also launching my own record label along with The Orchard and Oracle records so it may live there we'll have to see.
Seriously, you're one of the busiest people in music, I love it you never seem to stop!
*laughs* Appreciate that man, thank you. I'm not one to sit on my laurels I really can't sit at home and watch TV, I'm addicted to building businesses I think that started when I eft Coal Chamber and had my own tour bus and got back in a van and started DevilDriver I realised I had an addiction building businesses, so everything from DevilDriver to SunCult which is my family brand which Randy from lamb of God is a partner in that as well, to our Oracle merchandise company that's rather large, Oracle Management which we have huge artists on that as well. I'm addicted to building business and we got an opportunity from the Orchard who's massive out here and we had a meeting and got an opportunity to launch a record label, we hired a woman named Angelina who's a label president and has made millions of dollars for the labels she's worked for, she's got Grammy awards, Grammy nods for her executive producing records so we've got her on. I'm just addicted to seeing businesses start, watching them grow and watching them flourish, I get off on that rather than watching football or some other bullshit you know?
You talked about new music and the double album staggered release, is it a concept or two separate albums, what can you tell us about what's coming?
Yeah definitely a concept record I mean of course we're not really doing press on that right now, but just telling people anything that you like from my past and anything you like from Coal Chamber or DevilDriver like I broke all the rules on this record. We've got almost twenty songs recorded and all the rules broke, this thing is a heavy monster, it's groove laden with massive, massive hooks, not one bit of sell out within it which you're starting to see all over metal now which is the heavy verses and the big clean choruses those are obvious ploys by bands to get on the radio and we make no such effort, we stay true to what we do and if radio or other outlets pick it up, they do. I mean people are gonna love this next record coming and when we get into the conversation and I have no doubt you and I will do interviews I'll tell you more about the process, more about what makes this record an individual apart from the other DevilDriver records, I'm not looking to repeat myself whatsoever I'm looking to grow the sound and the brand itself and I think this next double release is definitely going to do it.
We're gonna flip this question because I've asked you the reverse, but over time it can be easy to say what's stayed the same but what's the biggest change you've seen take place within DevilDriver?
Well look I've been around a long time with this band almost twenty years now, we've seen only two line-up changes which is pretty amazing if you look down the line at a lot of bands that have had you know change after change after change, I think that the music and I said this on DevilDriver's first record, I said the record will keep getting better, we were a young band at the time and now with this current line-up and the way we're writing and the way I saw the recording going down it's almost as if we're finding our step. So I think what has stayed the same is we continued to stay the same and do our own thing and have real heavy groove and big hooks and do it different than most bands but what is different about this is this record is definitely a game changer in the sound, in the tone, and in the way we went about the writing process and people will hear that from very start when they put on this next record.
I've been intrigued recently with your social media profile and your lock down if you like, as important as social media is these days what do you think can change this attitude so many people have where they are keyboard warriors or trolls?
You know it's real strange, I don't get a lot of hate, I've probably blocked like four people in ten years I just for some reason don't get a lot of hate but what I've realised is bands, a lot of other people just checking in on my life rather than having to follow and I said right I'm just done with that, if you wanna come into what I'm doing then you've gotta follow me and let me know who you are and that you're there and that's just the way that goes. Most people will be thinking if you go private account that you're not gonna grow your brand or you keep people out of the loop, it doesn't matter I'm extremely private in my life I mean I make Ozzy look outgoing I'm just now doing my first meet and greets in Australia ever where I don't really do meet and greets much and I think it's just you know par for the course and make some changes along the way.
Over the two decades you've been making music, what for you has been the most defining moment you've witnessed in music over that time?
Oh I've witnessed a lot of changes, mate. Everybody I ever started with is done you know, not many bands have stayed and the bands that have stayed from the era which I existed in in the 90's have all really turned into radio bands. Where you had a few bands in the scene that were really doing something fantastic and authentic I think a lot of that has changed now and a lot of those bands have become radio bands which I never have, I'm gonna die with my boots on much the same way that a hero of mine Lemmy did in Motorhead, I want to make the music I want to make and make art the way I want to make it and I think we are doing that and we are staying the course for not only ourselves but for our fans. There's been a lot of changes along the way, man, it's crazy to think that I entered in 94 – 95 and I can only name a handful of bands that re still around, even when DevilDriver began in the early 2000's there was a whole group of bands that were out at that point and they're all basically gone too. I don't know what it is I think there's something very authentic about DevilDriver and surely myself because I really have a no bullshit attitude you know what I mean? I'm not going to try and pull the wool over anybody's eyes and I think people see that and it makes them come to DevilDriver in droves and somebody said to me last week they said last time I saw you it was a whole bunch of twenty year olds, how is that possible? Obviously a guy not in his twenties, and I said I don't know, our fan base happens to be young, happens to be driven by an authentic nature and they take to DevilDriver when it comes to that. So I'm extremely pleased over all these years to see the brand alive and well and not only alive and well but massively thriving. I'm venturing out on a tour for six weeks and we only have two more shows until sold out and they're all sold out clean. So it's a pretty amazing thing, we just got back from Japan, my first headlining tour over there and I mean Tokyo was so insane I thought I had to stop the show at one point because it was just insanity.
The reputation with DevilDriver kind of precedes itself a little bit I will say because there are certain venues in The United States that we're not allowed to play because it gets I will just say it gets pretty insane so that's another good thing, it's not like we're laying on our laurels turning into a big radio band etc etc, we're doing what we're doing and I think people are feeling the authentic attitude. I'll give you an example, we recorded twenty to twenty five songs for this new record and there was one track and I've never sung clean within DevilDriver and I was like you know what, this verse probably deserves to be clean and this chorus is going to be the heaviest chorus that anybody's ever heard, that is true art, that's not skewing it towards the radio, when you do it the opposite way with the verse is a little heavy and the chorus is a big and melodic you're obviously skewing towards making sure you get on the radio, making sure you get on TV, making sure you get a hit out there and I have never been that way. So it's just gonna be really interesting to see where metal goes in the next four or five years and to see and watch a lot of the bands that are doing that thing actually play themselves out and it's gonna be interesting to me for sure.
Lastly as always let's look ahead to the future, finish this sentence for me, by the end of 2019 DevilDriver wants to…
By the end of 2019 DevilDriver wants to be in the place we deserve to be and ending a tour cycle for 2019 that will be one of the biggest tour cycles in our whole entire life to be honest with you, so that's where it's at right there. At the end of 2019 I want to sit down before Christmas and say right, those were the biggest shows we've played in our life and we've been around eighteen years, how is that happening? The band is growing and it's got some kind of momentum that's magic right now and everybody's feeling that thing.
TOUR DATES
Thursday, August 22: Metro Theatre, Sydney
Friday, August 23: The Basement, Canberra
Saturday, August 24: Valley Drive In, Brisbane
Sunday, August 25: 170 Russell, Melbourne
Tuesday, August 27: Jive Bar, Adelaide
Wednesday, August 28: Amplifier Bar, Perth
All shows 18+
Essential Information
From: Santa Barbara, CA, USA
Band members:  Dez Fafara – Vocals, Mike Spreitzer – Guitar, Neal Tiemann – Guitar, Diego Ibarra – Bass, Austin D'Amond – Drums
Website: http://www.devildriver.com
Latest Release: Outlaws 'Til The End Vol. 1 (out now)