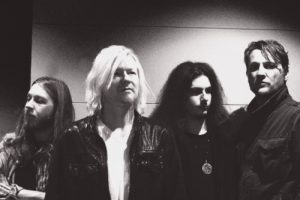 Melbourne rockers Palace Of The King recently released a brand new rock n roll belter in the shape of One Of These Days
The track is the first new music since the release of Get Right With You Maker in April 2018
Check out the video here!
https://youtu.be/dVU79uk_xHI
Download/Stream One Of These Days now!
smarturl.it/oneofthesedays
The band have just added a stack of dates with one of Australia's greatest ever rock bands, The Poor!
Adding to an already packed winter for POTK seeing them play a stack of dates across June, July and now August!
****
Palace Of The King supported the Get Right With Your Maker album with near constant touring throughout 2018, including a huge 8 country European tour before heading back to Australia for sold out, seperate tours with Baby Animals, Rose Tattoo and The Screaming Jets.
The guys are showing no signs of stopping with a mountain of tour dates coming up over the winter months!
TOUR DATES
POTK & Rose Tattoo
Fri, June 21: Edge Hill Tavern, Cairns
Sat, June 22: Kirwan Tavern, Townsville
Sun, June 23: Mt Pleasant Hotel, Mackay
Tues, June 25: Emerald Star Hotel, Emerald
Wed, June 26: Harvey Road Tavern, Gladstone
Fri, June 28: Beachouse Hotel, Hervey Bay
Sat, June 29: Villa Noosa Hotel, Noosa
Sun, June 30: Highfields Tavern, Toowoomba
POTK Headline Shows
July 5: Albury SS&A
July 6: Frankie's Pizza, Sydney
July 13: The Bendigo Hotel, Melbourne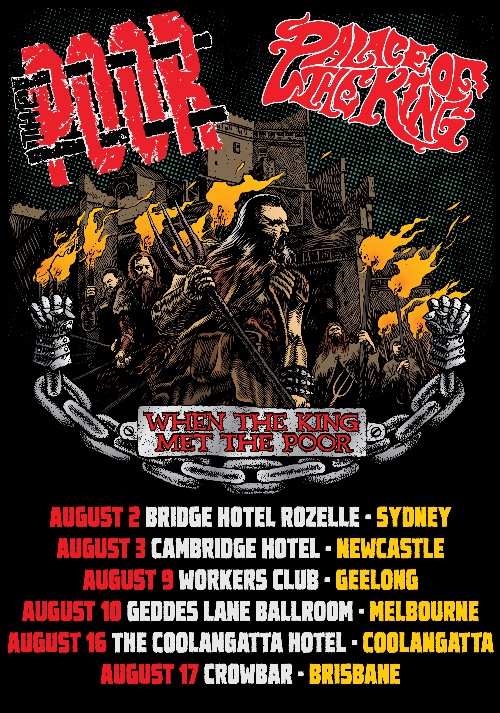 With The Poor
When The King Met The Poor Tour
Friday, August 2: The Bridge Hotel, Sydney
Saturday, August 3: The Cambridge Hotel, Newcastle
Friday, August 9: The Workers Club, Geelong
Saturday, August 10: Geddes Lane Ballroom, Melbourne
Friday, August 16: The Coolangatta Hotel, Gold Coast
Saturday, August 17: Crowbar, Brisbane
Get your tickets here
Palaceofthekingmusic.oztix.com.au
****
Formed in late 2012, Palace of the King, have become known for their bluesy, soul-infused, riff-heavy, psychedelic rock n roll.  Touring constantly, Palace of the King average 100 shows a year!
They've headlined three tours of Europe, spending 4 – 8 weeks on the road there every year since 2015. They've supported Airbourne in the U.K and France in front of thousands of rabid rock fans, played the USA twice in 2016 and 2017, headlined the Black Woodstock Festival in New Caledonia and circled Australia dozens of times in a tour van. They tour more than any of their peers because even though they're a fully-fledged new millennium rock band, they also believe in the old school work ethic of the old school rock bands.
If you've never heard a Palace Of The King record before, there's no better place to get on board than right here with One Of These Days.
One Of These Days is available now!
smarturl.it/oneofthesedays
FOLLOW PALACE OF THE KING
Facebook | Twitter | Spotify | Website