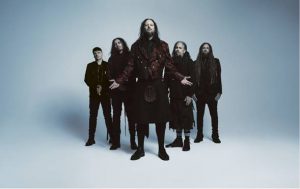 KORN has announced details of their widely anticipated new LP, The Nothing, which will be released September 13th on Roadrunner Records / Elektra. Today, the band has shared the album's first single You'll Never Find Me, which is available at all DSPs here along with a visualizer streaming on KORN's YouTube channel.
KORN vocalist Jonathan Davis elaborated on the forthcoming LP: "Deep, within our Earth lives an extraordinary force. Very few are aware of the magnitude and significance of this place where good/evil, dark/light, bliss/torment, loss/gain and hope/despair all exist as one- pulling at us every moment of our lives. It's not something we can choose to navigate, but rather an awareness of this 'presence' that surrounds us with every breath, as if we are being watched at every moment.  It's the place where black and white energies attach themselves to our souls, and shape our emotion, choices, perspective and ultimately our very existence.  There is a miraculous and small realm within this vortex and it's the only place where balance between these dynamic and polarizing forces exists -where the soul finds its refuge. Welcome to…..THE NOTHING."
KORN's The Nothing is available for pre-order here today with exclusive bundles available here . Produced by GRAMMY® Award-winner Nick Raskulinecz, The Nothing follows the band's acclaimed 2016 LP, The Serenity Of Suffering, which debuted at #4 on the US Billboard 200 and #5 on the ARIA album chart and includes the GRAMMY® Award-nominated single Rotting In Vain.
KORN changed the world with the release of their self-titled debut album.  It was a record that would pioneer a genre, while the band's enduring success points to a larger cultural moment.  The FADER notes, "There was an unexpected opening in the pop landscape and KORN articulated a generational coming-of-angst for a claustrophobic, self-surveilled consciousness. KORN became the soundtrack for a generation's arrival as a snarling, thrashing, systemically-restrained freak show."
Since forming, KORN has sold 40 million albums worldwide, collected two GRAMMYS, toured the world countless times (including headline sets at Download Australia 2018 and Soundwave 2014 as well as numerous AU tours), and set many records in the process that will likely never be surpassed. Vocalist Jonathan Davis, guitarists James "Munky" Shaffer and Brian "Head" Welch, bassist Reginald "Fieldy" Arvizu, and drummer Ray Luzier, have continued to push the limits of the rock, alternative and metal genres, while remaining a pillar of influence for legions of fans and generations of artists around the globe.  The level of KORN's reach transcends accolades and platinum certifications.  They are "a genuine movement in a way bands cannot be now," attests The Ringer.  They represent a new archetype and radical innovation, their ability to transcend genre makes barriers seem irrelevant.
KORN
The End Begins
Cold
You'll Never Find Me
The Darkness is Revealing
Idiosyncrasy
The Seduction Of Indulgence
Finally Free
Can You Hear Me
The Ringmaster
Gravity Of Discomfort
H@rd3r
This Loss
Surrender To Failure