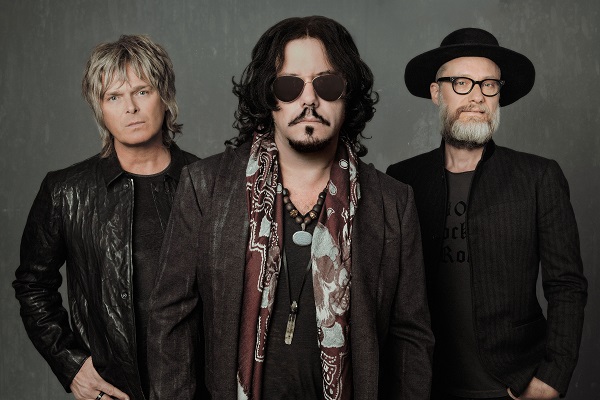 "…when you're a band that's been around for over twenty five years you don't kind of really expect that…"
From Release: The one constant at a THE TEA PARTY show is how deeply Jeff Martin, Jeff Burrows and Stuart Chatwood connect with their audience, you really feel; not just hear them during their performances. Complex and provocative THE TEA PARTY will be showcasing a treasure trove of songs from across their incredible catalogue and for the first time ever fans will get to witness this in intimate settings across cities and regional areas.This is a once in a lifetime opportunity to get up close and personal with THE TEA PARTY.
At home in Ontario we gave Jeff Burrows a call for a quick chat about the upcoming Australian tour, new music, and more…
For starters it's been just over two years since we last chatted so let's catch up, how have the last two years been for you?
Very good, we wrapped up after our last Australian tour and did some recording and got two new releases coming out, so we've done a tour which has been very successful and we're just wrapping that up and yeah now we're just here and getting ready to get something out there. The single is being released in America and the first time something has been out there in fifteen years or so *laughs* and then heading to Australia and sharing some of that which will be pretty cool too and we should have some of our music out by then.
You're back in Australia shortly for some shows, what can people expect at this run?
It's kind of nice because when we were testing it out when we started touring and no one had really heard it yet and its pretty rockin' stuff and it's kind of nice to get that instant reaction so it's done pretty well.
You've also recently released the kick ass single 'Black River', the first new Tea Party music in a while, what was it like getting something new out there again?
It's kind of exciting, it's always nice to share the inner child with the world but something very different for us is the fact that radio really, really jumped on it and when you're a band that's been around for over twenty five years you don't kind of really expect that. It's a nice change.
From that can we expect more new music from the band soon?
Should be available by the time we get to Australia. You'll get an EP now and an EP next year as well.
For me since The Tea Party got back together you guys seem more into this than ever, has this really lit a fire under you guys to keep going?
When you're writing singles for radio you really just go for it, we really had zero aspirations to get picked up by a label, we were doing everything independently and then a couple of labels got really interested in it.
I feel like as a band musically The Tea Party have been at the forefront of being inventive in terms of instruments and sounds etc, is there anything you guys want to do but haven't yet had the chance to do?
A headlining tour proper in the States would be a nice change. Get back to Europe would be good.
Lastly as always let's look ahead to the future, finish this sentence for me, by the end of 2019 The Tea Party want to…
Have our second EP completed and ready for 2020 and our Thirtieth anniversary.
TOUR DATES:
Wednesday 19 June – Westernport Hotel, Hastings 18+
Friday 21 June – 170 Russell, Melbourne 18+
Saturday 22 June – The York, Lilydale 18+
Sunday 23 June – Metro Theatre, Sydney 18+
Tuesday 25 June – Kambri @ ANU, Canberra 18+
Wednesday 26 June – Nex Theatre, Newcastle 18+
Friday 28 June – Coolangatta Hotel, Gold Coast 18+
Saturday 29 June – The Valley Drive In, Brisbane 18+
Sunday 30 June – HQ Complex, Adelaide 18+
www.tickets.destroyalllines.com
Essential Information
From: Toronto, Canada
Band members: Jeff Martin – Vocals / Guitars,  Jeff Burrows – Drums / Percussion, Stuart Chatwood – Bass / Keyboards
Latest Release: Black River & Way Way Down (Out Now)
Website: http://www.teaparty.com