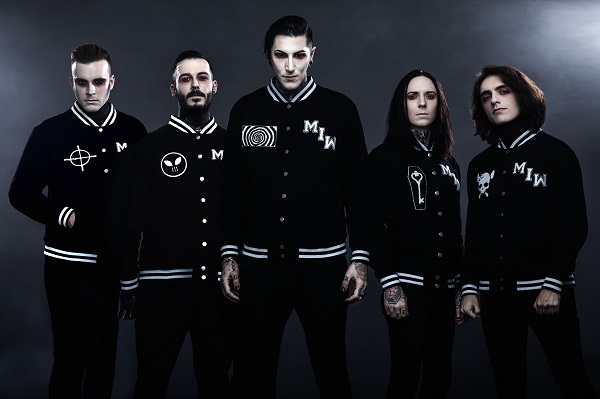 "Well sometimes we really try to go for a pretty big curve ball and try for something that we've never done before and sometimes it works and sometimes it doesn't."
From Release:  Since 2006, Motionless In White have won over audiences around the globe with their aggressive music and arresting imagery, rapidly rising to the upper echelon of modern rock. Albums such as 2010's Creatures and 2012's Infamous would galvanize a rabid fan base around the band.  . Motionless In White's 2014 LP,Reincarnate, reached new heights, bowing at #9 on the Billboard "Top 200" and claiming #1 on Billboard's "Hard Rock Albums" chart. 2017'S Graveyard Shift arrived to critical acclaim, once again topping Billboard's "Hard Rock Albums" chart. Now, Motionless In White have unveiled details of their anticipated new album, DISGUISE, which will be released June 7th.
At home in an uncommon two months off and ready to hang out with some friends, before that Chris Motionless gave us a call to talk about the band's new album 'Disguise', its creation, changes, disguises, touring, and more…
For starters, it's been about a year and a half since we last chatted, so as always let's catch up, how have the last 18 months been for you?
Wonderful, we finished basically touring on our last record which we did a lot of, and I don't think we really spent much time outside of writing for the next record we started recording it in November, October / November and have been going on with that ever since, it's one thing after the next after the next but it's all really good stuff so it's been a wonderful eighteen months. As long as things are going up and everyone is happy.
What's the feeling like when you're about to release a new album? Are you excited? Are you Nervous?
Yeah there's definitely those nerves or feelings like I hope everyone likes it and usually that's affected heavily by the singles we put out ahead of it. On the last record one of the singles was not very well received, like I was so stressed out going into the record thinking oh my god are our fans going to hate this? There was this unknowing and you'll never know but usually you can have a good indication based on the singles and they liked some of them and didn't like one of them, so I was very stressed out. This time it's nothing but absolute excitement because it's the first time we've put out all three singles before the record and fans have reacted really positively to all of them so I couldn't be more excited.
Now five albums in and with your newest album 'Disguise' as the band continues what if anything do you try and do differently on each release to keep things fresh and exciting?
*laughs* Well sometimes we really try to go for a pretty big curve ball and try for something that we've never done before and sometimes it works and sometimes it doesn't. I think we do a really good job at having pretty diverse records and song for song has its own unique feeling and own unique vibe, so I think just that alone has helped us feel like we have more room to explore more types of music within one record and with this one we have actually been saying that it feels like it's the most similar to a record that we've done yet, I think this record sounds most similar to our last record that any other record has sounded similar to that before. So there's some new things that we tried but we really liked where we were a with the last one so we kind of wanted to see what it would be like to kind of just stay in that same circle but just make it better. So in that I guess that's kind of different for us.
I love the sound on this album, what did WZRD BLD bring to this album and the band that you felt may have been missing before?
Well his real name is Drew and I've worked with him in writing and a bunch of stuff before and I just feel like he is really, really, really good at helping me accomplish things that are in my vision and just knows how enhance everything that I want to do naturally and it doesn't feel like he has to wrap his head wrapped around it he just knows. I love working with people like that because it just makes my experience better, it helps my creativity flourish, it helps me see things in ways that I never would have by having that outside observation opinion and I think we chose him because he gets the band so well and it was wonderful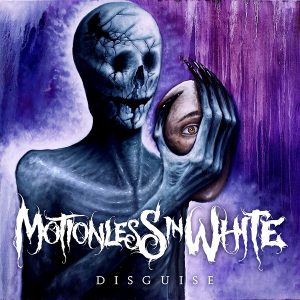 I always like to pick one song from an album the album that stands out for me, I'm a sucker for a power ballad and 'Another Life' is as close as we get to that, can you tell us how this one came about and the meaning behind it?
I love that you call it a power ballad and I was very curious to see how people would perceive that song so I'm glad that it comes off as the ballad of the record because it absolutely is. So thank you. That one is an interesting two part story to the song and that is that it's essentially a prequel to a song on our last record called 'Eternally Yours' and I wanted to kind of expand on the story I created in 'Eternally Yours' that is loosely based off of real life experiences and with this record and this song in particular I was really pulling from a lot of personal life experiences that I've gone through in the past year or year and a half in regards to the relationship I was in and I just felt like even though it doesn't necessarily fit in the same story that 'Eternally Yours' was set there were many aspects of it that were similar so it felt comfortable to write about a more personal side of it. Yeah, you're right, it's a power ballad, it's the love song on the record, the deep seeded emotional track in regards to relationships so not something that we've done a lot of before in the way that we did it on this record but it was cool to try something new with that kind of vibe.
OK because it's a stupid question, the album is called 'Disguise', you're off to a costume party, what do you go as thus becoming your disguise?
*laughs* Well I guess I've been wearing a different version of myself as a disguise for a while, so now that that's hopefully over with, wow, I don't know… I don't know why but I'm immediately met with memories of me as a kid in costume dressed a Teenage Mutant Ninja Turtle *laughs*  I don't know why when you said that that's my instant memory of me in costume, I don't know, I'd probably just go as fuckin' Dracula or something cliché because it's less work.
Very important question, which Turtle were you?
Oh Donatello all the way.
We're gonna flip this because I've asked you the reverse, but over time it can be easy to say what's stayed the same but what's the biggest change you've seen take place within Motionless In White?
Yeah that is a very good question because I think your question is definitely targeting towards internally rather than like band member changes and stuff like that. I really don't know I think if I had to say for this record there's a more willingness to listen to the fans in a way that helps shape our music and a way that helps shape what we do like visually with what singles we put out or music video content. We used to have this really rebellious like anti no we're not gonna listen to the fans we're gonna make the music we want to and write what we want to write and just do everything that we want to do and not care about the fans opinion, whereas I think its shifted over time where I think the fans have really, really helped in a great way by offering a lot of their constructive criticism through social media that we do occasionally pay attention to and it's helped out a lot. I think they are completely responsible for us having a chance with our label to release a song called 'Voices' as a single and without them voicing their love for that song we wouldn't have been able to go to the label and show them all the enthusiasm for the song and then it wouldn't have had a music video which is now our highest viewed video with the time it's been out. So it's such cool stuff and I think that's the biggest change, we just really want to listen to the fans advice now.
I have to ask of course, when do you think we might see you back in Australia?
I think I would say first half of next year , the rest of this year is pretty much well booked up with everything that we have going on, I think we would try to target early next year like March – June time period, I know that's a long way away sadly but it obviously takes a lot to get over there and we want to make sure we do it right and take the time to get there, that's when I would say.
What is rad is you're heading out with Alice Cooper! How pumped are you for that?!
Yeah I don't think it's really gonna set in until we're there, I don't know, man, when that was brought up to me I was immediately met with the memory of me seeing Wayne's World at the movies and seeing Alice Cooper and thinking wow that guy is awesome and the stage set up in the movie for the song is just so fucking cool and all these years later to be in a band that's going to go on tour with him is such an amazing honour so I'm just thrilled, I think this is gonna be the best summer we've had as a band in a long time just because it's gonna be such a cool hangout vibe.  It's such a stacked show and I think a lot of our younger fans are gonna bring their parents and I think it's gonna be a full generational show enjoyed between everyone.
As always let's look ahead to the future, finish this sentence for me, by the end of 2019 Motionless In White would like to…
Announce the next Australian headliner. That is a true answer.
Essential Information
From: Scranton, Pennsylvania, USA
Band members: Chris Motionless – All Vocals, Ricky Horror – Guitar, Ryan Sitkowski – Guitar, Justin Morrow  – Bass, Vinny Mauro – Drums
Website:  http://www.motionlessinwhite.net
Latest release: Disguise (Out Now)