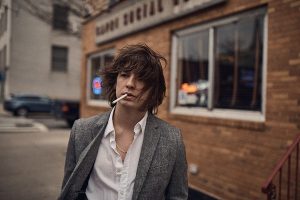 Bass Drum of Death are heading back to Australia for the first time in over four years this October to bring their primordial garage quicksand to Yours & Owls Festival in Wollongong, along with exclusive intimate headline shows in Melbourne, Sydney and Brisbane.
Since their now legendary Australian tour in 2015 on a heavyweight triple bill with DZ Deathrays and Hockey Dad, which saw them packing out venues over multiple night stands, the band have solidified their lineup, overcome personal issues and made themselves at home in New York City as one of the leading lights of the city's feedback soaked lo-fi garage scene. It's no surprise either, that as US tour mates of Royal Blood after a chance meeting at a Hollywood strip bar, the likeminded groups collaborated on the single, Lights Out which led off the Blood's 2017 album, How Did We Get So Dark.
Starting with a prodigious output of solo project lo-fi garage rock that echoed the sounds emanating from the dive bars of NYC 20 years ago, Mississippi native John Barret's Bass Drum of Death are now a live performance and touring juggernaught. Since forming in 2008, and releasing their debut EP Stain Stick Skin on the tastemaking Fat Possum Records; the band's touring lineup has evolved from Barrett solo playing a bass drum and guitar to the searing, raw live experience they deliver with a drums and two guitar attack these days.
Latest album, last year's Just Business, has seen the band take massive steps in the scope and scale of their sound, with the claustrophobic fits of their earlier releases now amplified into a reverb soaked widescreen panorama, with Barret positioned as the evangelist preacher leading a schizophrenic sermon that takes musical cues from The Hives to The Buzzcocks, The White Stripes to The Only Ones with the odd genuflection to The Cramps thrown in for good measure.
Locally, while garnering many fans with triple j support for their early releases, the band's fanbase is diverse, with many discovering BDoD through the use of their songs on computer games such as Grand Theft Auto, and in the soundtracks to Ghost Rider: Spirit of Vengeance, and The Vampire Diaries to name but a few. An incandescent live experience, however, is their forte – don't miss the chance to catch these shows.
Premier Artists & Out Of The Loop Presents…
BASS DRUM OF DEATH | AUSTRALIAN TOUR 2019 
Thursday 3rd October 2019 – The Curtin, 
Melbourne VIC
 – 
Tickets
Friday 4th October 2019 – The Lansdowne,
 Sydney NSW
 – 
Tickets
Saturday 5th October 2019 – Yours & Owls Festival, 
Wollongong NSW
 – 
Tickets
Sunday 6th October 2019 – Crowbar, 
Brisbane QLD 
– 
Tickets
Tickets on-sale Thursday 6th June 2019, 9AM AEST