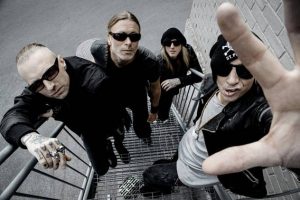 For 30 years, BACKYARD BABIES has delivered top of the line dirty rock 'n' roll, both live and recorded. The fact that the original four guys that started the band still are playing together, is next to unique. Now for the first time in over a decade, BACKYARD BABIES are touring Australia thanks to Silverback Touring.
In 1989 childhood friends Peder Carlsson, Dregen and Johan Blomquist were joined by Nicke Borg and BACKYARD BABIES was born.
The 80's was a decade where many dreamt of a rock star life and for most that is exactly what it remains to be – a dream, however vivid. But BACKYARD BABIES understood that itrequires hard work, ''persistent nagging" and a lot of networking to reach the absolute top. The ambition was set high from the very start. They enter a pact – they will breakup withtheir girlfriends and focus all their energy on the band. They will move to Sweden's capital, Stockholm. The goal is crystal clear – BACKYARD BABIES shall succeed. They will be rock stars.
The band quickly builds a life consisting of intense repetition and equally intense partying, whether it's a weekday or weekend. In Stockholm's nightlife, they develop new contacts and one thing leads to another. BACKYARD BABIES finally sign a record contract with Megarock Records and in 1994, they release their debut album – aptly titled "Diesel & Power".
Fast forward to 2019 and 7 albums later, the band recently released their latest album 'Silver And Gold' it is energetic and powerful, the band prove that they´re in better shape than ever and most certainly have enough material to last the coming 30 years.
With Gold Records, Swedish Grammy Awards and Major European tours with the likes of Alice Cooper, AC/DC, Velvet Revolver, Guns 'n' Roses and co. BACKYARD BABIES have further amplified their status as Sweden's most successful rock band.
Three decades later, BACKYARD BABIES finds that the move from Nässjö to Stockholm was just the starting shot. Today, the band has the whole world as their playground. And if their career is similar to a three-course menu, the band has not even covered the main course yet.
Backyard Babies Australian Tour Dates:
Friday 4 October – Sydney – Manning Bar
Saturday 5 October – Melbourne – Max Watts
Sunday 6 October – Brisbane – Woolly Mammoth
Tickets
On sale: Wednesday 19 June at 10am AEST
From: https://silverbacktouring.com.au/