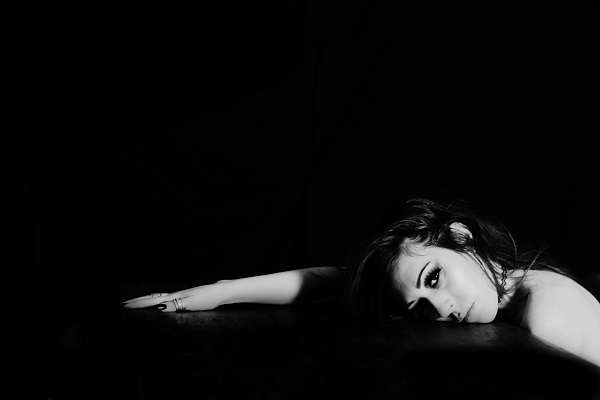 "I feel that my songs will always have a strong vocal melody and they will always be emotional, whether they are more Alternative or more Rock, the root is always going to be emotion."
From Bio: Hailing all the way from Australia and Cyprus, 22-year-old singer/songwriter Finding Kate is proving she is a force to be reckoned with.
Kate Pavli, better known by her stage name Finding Kate, has a versatile and powerful voice with dark, emotional undertones which shine through at her shows – and that's a pretty good virtue when you are competing with hard-hitting drums, heavy guitars and distorted bass.
Drawing influences from the Rock, Alternative and Pop genres, Finding Kate's debut album "If I Fall" was received with immense enthusiasm from her fans and media from all around the world. Playlisted by the likes of Kerrang! Radio & TV, magazines such as Musicology and AltCorner, it's clear that "If I Fall" is a huge stepping stone in her career.
Finding Kate's songwriting is developing evidently behind the scenes. Since the release of her debut album, she has been a quiet force, honing her craft, playing shows and preparing for the next chapter. Her new songs will undoubtedly be a cut above her previous release, seeing as she is collaborating, yet again, with producer Chris Cara who was the mastermind behind her debut album.
Finding Kate has found herself and she is ready to show the world.
We teamed up with ReverbNation to share some talent with the world, check out Finding Kate from London, we dug her sound and found her very worthy of being one of our Best Things You've Never Heard!
Let's start with the basics; for those that aren't aware of you, can you please give us the abridged version of your story, and how you would best describe your music?
Hey! My name is Finding Kate and I am a singer/songwriter based in London. My music is Alternative/Rock with undertones of Pop. I would personally describe it as melodic, emotional, dark and catchy. In 2016 I released my debut album "If I Fall" and since then I've been playing lots of shows and preparing for my next release. I am Australian/Cypriot and moved to London about 5 years ago. I was born in Sydney and lived there for a few years so it's pretty cool being interviewed by fellow Aussies!
Can you now please introduce each band member including yourself, and give us a rock 'n' roll fact or myth about each of you?
My name is Kate Pavli and my stage name is Finding Kate. Fun fact: a few years ago my stage name was KATE, but no one could find me on the internet as there are hundreds of Kates who are models/actresses/singers. So since no one could find me, I decided to go with Finding Kate, and you found me 🙂 A Rock & Roll fact about me is that I only wear black clothes – and legend says, pink socks with cats on them. (actually also a fact).
My band members change quite frequently and I have a lot of very talented session musicians I work with. Some are based in the UK and some are based in Cyprus. Here are some of their names: Chris, Nanneq, William, Stefanos, James, Dennis, Elias, Byron etc. I can't tell you a fact or myth about each of them, but they are all completely different and unique musicians and that's why I love working with them!
In terms of your music and any releases, instead of giving us a standard review, let's say if you had to give us your best door to door sales pitch to try and convince someone to listen to it before they slam the door in your face, what do you say to them?
This is an interesting question. I'd tell them that I am different and that my voice is a unique blend of styles and not what they would usually expect from a Rock female vocalist. I'd tell them I am incredibly passionate and that passion shows in my music. If they slam the door in my face, I'll kick it down. I'd then probably apologise for months and feel absolutely awful for kicking down their door though.
With your song writing, what do you consider to be the most important ingredients that make up one of your songs?
I only really started to focus on writing my own songs in the last 2 years. Previously, my producer Chris Cara would come up with the music, melody, and arrangements and I was only involved with a few lyrics & melodies. Now, I usually initiate the song and my producer then takes my ideas and brings them to life.
I believe my collaboration with Chris is a very important ingredient that makes up my songs. We complete each other's visions and where I lack in terms of arrangement & production, he shines. Ultimately, the most important ingredients for me are a great team, emotion and melody.  I feel that my songs will always have a strong vocal melody and they will always be emotional, whether they are more Alternative or more Rock, the root is always going to be emotion. Of course, there are so many important ingredients that form my songs, but these are the most prominent ones.
Are there current plans for any future releases you can give us the scoop on?
Yes! I am releasing my new single "I Feel Bad" on May 10th and I absolutely can't wait. It's been almost 3 years since my last release so I'm very excited about this. The single is fiery and energetic, and the title speaks for the song!
So what bands did you grow up listening to and how did they help create the style of music that can now be heard throughout your music?
I grew up listening to a mixture of music from Rock to Metal, to Pop and to Greek music too! The artists I was influenced by the most though are in the Rock umbrella since my dad was always blasting Soundgarden, Pearl Jam, Bon Jovi or Metallica through our speakers. When I was a teenager, I was obsessed with Avril Lavigne, Evanescence and P!nk which slowly opened up a lot of new bands/artists to me. I have a huge list of inspirations including the ones mentioned above and bands like Flyleaf, Deftones, Halestorm, Linkin Park and newer discoveries such as The Pretty Reckless, Highly Suspect and Nothing But Thieves. This was a tough question to answer, as I believe I have so many artists/bands that run in my veins which help shape me into the artist I am today.
In terms of touring, here's your chance to plug any upcoming shows, and for those that haven't seen you, how would you describe a typical live show of yours?
So far here are my confirmed shows in the UK:
May 17th – single launch party at The Monarch, London
June 22nd – supporting Hands Off Gretel at The 1865, Southampton
June 28th – Amplified festival semi-final at The Fiddler's Elbow, London
July 6th – supporting Hands Off Gretel at The Prince Albert, Brighton
A typical live show of mine consists of melodic songs, hard-hitting drums, heavy bass, distortion guitars and a lot of softness in between.
For a bit of fun, say you get the chance to open for any artist or band in the world, who would they be and why?
Evanescence. I really love them and Amy Lee is my biggest inspiration so it would be an absolute honour to open for them. I also think stylistically an opener like me would be very suitable. What a dream. 🙂
If you were to cover one song that no one would expect that you'd cover what would it be and why?
Probably something by Deftones would be quite unexpected, their songs are very dark and have a lot of different elements going on. I also think a lot of people don't often expect female vocalists to cover male vocalist's songs. When I released my cover of "Black" by Pearl Jam, a lot of people didn't expect that. I have a few new covers coming soon that I believe people will be quite surprised at.
Lastly, here's a chance to grab a magic lamp and from it you are granted three wishes.  They are:
1. Win millions of £££. Donate a huge chunk to different charities & then help out family & friends.
2. Tour the world supporting one of my favourite artists/bands.
3. An extra 3 wishes. Cheeky.
Essential Information
From: Currently residing in London (originally Cyprus/Australia)
Band members:  Kate Pavli
Websites:  www.findingkatemusic.com
Youtube: www.youtube.com/c/findingkate
Facebook: www.facebook.com/findingkate
Instagram: www.instagram.com/iamfindingkate
Spotify: http://smarturl.it/findingkatespotify
Forthcoming / Current Release: I Feel Bad, May 10th 2019