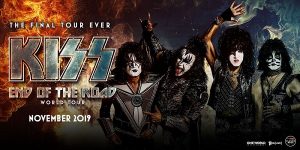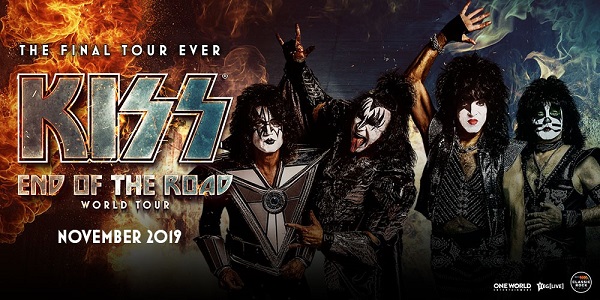 Rock n roll legends KISS have announced one final show for their farewell END OF THE ROAD Australian tour – their very last concert ever on our shores.
The band will return to Melbourne's Rod Laver Arena at the end of the Australian tour for a third and final show on Saturday November 30.  Tickets will go on sale on Wednesday 29 May at 10.00am AEST from Ticketek and will go fast!
After more than four decades of Australian tours, albums, promotional visits and special event concerts, fans will have the chance to say one last thank you and goodbye at this very special final show.
It promises to be both a heartfelt musical celebration and a touching farewell. Put simply, it's a concert no diehard KISS fan will want to miss.
"Saying goodbye to Australia whose people we have loved for four decades is hard but also calls for a celebration. We promise unforgettable nights for a country that for us will always be unforgettable", Paul Stanley said.
Gene Simmons added: "This is a bittersweet moment. We love Australia. And Aussies have been so kind to us over the years. But now is the time. We want to go out on top. And we promise to give you the show of shows, and appreciation for all the love you've shown us for so many years. We love you, Australia."
From their very first Australian tour in 1980 when KISSteria was at phenomenal levels, the band has always had an incredible relationship with Australia.  On that first tour, the band was greeted with huge Beatles-like crowds, frenzied media attention in every city, staggering merchandise sales and pandemonium reigned. Such was the impact on the national psyche, KISS won fans that have steadfastly remained part of the "KISS Army" for nearly 40 years.
There have been many, many highlights from the band's visits since then. One special memory is from February 2003 when KISS collaborated with the 70-piece Melbourne Symphony Orchestra for the one-off KISS Symphony at Telstra Dome.  It was a simply breath-taking concert with the MSO classical musicians proudly wearing full KISS make-up, filmed and recorded for a DVD and released to huge acclaim around the world.
KISS also provided a spectacular end to both the March 2008 Formula One Grand Prix at Melbourne's Albert Park when they performed to an estimated 50,000 race fans, and the 2003 closing concert at the Clipsal V8 Supercars event in Adelaide to 30,000 fans.
Next week KISS begins the two-month European leg of the END OF THE ROAD TOUR, saying an emotional farewell each and every night.  The tour, which features KISS's most spectacular production ever (and that's saying something!), continues to garner rave reviews:
"Even if you've seen a KISS show before, you've never seen a show quite like this one."   Ohama.com.au
"…. a two-hour orgy of sights and sounds and a relentless barrage of classic-rock hits. Spectacular."   inkansascity.com.au
KISS spare no cost when it comes to putting on one of the greatest rock shows on the planet.  It's flashy, it's rockin' and it has the energy and showmanship that made KISS a household name."  OnMilwaukee
"An explosive thrill ride." The Oklahoman
"Unrelenting sound and fury — 20 hits and fan-favourites".  Los Angeles Times
So, Australia…. this is it.   The very last time to celebrate the extraordinary career and music of KISS.  Only limited tickets remain for all concerts around the country.
Rod Laver Arena on Saturday November 30 will be the final goodbye.  Tickets for this show are on sale Wednesday May 29 at 10.00am AEST from Ticketek.
Do you think KISS will farewell Australia with a mighty big bang? Hell yeah! See you there!
TOUR DATES:
Saturday November 16      RAC ARENA, PERTH WA
www.ticketek.com.au & 132 849
Tuesday November 19      ENTERTAINMENT CENTRE, ADELAIDE SA
www.ticketek.com.au & 132 849
Thursday November 21    ROD LAVER ARENA, MELBOURNE VIC
www.ticketek.com.au & 132 849
Friday November 22         ROD LAVER ARENA, MELBOURNE VIC * SOLD OUT
www.ticketek.com.au & 132 849
Saturday November 23     SUPERCARS NEWCASTLE 500, NSW
www.ticketek.com.au & 132 849
Tuesday November 26      QUDOS BANK ARENA, SYDNEY NSW
www.ticketek.com.au & 132 849
Thursday November 28     BRISBANE ENTERTAINMENT CENTRE QLD
www.ticketek.com.au & 132 849
NEW SHOW & FINAL FAREWELL
Saturday November 30      ROD LAVER ARENA, MELBOURNE VIC
www.ticketek.com.au & 132 849
On sale Wednesday May 29 at 10am AEST
For all KISS information:  www.kissonline.com