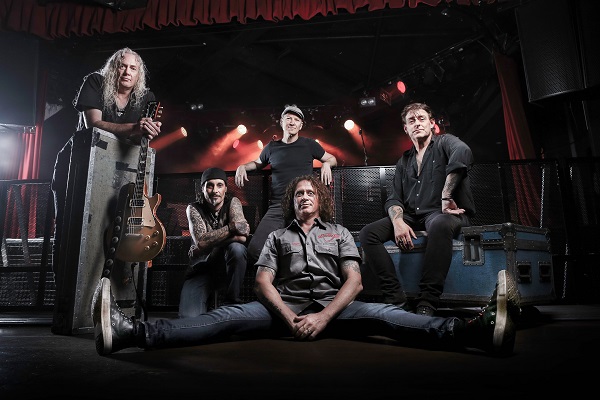 "…we just wanted to get out there and sweat and rock and play music to people and get them pumping, So that's kind of where we've kind of hung our hat."
From Release: Celebrating 30 years The Screaming Jets are taking a step back in time and revisiting their musical history. Not much has changed since 1989 when nobody knew the potential of this bunch of hard rockin' blokes from the burbs of Newcastle…. Belligerent, ball tearing rock was their calling card. By 1990, they busted out of Steel Town to introduce themselves to the wider world….of Kings Cross, the wild  Aussie pub rock scene and the international stages of the US, UK and Europe.  The Screaming Jets kicked down the door and they were coming inside like it or not. Fast forward 30 years, countless gigs and over a dozen albums and The Jets are a household name.
We gave our old mate, Dave Gleeson of The Screaming Jets a call to talk about the 'Dirty Thirty' tour as The Jets celebrate thirty years as a band, their history, their live show, the future, and more…
Dave my friend, it's time for our yearly chat, so as always let's catch up, how have the last 12 months been for you?
Yeah fantastic, mate, it's been a brilliant productive time, I mean The jets did the 'Gotcha Covered' album which came out last year and went gang busters we were quite surprised how well that all went and how well people received it, there was still some people who came to gigs and said "you played too many covers" like yeah we've got an album out it's called 'Gotcha Covered' that's why it's called 'Gotcha Covered' what are you missing? We did that and it went really well, I've re-recorded actually The Angels 'No Exit' album with them that's going to be released soon as well. The last twelve months has just been gigging and touring all over the place which has been fantastic.
So you're about to head out on the road in support of The Jets 30th anniversary, with an extensive catalogue now, how are you planning on putting the sets together for these shows?
Well basically between myself and Paulie we've just picked the eyes out of all seven studio albums we've done and it's funny because there's songs that were synonymous with The Jets in the early days and as you bring out more and more albums you go we'll rest that one and come back to it later and one of those in particular 'Sister Tease' I don't know if we've played in over twenty years *laughs* and it's like a Jets kind of classic, obviously a bit of a tip of the hat to 'Whole Lotta Rosie' and the lyrics are a bit risqué, actually when I was looking back and we were looking through all the songs to put on the set list I looked up 'Sister Tease' on YouTube and there were are in all our glory I think in about 1990 on the back of a truck at Chadstone shopping centre doing 'Sister Tease' and I'm saying outrageous things, there's kids with their parents who are just coming from shopping and I don't feel bad about it but I look at it and go wow man that guy was off his head. *laughs*
And nothing's changed…
*laughs*
When you go back and look at some tracks like that one that you haven't played for a long time what's it like belting those out?
Oh it's fantastic, because we haven't played them a lot it's kind of a real freshness to them but you think back to there we are were at 21 or 22 back in the day and coming out with this music and you think about your time in the studio and how much fun we had and how short a time, I mean the first album I think we were in the studio for two weeks and the whole time we're doing like a Sunday residency that we were doing every Sunday, and there was a couple of gigs we were doing during the whole process and it was certainly fun. It just takes you back to that freshness of everything being exciting and new horizons to conquer.
You've now truly become a generational band, have you seen generations come to your shows over the years?
Yeah certainly, obviously if anyone started off at the same age as us when we started off they're in their fifties now and hopefully if they've been good parents they've played The Jets to their kids and we do meet their kids, now and again I'll have a hot bird come up to me and say "hi can I get your autograph?" and I'll say "yeah what's your name, darlin" and they say "it's not for me it's for my mum or my dad", yeah… nice one *laughs* so that's kind of the intergenerational thing. It's just a testament to the fact that we kind of got out there and toured a lot early on and made a mark for ourselves early on that people still want to come and see us play thirty years down the track.
Your live show is I don't know what it is, it's straight up pub rock but also stadium rock it's all sorts of things, what is it about The Jets that just works on the stage?
Well see I've always said with pub rock, AC/DC were pub rock and that just means where you cut your teeth it doesn't mean you're assigned to only a life of playing pubs, we've played in front of the biggest crowd we've played in front of would be 65,000 people and the smallest crowd when things weren't going so great you're playing to 100 people in some of the pubs around the joint. I think it was just our early ethos when we started off we kind of loved all those bands like we watched The Angels 'Narara '83' I think it was pretty religiously, Cold Chisel 'Last Stand' was kind of compulsory viewing after rehearsals and stuff like that and that's all we wanted to do, we just wanted to get out there and sweat and rock and play music to people and get them pumping, So that's kind of where we've kind of hung our hat.
You obviously still love it, but what do you enjoy about playing with The Jets?
Just the camaraderie of the blokes in it, we've had a fairly stable line-up for the last few years and myself and Paulie obviously been in there for thirty years but the camaraderie is kind of what makes it gel on stage, I don't understand these bands who hate each other and still play together, I don't know why that works or how it works but I just enjoy getting out there and obviously there's nothing wrong with getting a clap after every little job you finish, I mean if I was a carpenter people wouldn't be cheering me every time I nailed a nail in *laughs* but when you're out on stage and you finish a three and a half or four minute song and the crowd goes nuts there's nothing quite like it. It's like when they say and with all these cooking shows and that, chefs are the new rock stars well quite frankly I've eaten in a lot of restaurants and never once have I stood up and applauded after I had an entrée waiting for my main meal to come on, I don't think they are, it's two totally different professions *laughs*.
We're gonna flip this because I've asked you the reverse, but over thirty years it can be easy to say what's stayed the same but what's the biggest change you've seen take place within The Screaming Jets?
I guess everyone kind of tempers their behaviour *laughs* I was notoriously a bit of a hot head, not just on stage but within the organisation I was giving it to managers and record company executives over the years but I think I've calmed down a bit as far as how I deal with people. I remember when we started off I couldn't make it to a few meetings down in Sydney when we got a bit of interest down there so our manager came up with this idea, oh you don't want Dave at your meeting, ooh no no no, it's better off if Dave isn't at the meeting that's all I can tell ya… so there was this kind of mystique *laughs* and dare I say fear around me showing up to places and then I just started playing up on it, I just started playing up to my reputation that was created for me. So there's definitely a lot less heated discussion, not to say stuff doesn't get up your nose now and then but I've definitely learned to mature a bit in that area *laughs*. As far as the music is concerned just like anything you do a lot you kind of get better at your craft and hopefully that's kind of been the way that The Jets have kind of evolved as well.
Of course as we discussed, we had 'Gotcha Covered' out last year but has there been talk of new music from The Jets?
Yeah definitely, we've been working on stuff, we've got the 'Dirty Thirty' thirty song retrospective album that's going to come out to coincide with the tour so we've been doing a lot of stuff getting together for that, not so much recording stuff but getting it remixed and remastered and stuff like that by the great Steve James who is our long-time producer. Then coming up I don't think we'll get a full album recorded this year but we'll definitely get an EP recorded this year and ready to bring something out next year and it's funny how time gets away and then 2021 will be the thirtieth anniversary of the 'All For One' album, so I imagine that there might be some type of re-release of that and touring of that. So next year will definitely be another album from The Jets and I've always said from the beginning that ten albums is the mark of a real band and we've so far got seven studio albums, one album of covers, two live albums, so we've kind of made it there but I want it to be ten bonafide studio recorded albums, so we've got a bit of work to do yet.
What's been the highlight for you of the last thirty years?
Oh look there's been plenty of massive shows that we've done, very early on we played a bit of touring in Europe and got to play on one of the Monsters of Rock shows in Germany which was let me just go through it, it had Faith No More, Def Leppard, Robert Plant and Jimmy Page, INXS headlined on the Saturday night  they got me up to sing with them, Leonard Cohen I stood on the side of the stage with Michael Hutchence and watched the full Leonard Cohen set, stuff like that that was fairly legendary. Playing after the '97 Grand Final when The Knights beat Manly *laughs* boo-ya and I'm not even a Knights fan I'm just a Newie boy, so we played there in front of the estimates are between 70  – 80,000 people in Civic Park in Newcastle. Getting a gold record on Hey Hey It's Saturday! Will always stick in my mind that was a fairly momentous thing because I'd seen so many other acts go on there and Daryl come on after the song and give them a plaque and stuff, so to have been seeing that when I was twelve, thirteen, fourteen years old and then ten years down the track getting on myself that will always be a highlight in my memory, I could write a book but I'd have to put a disclaimer and call myself Person X *laughs*.
So, think you guys will make it to Naughty Forty?
Oh absolutely, man there's no point stopping. I said to my son the other day I'm not qualified to do anything else mate, this is all I've got. I'm alright being a general dog's body around the property cutting stuff and burning it and stuff like that but out in the real world of job seeking I'd be a shot duck, I'd be homeless in a week *laughs*.
What else is happening musically in your world?
Well yeah just this tour, got this tour coming up and then an Angels tour straight up against that at the end of June and I just keep flipping between the two bands, as much as Paulie our bass player treats it like I'm having an affair with someone it's just the way it's turned out, and The Angels I've been with for eight years now and that's turned into a real kind of thing of its own again and people coming along in droves to see it, so yeah, just keep on keeping on, man.
Lastly as always let's look ahead to the future, finish this sentence for me, by the end of 2019 The Screaming Jets want to…
Be at least half way through recording our eighth studio album and ready to rock out all through 2020.
THE SCREAMING JETS
"DIRTY THIRTY" NATIONAL TOUR DATES
Fri 3rd May – Wests Cardiff, Newcastle
Sat 4th May – Wests Cardiff, Newcastle
With The Poor – Tickets HERE
Fri 10th May – Doyalson RSL, NSW
With The Poor – Tickets HERE
Sat 11th May – Metro Theatre, Sydney.
With The Poor and Special guests: CELIBATE RIFLES – Tickets HERE
Fri 17th May – The Triffid, Brisbane
With The Poor – Tickets HERE
Sat 18th May – Astor Theatre, Perth
With The Poor – Tickets HERE
Fri 24th May – 170 Russell, Melbourne.
With The Poor and Special Guests: BOOM CRASH OPERA – Tickets HERE
Sat 25th May  – The Gov, Adelaide
With The Poor – Tickets HERE
Essential Information
From: Newcastle, Australia
Band Members: Dave Gleeson [vocals], Paul Woseen [bass], Scott Kingman [guitars], Jimi Hocking [guitars] and Mark McLeod [drums]
Website: http://www.screamingjets.com.au
Forthcoming Release: 'Dirty Thirty'