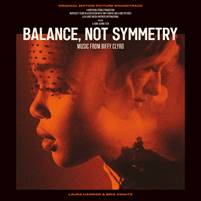 Biffy Clyro have shared a brand new track and video in the shape of Balance, Not Symmetry. It's the title track from the film of the same name, which frontman Simon Neil co-wrote with director Jamie Adams. To accompany the film, Biffy Clyro wrote a full album of original material which is out now.
The 17-song Balance, Not Symmetry explodes into life with the title track, which tightly packages Biffy's angular rhythms with the kind of sky-bound hook that they've established as a hallmark of their sound. The track will be accompanied by an official video which will be released tomorrow. Also directed by Adams, it intercuts the band's visceral live performance with footage from the film.
While the collection often explores Biffy's gift for arena-filling anthems on the likes of All Singing and All Dancing, Tunnel and Trees and Touch, the album as a whole leans towards introspection and experimentation. The foreboding yet elegiac Gates Of Heaven is quite unlike anything that the band have recorded before, Colour Wheel switches to a more ethereal ambience and Touch echoes the emotional power of previous Biffy classics such as Many Of Horror and Re-arrange.
The album also includes three mood-setting instrumentals (Pink, Navy Blue and Yellow) plus a studio recording of Different Kind of Love, which originally featured on last year's MTV Unplugged album. It was produced by Adam Noble (Nothing But Thieves, Liam Gallagher) and Biffy Clyro, and recorded at AIR Studios, Monnow Valley Studio and ICP Studios. Fyfe Hutchins of Guillemots contributes piano to four tracks, while producer and DJ Jakwob is credited with programming and keys on All Singing and All Dancing.
Filmed last summer in Scotland, the Balance, Not Symmetry film follows an American student who is living a privileged existence at Glasgow School of Art when her father unexpectedly dies. Consumed with her loss, she finds herself re-examining both her life and inner circle of friends. After a chance encounter, an unexpected sparks lights within her and she finds herself torn between two worlds.
Track Listing:
Balance, Not Symmetry
All Singing and All Dancing
Different Kind of Love
Sunrise
Pink
Colour Wheel
Gates of Heaven
Fever Dream
Navy Blue
Tunnels and Trees
Plead
The Naturals
Yellow
Touch
Jasabiab
Following Master
Adored
CONNECT WITH BIFFY CLYRO
Official website | Twitter | Facebook | Instagram | YouTube