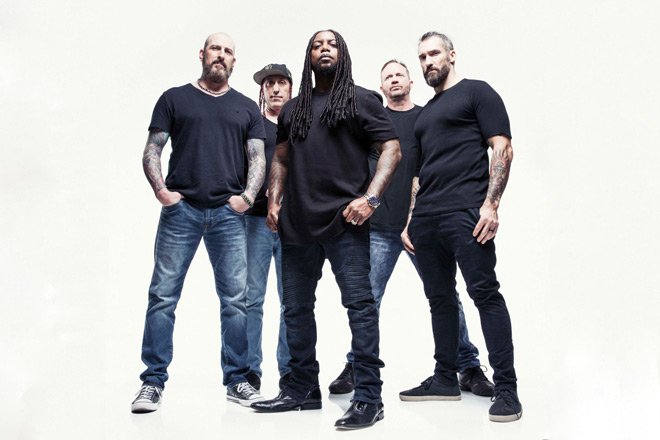 Gotta love a bit of Sevendust. They're back in Australia as a part of their 'All I See Is War' tour and tonight Sydney gets to witness one of the best live bands out there today. 
Reliqa playing to a pretty big crowd which was awesome and delivering some songs that with some work and some more touring experience they will shine. Some amazing guitar work and a mix of heavy tunes blended with some slower piano driven tunes they put on a great opener. I hope to see them again soon.
RedHook we've been all over from the start, watching them get better and better each time I see them is a treat. 'Can't stop us now' was a great cover to throw in but it's their originals where they shine. Through songs like 'Minute On Fire' and 'Turn Up The Stereotype' they show this pretty full crowd what they're about. 
As the lights go down and a buzz fills the room the eager crowd await the mighty Sevendust. Opening with 'Dirty' that intensity the band are known for is there from the opening second. Holy shit it is on. With all five guys powering through vocals it makes the sound huge. 'Pieces' makes things a whole lot heavier in here and that twin guitar sound of Clint and John is such a dominant thing. It really makes this band what it is. Damn. Oh man, I love watching the floor go crazy and as that opening chunky riff of 'Reconnect' starts it's mayhem. Not as much though as that opening of 'Praise' and hearing one of their biggest and best this early is a treat. They absolutely smashed it. That song live is an absolute monster and that was worthy of an encore performance. Holy shit that was the best. Watching them play it with such precision is like nothing else. Side note, do not throw water bottles at LJ. 
Every song from Sevendust has an instant hook and 'Denial' is once again so damn heavy that the place can't help but jump to the beat as it kicks into gear. Clint plays as LJ tells the story of 'Bitch' and as the crowd sings it while the band just smile back you can tell they are loving what we're putting out tonight. The song builds and we see John do his trademark jump for the first time. Was waiting for that! 'Dead Set' starts off slowly and with the crowd chanting and clapping and brings in those melodic choruses that Sevendust does so well. I just can't get enough of watching this band. It's a pleasure. 'Waffles' begins and they love this one and that chunky guitar just makes this one massive. That was a highlight so far!
Now here's 'Enemy' and that's one of my favourite Sevendust songs and judging by the way the crowd reacted it's theirs too. Easily one of the best hooks in a song in so many years and just watching them belt it out was awesome. Morgan is a fucking beast behind that kit. 'Angel's Son' is another fave and as John and Vince take a break LJ and Clint start this one off and Clint gets to shine as the awesome singer he is during this one. The rest of the band returns to rock this one out and that'll always be a staple in the bands set and I'm thankful of that. 'Shine' follows and that level of intensity that was there from the opening second is still there. They thank us by playing 'Thank You' and with arms waving they hook us again with that melody. After that brutal onslaught they thank us for real and leave the stage. As the guitar rings out the chats of Sevendust begin. 
They're back in 'Black' and kidding that they don't love this! Fuck this band is tight. It's insane how good they are. "This is not a concert this is a family reunion" as we are well aware that Sevendust has arrived they explode into 'Face to Face' to obliterate all here and once again show how much of a live force Sevendust are. A thankful band throws picks and sticks out to the adorning crowd and in that 80 minutes of live music all have left happy and a part of a family. 
You truly need to see this band live if you haven't before. Heavy, tight, melodic, perfect. 
Catch Sevendust in Australia at the remaining dates:
Saturday 27 April 2019 – Forum, Melbourne
Monday 29 April 2019 – The Gov, Adelaide
Tuesday 30 April 2019 – Capitol, Perth
TICKETS AND MEET AND GREET PACKAGES AT MJRPRESENTS.COM
Essential Information
Venue: The Metro Theatre
Date: April 26, 2019
Presented by: MJR Presents & The Faction
Supported By: RedHook, & Reliqa
Website: http://www.sevendust.com
Set List:
Dirty
Pieces 
Reconnect
Praise 
Denial 
Bitch
Dead Set
Waffles
Enemy
Angel's Son
Shine 
Thank You
Black
Face to Face