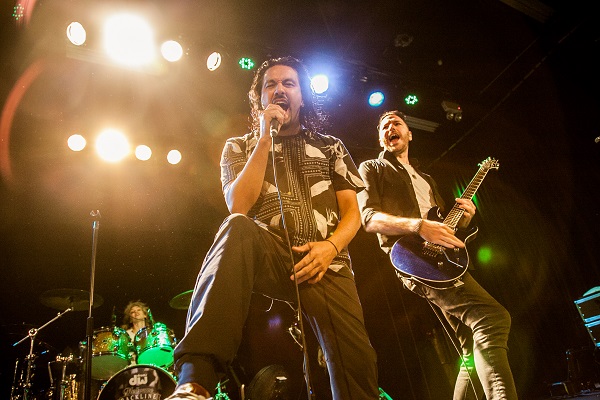 What I love about Pop Evil is that they've been releasing music for over fifteen years, we've followed them from the start, and are stoked they have finally made their way out of the trenches and are in Australia thanks to Silverback Touring who continue to impress with the bands they're willing to bring to us. So tonight, it may be an intimate night in Sydney but don't let that fool you, as they may not be household names but the music and the show will do the talking. You'll see…
Dept. of Gloom are here opening the show tonight and man I really dig these guys, their look, their vibe and most importantly their sound. These songs are catchy as all get up and I love watching them play them. Their presence is something you need to be around as this is rock and roll. I dig the swapping of vocals and I think they've got this down. With an album in the works you'll be hearing more about them in the future.
Now, I've seen and enjoyed Bad Moon Born a few times and each time I've seen them they get better and better. So tonight once again they're here to slay and that's just what they did. Man, this new material is just what the band needed; it's fresh, heavy, and suits them to a tea. I love an unexpected cover and right now they're playing 'Dr Feelgood' by Motley Crue and doing a damn good job of it. With a sound that makes them sound like an Australian version of Audioslave I think that finally this may be a step to them taking off and we'll be there supporting as always.
Pop Evil in their first trek to Australia take the stage in Sydney and it's on from the opening second. 'Boss's Daughter' is the best way to start this set and the band is on fire!! With that instant huge chorus hook the people that may not know much about Pop Evil have just found out what they are all about. Things get a little heavier in here and with excellent guitar moves they lead into 'Colors Bleed' and this one takes a turn as it breaks down into a kick ass musical interlude allowing the band to shine before exploding once again. They keep the musical intensity level high with 'Ex Machina' and that chorus hook once again is what it's all about. Damn this is good. They keep the party rolling with 'Deal With The Devil' as the heavy riffs keep it heavy and with a nice little bit of 'Bodies' by Drowning Pool they get the crowd into it as how can you not get pumped when you hear that classic. A piano track intros 'Torn to Pieces' as they slow it down for the first time to let us take a breath but as per my usual liking this ballad gets some power in it and this is great. I'm gathering the lull won't last and yeah I'm correct as the entire building vibrates as 'Last Man Standing' kicks in. This band really is tight and with their years of touring experience it shows because they sure as hell know what they're doing. Oh damn they're covering 'Eye Of The Tiger' that was fun and they got everyone singing along which was awesome. They're truly winning over this crowd tonight.
It slows down a little with 'Crime To Remember' and this one has a groove to it that although not that heavy slamming sound is still 100% Pop Evil and yes we are united. 'Ways To Get High' keeps things rolling and with some crowd participation they smash it out but not as much as Hayley behind the kit to close it out. Right now Pop Evil are confining to be legendary by playing 'Be Legendary' and this the newest single from their latest album is a killer and a true stand out tonight. After smashing that one they go higher with 'Footsteps' and I can tell you that those here are digging the hell out of this. 'Take It All' is that perfect mix of riff, rock and a whole lot of roll. They get the crowd split and have them joining in. They thank us and leave the stage, surely to return…
Oh but as guitarist Nick comes out and starts to play '100 in a 55' Leigh expresses his thanks and love of us and told us to remember we were here first, and I know those here will. The band re-joins them on the stage to continue the oldest song in the bands catalogue and yet another big rockin' power ballad and we sure as hell still believe in rock and roll. Up next is the one I was waiting for!! 'Waking Lions' and that really is one of my favourite songs of the last few years and to finally hear it live was a treat. A song with a chorus that gets stuck in your head for months and on top of that it's so bloody heavy, so I'm glad we got it at the end as they're truly warmed up yet have the same intensity level as they did from the opening second they walked on the stage. They leave us with 'Trenches' and what way to go out as Leigh made his way through the crowd to come up to the back to shake some hands and stand up on the sound desk to salute the crowd towards the stage and in a way thank those that came out. He makes it back to finish the song and as he said "Until next time. Peace love and Pop fuckin Evil."
It may have been a small, intimate crowd but Pop Evil maintained the same level of energy they would use in front of thousands. That was a show that I'll remember and next time they come back there will be more as people will talk as if you weren't here, you probably should've been. This is live rock and roll, this is Pop Evil.
Essential Information
Venue: The Metro Theatre
Date: April 6, 2019
Presented by: Silverback Touring
Photo By: Annette Geneva – full gallery HERE
Website: http://www.popevil.com
Set List:
Boss's Daughter
Colors Bleed
Ex Machina
Deal With The Devil / Bodies
Torn to Pieces
Last Man Standing / Eye Of The Tiger
Crime To Remember
Ways To Get High
Be Legendary
Footsteps
Take It All
100 In A 55
Waking Lions
Trenches