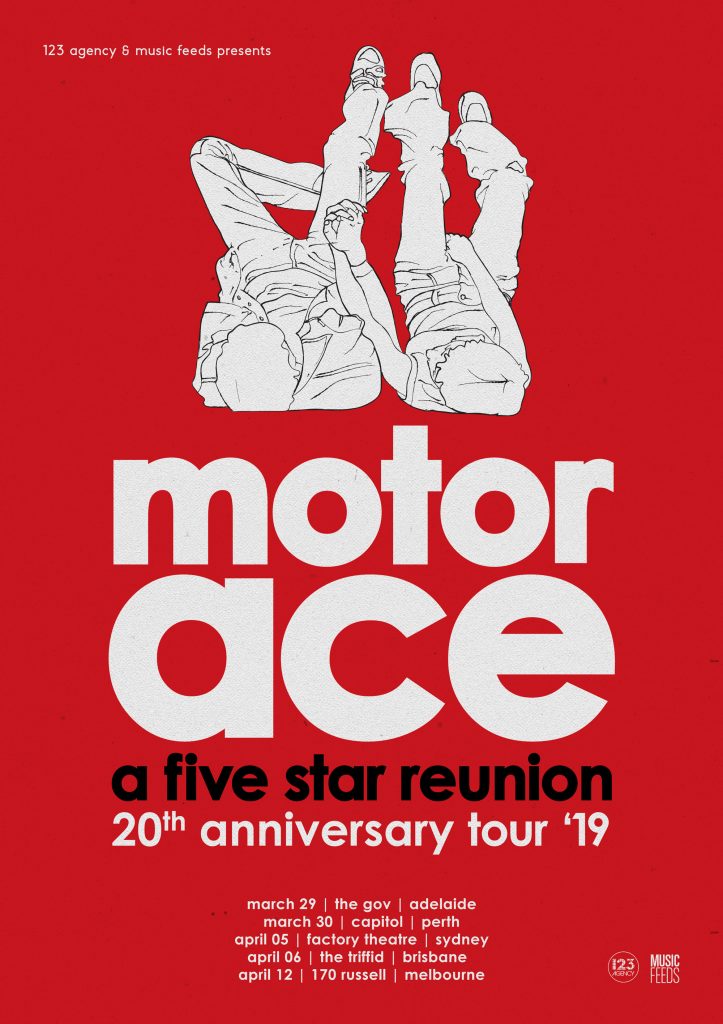 I'm a big fan of a reformation show and especially when it's a band I never got to see when they were in their heyday. So here we are tonight twenty years on since Motor Ace released their amazing debut album 'Five Star Laundry' then going on to release two more albums before calling it a day. Tonight they are back in Sydney and here to let us relive these songs that were pretty damn big back in the day!
A couple of supports tonight as Mockingbird takes to the stage and with a voice as lovely as one she plays through her solo set of honesty as she delivers her songs with simply her and a guitar. Rya Park again solo comes out as the crowd starts to grow. A broken string didn't stop her from rockin' out and hearing these songs from both artists tonight just them and a guitar was a treat.
Motor Ace running a little late and as the smoke machine fills the stage with well, smoke, we're ready to relive our past for one night. The crowd are eager is ready as the lights go down and the mood is set as the intro plays and Motor Ace take the stage. And as the drums count us in we're 'Keeping Secrets' and it's like they never went away. Pat's voice sounds as it ever did and the band have this down from the start. Taking us to the title track of their amazing debut album 'Five Star Laundry' and they have the crowd in the palm of their hand as we 'whoa oh' through the middle 8 before it builds back up to play out nicely. Things go middle of the road with 'Ride The Wave' and that drum groove, damn. Yes!!! Hoped they'd play this one and here it is nice and early 'Lorenzo' takes its place in the set as I see many swaying along and very happy this one has appeared. This is actually one of my favourite Motor Ace songs and I'm also very happy. By far the best reaction so far as the band is truly warmed up now.
Oh damn, here's 'Criminal Past' I thought we'd get this much later and that had everyone rockin' and reliving a great time many years ago. They may not have had a whistle but the crowd sure did. 'Fluke' keeps this moving as they cover the catalogue nicely and continue doing so with the epic 'A Little Closer' followed by 'Tomorrow's Gone' which I always thought was a stand out across the band's catalogue so hearing it live tonight for me has been many years in the making and complete with big rock ending that was great. Another killer album track 'Where Did You Go?' keeps those here happy and this amazingly arranged song makes me happy as that underlying guitar riff is killer. Heading back to 'Five Star Laundry' with the kick ass 'American Shoes' and just hearing those here sing along is testament to a band that so many love and are stoked to be able to see again. This is one of those nights, you're not sure if you'll see it again so there's just a sense of enjoyment here of nostalgia and of love of a band that so many here truly grew up with. Back to 'Shoot This' with 'Pieces' and damn you almost forget how good of a song that is. Closing out the first set with 'Siamese' and they truly rock the shit out of it as the crowd joins in to close it out.
They take a quick break before they count in 'Hey Driver' and that's what I've been waiting for as that riff hits and they belt out the opener of their debut with all the gusto of a band twenty years ago. Truly a song that still stands up to this day and a killer track from a killer band that have been away for too long. Going even further back to their debut EP with 'Chromakey' follows and as we're getting towards the end of the set the big ones keep coming and I enjoy watching people in the crowd as they react to these songs, some people are truly losing their minds. It's so great to see and be a part of something that makes them so happy.
Up next though is the one they were all waiting for. 'Death Defy' is their song and hearing it tonight is awesome. You couldn't get away from this song at the peak of its popularity and tonight it's as popular as it ever was as the crowd sang along before it closes out. I also hope that's not the last time I get to hear that song live. Hint hint, Motor Ace…
Taking it back to their very first single from 20 years ago it's time for 'Chairman Of The Board' and a song that could be written today and be a hit. This is a formula that works and hearing it live 20 years on is something else. With some excellent clapping the song builds and builds until it explodes and we're happy. Leaving us with one last song, it's 'Carry On' and everyone here hopes that maybe someday Motor Ace will do just that, if not then those here tonight can be happy they got to see it one last time. Such a great band and these songs just brought it all back tonight.
To throw it back to the 90's with buzzwords, tonight was (motor) ACE!!!
Essential Information
Venue: The Factory Theatre
Date: April 5, 2019
Presented by: 123 Agency & Music Feeds
Website: http://www.facebook.com/motoraceofficial
Set List:
Keeping Secrets
Five Star Laundry
Ride The Wave
Lorenzo
Criminal Past
Fluke
A Little Closer
Tomorrow's Gone
Where Did You Go?
American Shoes
Pieces
Siamese
Hey Driver
Chromakey
Death Defy
Chairman Of The Board
Carry On