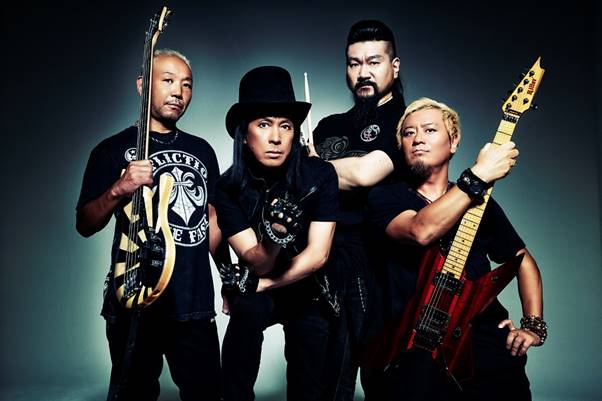 "Live is everything, well how can I describe this, it's kind of hard to describe in English, we love playing music, we want to share happy times with our audience. Live is everything for us."
From Release: Formed in 1981; LOUDNESS released their first album The Birthday Eve and it created a huge stir on the Japanese Metal scene. In 1983 LOUDNESS hit the west and toured the U.S. their stunning energetic live show caught the attention of Atlantic Records and became the first Japanese metal band to sign a multiple album deal with a major label. Their defining album Thunder In The East exploded and hit the Billboard charts at # 74 and staying there for 19 weeks as they embarked on a nation-wide tour with Motley Crue. The following album Lightning Strikes hit the Billboard charts at # 64 and firmly entrenching the band as International superstars. Now some 33 years, numerous line-up changes and 28 studio albums later LOUDNESS are still at the top of their game and still charting every album in their homeland. In 2018 LOUNDESS released their latest album 'Rise To Glory. The good news is that Loudness are heading our way. They may be almost 40 years into their distinguished career but LOUDNESS remains one of the hottest live acts out there and now Australia gets the chance to witness LOUDNESS for the very first time.
While he was in Tokyo we gave Minoru Niihara a call to talk about Loudness making their way to Australia for the first time, their history, their new live album, and more…
We're here because you're finally heading to Australia. When you're coming to a country for a first time, how do you go about putting a set list together?
OK well most of the songs we are going to play from our 80's albums like 'Thunder From The East' album, 'Hurricane Eyes' album and 'Lightning Strikes' album, and some songs from our latest album, you're gonna have a good time we have a great set list now.
How important is the live aspect of the band for you?
How important for us? Live is everything, well how can I describe this, it's kind of hard to describe in English, we love playing music, we want to share happy times with our audience. Live is everything for us.
So tell us, in three words how would you best describe a Loudness show?
Well, awesome, great and sweat *laughs*. It took us 38 years to be there in Australia finally, we debuted in 1981 it's now 2019 this year it's been quite a long time to be there but finally we going to be there to play for you in Australia, so excited.
What are you most excited about?
Well we have never been there, myself I was there once but Loudness has never been there so we don't know how the Australian people will react to our live show, our rock music, so just curious just interested in Australian people.
We did have a new album last year in 'Rise to Glory' can we expect more from the band soon?
No, well you know what? We had 28 studio albums we made so far, we made a lot, maybe in a couple of years we're gonna start the next album, you know time is changing, people are changing their way of buying music, they're not buying CD's anymore. Maybe we'll make a few songs for digital, well I have no idea but different, different from 80's.
The band has now released 28 albums, what for you has been the biggest change in the way the band writes songs over the year?
Well the 80's we had some producers and producers told us what we should do. After then we didn't have any producers so we made it our way you know, that's the big difference.
Of course we also have a live album coming, what was the process like putting that together?
The DVD and Live album? I totally forgot about that! We played four shows in Tokyo last year and they recorded and we did not know live album would come out, we did not know when we played that shows. After they told us we recorded great shows so why don't we release this live recording stuff, so OK, we'll see how it sounds like, we thought it sounds great. We played four nights, first night we played most of songs from our latest, second shows we played many songs from 80's 'Thunder In The East' album, and third show we played songs from our early debut album and stuff like that, and fourth show we played with our friends, many friends they showed up on stage as special guests, so we played jam sessions and stuff like that. So you can enjoy pretty much all about Loudness from those live albums.
Almost 40 years into the band's career what is it that you still enjoy about being in Loudness?
Ahhh well, being a member of Loudness you can go to many countries, you can see many people in the world, we have special experience in my life so it's so special, well if I'm a regular company people I cannot do that but I'm a musician so I can go everywhere we want to go, so fun, it's so fun to see people and play for people in world and make people enjoy, smiling, singing along. It's been great.
Over time it can be very easy to say what's changed but what for you is the one thing that's stayed the same about Loudness?
Well, let's see… that's a good question I have never thought… hmm… well keeping it loud, play loud, play hard.
Lastly let's look ahead to the future, finish this sentence for me. By the end of 2019 Loudness will…
We're gonna do, end of this year we're gonna do some shows in Tokyo that's definitely what were gonna do I don't know I'm gonna take my kids on vacation or something at the end of this year *laughs*.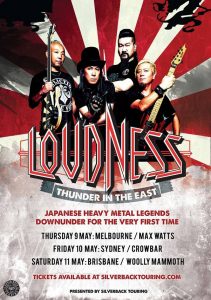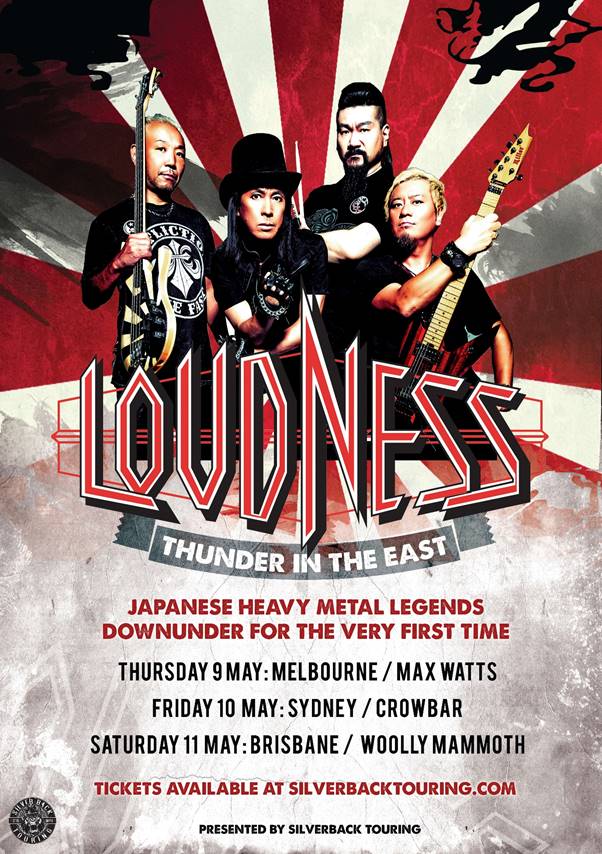 LOUDNESS May 2019 Australian Tour Dates:
Thursday 9th May – Melbourne / Max Watts
Friday 10th May – Sydney / Crow Bar
Saturday 11th May – Brisbane / Woolly Mammoth
Tickets at: silverbacktouring.com/loudness-2019
Essential Information
From: Japan
Band members: Akira Takasaki (Guitar), Masayoshi Yamashita (Bass), Minoru Niihara (vocals), Masayuki Suzuki (Drums)
Website:  http://www.loudnessjp.com
Latest Release: 'Rise To Glory' (Out Now)