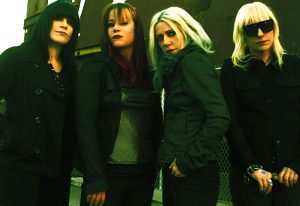 The first L7 album in 20 years, Scatter the Rats embodies everything that made the band so iconic in the first place – the distortion-heavy riffs and head-banging rhythms, sludgy grooves and indelible melodies. And in their lyrics, L7 achieve a direct transmission of raw feeling, often spiked with biting commentary on the chaos of the world today.
Scatter The Rats was produced by Norm Block (Jenny Lee, Paper Cranes, Plexi) and Nick Launay (Nick Cave & the Bad Seeds, Yeah Yeah Yeahs). "Burn Baby" opens the album with a galvanizing reflection on letting go of old grudges for the sake of fighting a greater evil, while "Fighting the Crave" offers a slice of life on the inner push and pull of whatever one might crave. Throughout the album, L7 also examine depression (Sparks's "Holding Pattern," which matches its delicate melody with a disarming vulnerability), lonely hearts (Suzi Gardner's gloriously swampy "Murky Water Café") and codependency (the unhinged "Garbage Truck," written by Jennifer Finch). And on "Uppin' the Ice," the band delivers a dance-worthy track inspired by a bit of advice Demetra Plakas got from her doctor upon breaking her arm before the band headed into the studio. "I took the idea of upping the ice as a metaphor for throwing down and doing what you have to do to make something happen, naysayers be damned, because that's who we are as a band," says Sparks.
Formed in 1985, L7 first began as a collaboration between Sparks and Gardner. "We were from the art-punk scene but we were making a rather Flinstones version of metal," says Sparks. "Not heavy metal but more like scrap metal – grab a pile of scrap and we'll make something out of it." Later adding Finch and Plakas to the lineup, L7 released their self-titled debut in 1988, followed by 1990's Smell the Magic and 1992's Bricks Are Heavy, a Billboard 200 hit whose lead single "Pretend We're Dead" reached the top 10 on the Alternative Songs chart. In the meantime, L7 founded Rock for Choice and organized the abortion-rights nonprofit's inaugural, history-making concert (a 1991 event also featuring Nirvana and Hole). With Hungry for Stink arriving in 1994, the band joined that summer's Lollapalooza tour, later releasing 1997's The Beauty Process: Triple Platinum and 1999's Slap-Happy.
Announcing an indefinite hiatus in 2001, L7 returned for extensive touring in 2015, then put out a pair of back-to-back singles: 2017's "Dispatch from Mar-a-Lago" and 2018's "I Came Back to Bitch." In addition, 2016 saw the release of Pretend We're Dead, a feature-length documentary on L7 directed by Sarah Price.
Having toured the world to massive sold-out crowds, L7 are now augmenting their live set with their tonally eclectic new material. "Some of it's dark, some of it's funny, some of it's 'f*ck you,' but you can rock to all of it," Plakas says of Scatter the Rats, available May 3rd on Joan Jett'sBlackheart Records.
"I think it's good for people to enjoy a meat-and-potatoes rock band for a change," says Sparks. "We're not rocket science, we're rock & roll. And there's value to that, and we do it pretty well. So if you want to rock, come on back to L7."