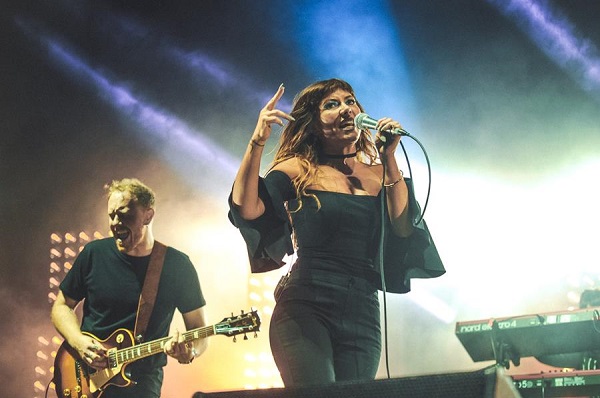 "I think that we are a band that really enjoys it and we're a band that really loves giving the crowd a good time, I don't think we take ourselves too seriously and I think that's something I'm really proud of…"
From Release: It's been twenty years since Hooper Siblings Killing Heidi released their disarming folk pop song, 'Kettle' on triple j unearthed. The band soon expanded into colourful teenage power pop and burst onto the national and international stage with their breakthrough debut album Reflector, released in March 2000. Anthemic singles 'Mascara' and 'Weir' made Reflector a blow-out success and cemented the work as one of Australia's most loved pop albums. The early naughties belonged to Killing Heidi with Weir placing #2 and Mascara #14 in triple j's Hottest 100. Reflector went onto to take out four ARIA awards and reach 4 x platinum status. The Hooper siblings also won the critically-acclaimed APRA songwriters of the year award.
In Melbourne, we gave Ella Hooper a call to talk about Killing Heidi's upcoming tour with Baby Animals, being out on tour again, new music, old music, and much more…
Of course we're here because you're heading back out on the road with the ever so awesome Baby Animals. What can people expect from a Killing Heidi show in 2019?
It's frankly better than ever *laughs* if you saw us back in the day well good for you but we are so much better at what we do now. We've added quite a bit of extra flavour, keyboards, backing vocals, violins, lap steel guitars and we still rock out of course. It's feeling really, really, awesome, all the old songs are still there but they're sounding better than ever.
What's it been like being back out on tour again?
Well it's a bit of a shock to the system at first *laughs* because I've still been gigging quite a bit and playing music but these tours are really hefty, we've done some big ones now and the Baby Animals ones will be really decent and you sort of have to eat your Weet-Bix and prepare for them, I'll be in training put it that way.
What's it like for you when you go out with a band like Baby Animals that have been doing the rounds for a long time but what's it like watching someone like Suze up there for you?
Well I'm just all eyes and all ears because I want to learn everything I can for people that have paved the way for me and there weren't many, there haven't been many artists that I can relate to that are from this country at least, so that's super exciting to look and learn and soak it all up.
It's funny, I think with a band like Killing Heidi that it's not nostalgia that this is about, it's about a band that people still love. What do you think it is about your band that people just attached to and stayed attached to?
Well thank you that's so nice of you to say that, I don't know I think we're just so lucky I think we still love it, we took a big break so I think that's part of the reason we're still so enthusiastic about it now, I just met a man in his mid-forties who hasn't even lived in Australia for that long, he came over from England and he had never heard Killing Heidi until he heard 'Mascara' on Triple M or something and we became his new favourite band, so I don't understand how we keep doing it, how we keep getting new fans after all these years but I'm very glad that we do.
Now you've continued to make music but do you think there may be a chance of new music from Killing Heidi in the future?
Look, I don't know and I definitely won't say no, I think it's possible. I think that we haven't done it yet, we've just been focusing on touring and doing all the other amounts of crazy stuff that we do but it's absolutely a possibility, I did have a dream about it the other night so that might mean it's seeping through my sub-conscious into actions.
Well with violins and lap-steels now, maybe a different direction, a different sound?
I reckon it would be a slightly different sound, I think we should still rock out because frankly that's just something we do really well but I think it would be more mature for sure.
It's now been twenty years since 'Weir' was released, looking back what are some of your fondest memories when it all started to take off for the band?
Man it was all such an impressive, shocking, exciting, overwhelming ride it's hard to pinpoint things but I think touring in Melbourne, even the first couple of gigs selling out the Prince of Wales two nights in a row for this teenage band was such a huge deal, I thought it was a dream to play those gigs and those venues and then selling them out and moving on to theatres and stuff was incredible.
You were only seventeen when Reflector was released, as you've grown up how if in any way has your approach to song writing changed?
Well it's massively changed I think we were just throwing shit at a wall to see what sticks when we were young, we were just trying things to see what works we didn't know any techniques or rules or tools and we got very, very lucky, we were instinctually quite successful song writers but now I know so much more and almost tried to forget all of the rules and tools and things that I've learnt because I want it to still be fresh. I think I'm a much better songwriter now to be honest but I don't always get that naivety and that charm that those young songs had is undeniable, so a balance would be good.
How do you feel still playing these songs that came out when you were that teenager?
I thought it would be tricky to tap into that fifteen year old me and I thought it might be a bit weird like this mid-thirties me jumping around singing about what a sixteen year old cares about, but guess what, it's not that different *laughs* it's like the same sort of feelings are still there and the subject matter is still relevant in my life in some ways not every song, the high school sort of feeling like the odd one out, bullying sort of stuff doesn't so much resonate for me but it still resonates for so many people out in the crowd but all the sort of teen angst love affair sort of stuff is still going strong. The connection you don't forget about those connections that you have with those songs, they soundtrack your lives.
Now over that time it can be very easy to say what's changed but what would you say is the one thing that's stayed the same about Killing Heidi?
I think that we are a band that really enjoys it and we're a band that really loves giving the crowd a good time, I don't think we take ourselves too seriously and I think that's something I'm really proud of, we are a fun, heavy rock band, and some rock bands are awesome and heavy, some bands are fun and silly and always have been and we're right in between we're like a fun, heavy, grungy pop band so I feel we have a niche.
Was there one piece of advice you were given when you started playing music that you still use to this day?
Don't bore us get to the chorus *laughs* I think it still holds strong.
What's next for the band?
Obviously the Baby Animals tour we're so excited about that, and then big plans in 2020 as well, so lots of touring I'm gonna be road dogging like I used to and trying to just get to every corner of this country.
Lastly let's look ahead to the future. Finish this sentence for me. By the end of 2019 Killing Heidi would like to…
I'll have to think about that… *pauses* well we're gonna achieve it *laughs* I would've loved to have learnt all the possible lessons I could've learnt from touring with Baby Animals and I'm gonna, because I'm still learning and that's what I love about this .
BABY ANIMALS GREATEST HITS TOUR 2019
With Special Guests
KILLING HEIDI
Friday May 3 – Revesby Workers Club, Revesby, NSW Tickets here
Saturday May 4 – Metro Theatre, Sydney, NSW Tickets from Ticketek and Metro Theatre
Friday May 10 – Croxton Bandroom, Melbourne, VIC Tickets here
Friday May 17 – The Gov, Adelaide, SA Tickets here
Saturday May 18 – The Gov, Adelaide, SA Tickets here
Friday May 24 – Astor Theatre, Perth, WA Tickets here
Saturday May 25    Metropolis, Fremantle, WA Tickets here
Friday May 31 – Southport RSL, Southport, QLD Tickets here
Saturday June 1 – The Tivoli, Brisbane, QLD Tickets here
Essential Information
From: Victoria, Australia
Band members: Ella Hooper – lead vocals, Jesse Hooper – guitars, Adam Pedretti – drums, Clio Renner – keyboards, Tim Curnick – bass